Halloween Human Bloody Head with Eyeball Hanging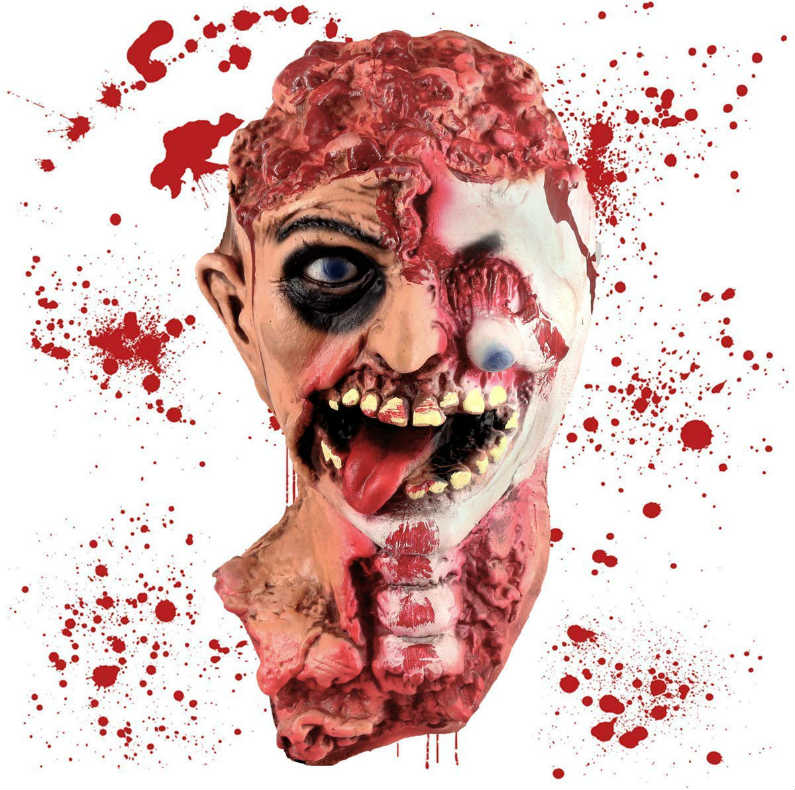 Nothing scarier than a human head dripping in blood with one eyeball hanging. Do the same to your guests with this Halloween human bloody head by Pawliss.
This life-size realistic dead human head is surely going to make some people faint. It would not be wrong to say that this scary prop is only for the strong-hearted. This will gain you compliments on any occasion you will use it for. This makes for an ideal Halloween horror haunted house yard decoration.
You can use this prop both- indoors and outdoors. When viewed from a distance, it will appear to be scary stuff. Not only this, but the real spook lies in touching this prop. The latex brings soft and squishy feel when you touch this fake human head covered with blood.
This Halloween human bloody head is a fit for jar decor. The exposed bones, veins, and flesh will give it a realistic and terrifying look. To add a more exposed look, add a little fake blood to make the fake rubber head prop more creepy. That is not all for this human head prop.
There is much more to this. It makes a fun Halloween costume for women, men, and kids. Place this prop on the entrance of your house and give your guests a scare as they step into your house.
This will be a scary yet fun way to welcome the trick or treaters. Also, it is a perfect prank set for stage props, magic tricks, cosplay, gag, and practical jokes. Step up your game with this Halloween human bloody head.

December 6, 2023 3:42 pm

Amazon.com
Last update was on: December 6, 2023 3:42 pm