Halloween Outdoor Screaming Bride with Voice Activation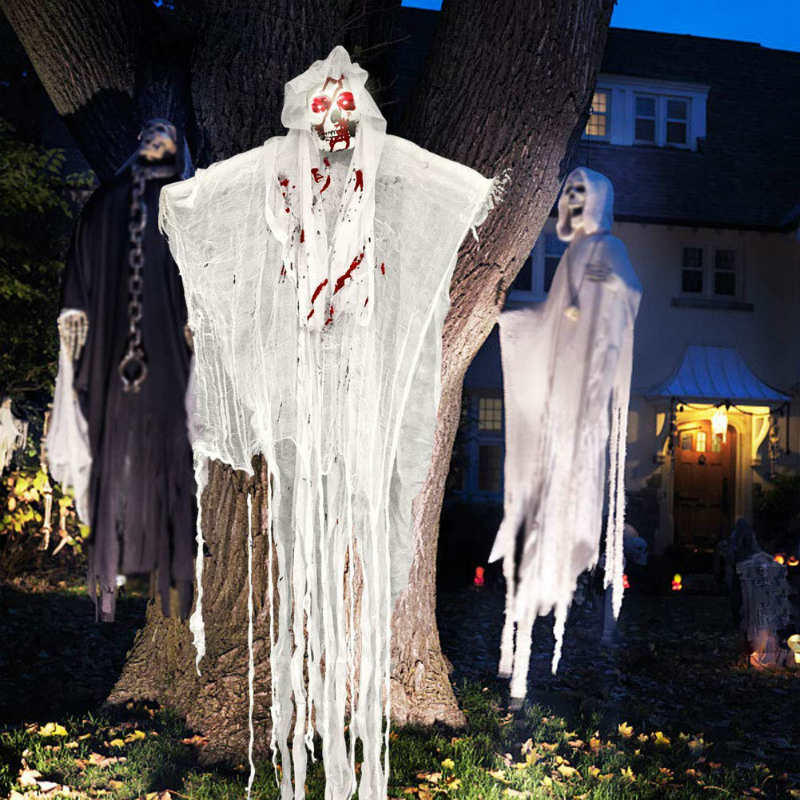 What better than a bride to welcome everyone for Halloween? Take a look at this Halloween outdoor screaming bride by Unglinga. This decorations prop is both- indoor and outdoor. It is 5.2 feet high.
It has a highly realistic skull and lightened LED glowing eyes. This Halloween bride prop has bendable arms. You can bend these flexible arms, and they won't break if you adjust them. Also, it features a long white flowing robe with blood. This will give everyone a chilly scare.
Moreover, when it floats in the breeze, it will look as if a ghost is roaming free. Create a scary atmosphere with this Halloween outdoor screaming bride. It has a voice activation with a sound of haunting. Its red flashing eyes and scary sound will surely leave a terrifying impression. Once the ghost gets triggered, bone-chilling screeches will come out.
Its voice control has a built-in motion sensor. This sensor will activate in case of sound or movement around. Not only scary, but this prop is energy conservative also.
That is not all about the screaming bride prop. It also has a 3-inch string attached to the back of its head. This allows for easy hanging.
With the 2 bendable and adjustable arms, you can adjust them in any style you like. All you have to do is hold the shoulder and twist gently while adjusting. This Halloween outdoor screaming bride is a perfect decor for this Halloween. Hang it indoor or outdoor-wherever you like. Hang it from a porch, a tree, or windows to scare all your guests.

September 29, 2023 7:07 am

Amazon.com
Last update was on: September 29, 2023 7:07 am