Speaking Farmer Zombie Prop for Your Haunted House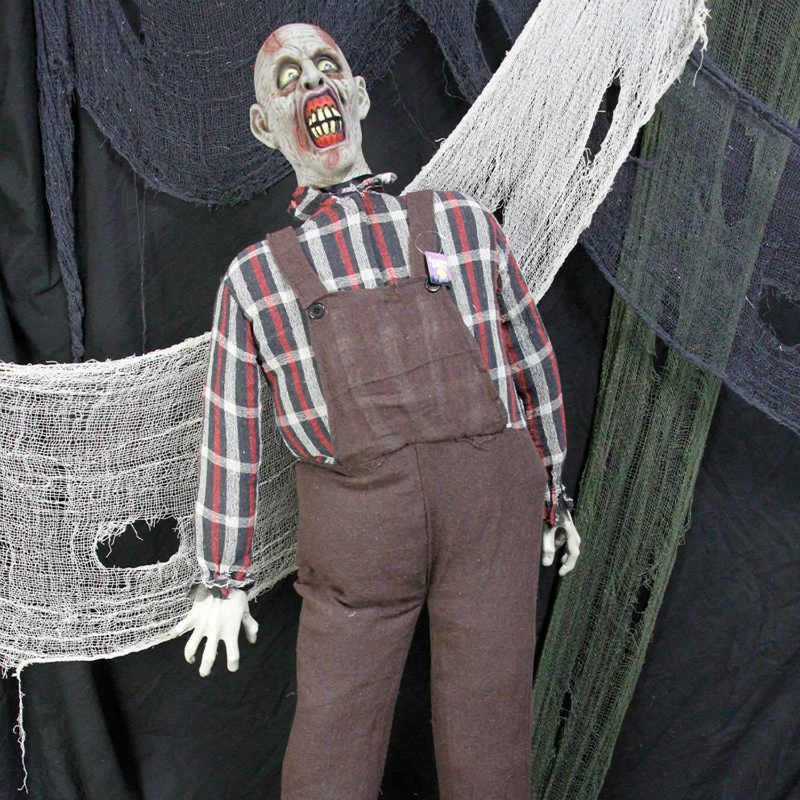 Want to scare away people with something BIG this Halloween? Place this speaking farmer zombie prop by Halloween Haunters in your house. This zombie prop is nothing short of scary and creepy.
This terrifying life-size farmer zombie does not like you cross its path. If you do so, he will call out to you for your "brains". This prop has an animated movement. This movement is touch and sound-activated. Its torso rocks from side to side while it will move forward and backward.
This zombie prop howls for brains while clanking chains. Its flashing red eyes light up while it does so. Place this speaking farmer zombie prop in the front door of your house. It is sure to run away all the trick or treaters. The horrifying sounds and rocking torso of this farmer zombie will add fright to your night. Planning to invite your friends and family over for a Halloween party? Might as well give them the warning to prepare themselves to get greeted by this zombie.
The farmer zombie prop speaks with desperate ghostly sounding gurgles. The clanking of chains in the background makes everything creepier. You can fill material in the cavity of legs, chest, and arms. This will make the zombie look realistic and creepier.
It has 4-AA batteries included in it. Dressed in the usual farmer attire, this prop gives out a realistic vibe. This speaking farmer zombie prop stands 5 foot and 3 inches tall. It has a 4 feet 7-inch wide arm span. Get this unique and scary prop to rock your Halloween this year.

September 29, 2023 8:11 am

Amazon.com
Last update was on: September 29, 2023 8:11 am