Ceramic Drinking Fountain for Pets which is Automatic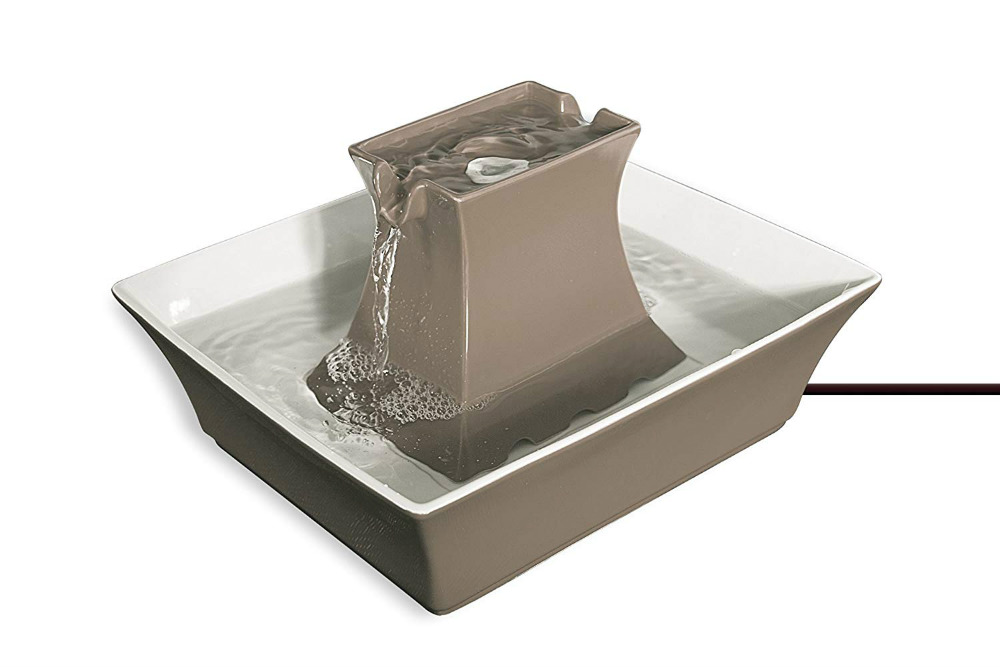 Your pets might create a mess while drinking water from their bowl. With splashes, your walls or other surroundings might get dirty. The bowls too are very shallow and do not hold enough water to feed your pet. This leaves them thirsty most of the time. PetSafe presents its automatic ceramic drinking fountain.
The ceramic drinking fountain is the most useful utility you would want for your pets. The fountain holds about 70oz water. The quantity is enough for small and medium-sized dogs. The fountain has two levels to allow your pets to drink water. This makes it convenient for your pets to drink water. Even arthritic pets can have water from this fountain because of its dual design. The fountain, in fact, encourages your pet to drink water. The dual free-falling streams add oxygen for freshness. The freshness is what encourages your pet to drink water.
The ceramic drinking fountain has a filter. The activated carbon and coconut shells clean the water. They absorb molecules from tap water which contribute to bad taste and odor. The water that the pets drink is pure and fresh. Extra foam filter helps to protect the pump from pet hair and other debris. This method of making the water more appealing attracts the pets to drink water. This helps them to stay hydrated for long. Staying hydrated protects them from any kind of kidney disease.
The fountain is top-shelf dishwasher safe. You can disassemble the fountain and clean every 2-4 weeks. All you have to do is take the pump apart and remove the faceplate. Remove the teardrop-shaped stator by pulling up on the small lip. Remove the impeller and clean the faceplate, stator, and impeller with lukewarm water. The set has a fountain, carbon and foam filter, a fountain pump with an adaptor and an instruction manual.

December 6, 2023 5:57 pm

Amazon.com
Last update was on: December 6, 2023 5:57 pm