Floating Globe with Magnetic Levitation and Nightlight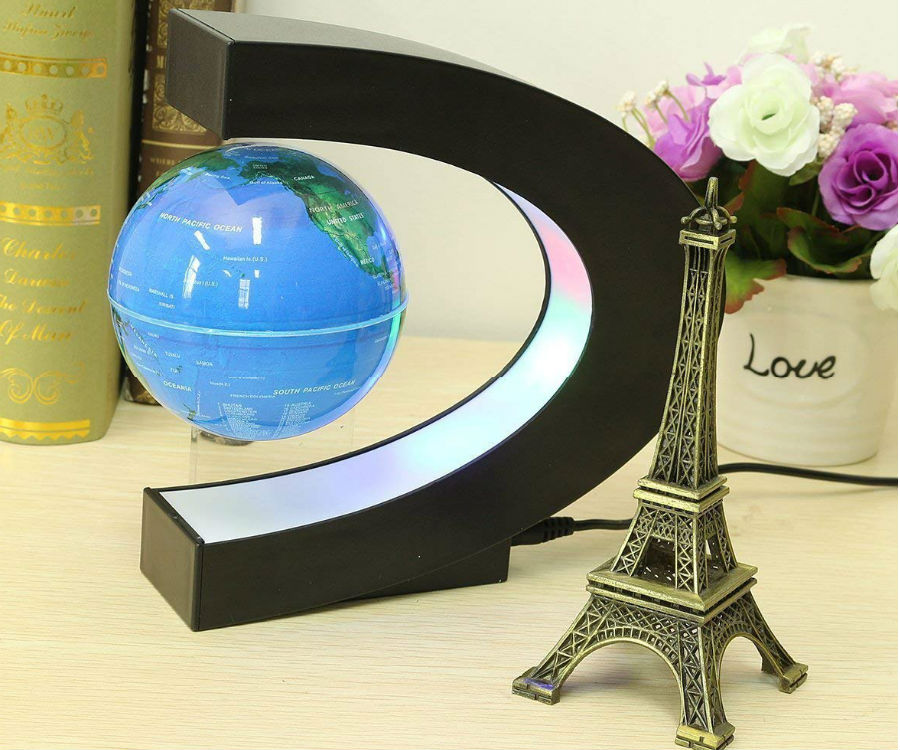 A Globe floating on air will ease the purpose of turning it around. Ann Bully's Floating Globe with Magnetic Levitation is an educational purpose globe, floating on air with the axis on a funny C stand. The Globe is suitable for an office desk as a time passer, or for school desks as a learning object. A magnetic globe suspended in the air, rotates 180 degrees while floating in the air. Also, the LED beads on the C stand blooms in the extreme darkness, no matter about light.
Moreover, the Floating Globe uses high-quality world map texture printing. Your students will get most out of the details from the desk about the geography, from the desk itself. Since the map marks all regional, international and continental borders very clearly, this globe is the best way of learning. The LED bulbs will light up the map from darkness, and brights the room. More than a Globe it is a nightlight too.
Floating Globe uses magnetic levitation technology to hold the globe on air. As mentioned above, the C stand contains three switch controlling LED bulbs. When in the darkness, the Floating Globe turns in to a lighted lamp to continue in the night. The globe floats automatically in its axis at a smooth speed. Though, it needs external power to light up or rotate.
In addition to this, the floating globe is a perfect partner for your office desk. With such an innovated tech on your table is very delightful. The Floating Globe also decorates your home if you wish to put it somewhere showcased.
Once you set up the arrangements of the globe correctly it will levitate on air. Then just spin it little with your hands. After that, the globe will rotate smoothly on its axis. Don't miss such a delightful gift if someone is deserving.

September 28, 2023 1:10 am

Amazon.com
Last update was on: September 28, 2023 1:10 am