Pillar Flickering Flameless LED Candles For All Special Occasions!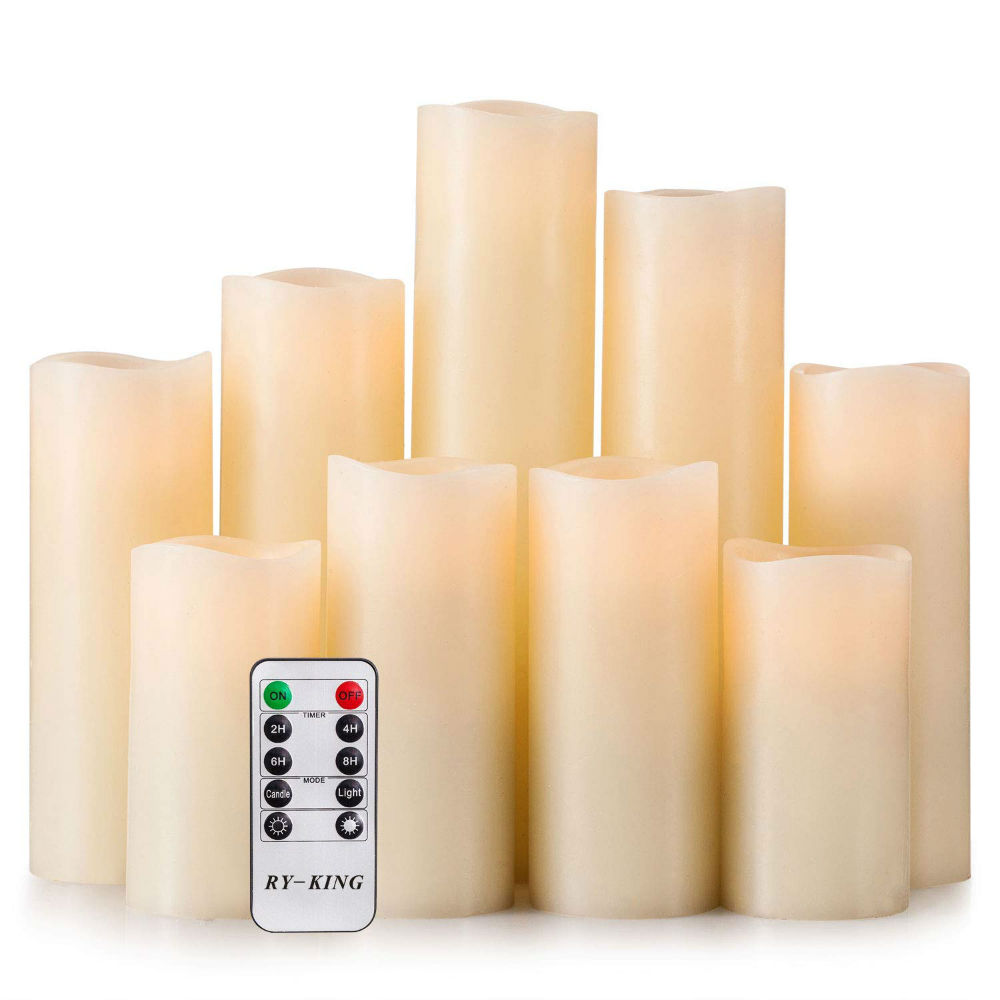 Your festivals, weddings, dinners, birthdays will be redefined with remote controlled flameless candles. The Ry-king pillar flickering flameless LED candles is a set of 9 candles of different sizes.It is very easy to use since you can control all the 9 candles with just one remote. They go well on any background and any place of your house.
The ivory colored pillar candles are made of wax, yet work on batteries. So, they look like original candles. Also, these are safe to use when children and pets are around. These flames give you a realistic effect of flame.
The Ry-king pillar flickering flameless LED candles have an exciting feature of timers. You can set the time and the number of hours for the candle to light up. It can automatically shut down after that time. This will repeat itself every day as of a reminder.
Now you do not need to panic if you forgot to light up the candles right before your party. You can set the time for up to 8 hours. There is a 10-key remote control that comes along with these flickering flameless LED candles.
Besides, these are ideally used to light up birthday parties, bars, Christmas, weddings, and all other occasions. The 9 pieces range from 4 inches to 9 inches. The whole package has a dimension of 11.9 x 8.6 x 5.7 inches and weighs about 4 pounds.
Each flameless candlelight will require 2A batteries. Also, the entire battery life is about 150 hours. This means you can enjoy these premium, safe candles for long hours at less expense.
If you like to decorate your home then these pillar flickering flameless LED candle will be your perfect catch. Forget hassles of melting candles and frequently lighting them up. Light these flickering flameless LED candles and enjoy countless hours of beautiful candle lights.

September 27, 2023 9:18 pm

Amazon.com
Last update was on: September 27, 2023 9:18 pm