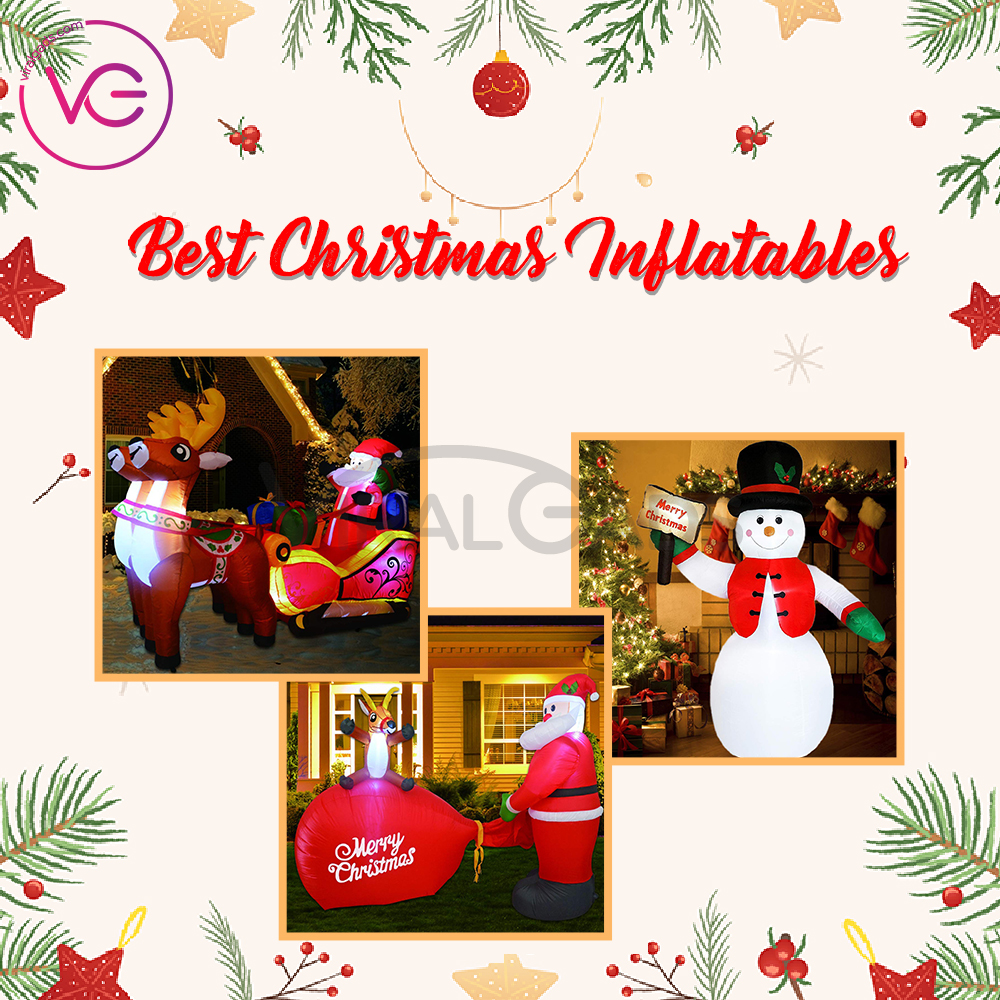 Christmas is around the corner and its the time of the year where there's a sense of joy all around the world. Its a fact that you would be in search of Xmas goodies that can give a feel of those "good old winters". If your looking for something that could make a pleasant face on your guests on the Xmas eves, then we've got something cute and whimsical in our sleeves.
We got the inflatable Christmas decorations as its one of the best and cutest things you could afford to welcome the sweet winter. These inflatable Christmas decorations come with everything you need for a good holiday. Even more, there are quite a lot of pleasant illuminations on these Christmas inflatables that could make your nights lit.
Polar Bears Collection & LED Igloo
Its time to lit up your Xmas with the new cute little polar bear Christmas inflatables. This Xmas inflatable is a scenic luxury that you could afford for your home this winter. It has an LED igloo and a set of three inflatable polar bears. The presence of the dancing LED lights makes it a scene to remember.
Measuring at 5x7x6 ft, the HappyThings inflatable polar bear collection makes an excellent backdrop for all your Xmas snaps. Apart from the inflatables, you also get an air blower that makes the work quite easy. So yes, make sure you get this cute collection and let them be the star highlight of your Xmas eve.
Related: 14 Best Christmas Window Decorations for this Christmas
Inflatable 8ft Xmas Tree
This inflatable Xmas tree should the there in front of your home at any cost. The Jliedomi Inflatable Xmas tree is an 8 ft dummy tree with lights and inbuild projections. It can make your Xmas nights so much lit and colorful.
It is quite easy to inflate thanks to the blower you get with the delivery. The best part is that this inflatable Christmas decoration is of a decent height and decorating it takes no time at all. It is ideal for the outdoors or indoors. This could be a star attraction for your Xmas night parties.
Inflatable Christmas Tree with Snowman
The AnotherMe inflatable Xmas Tree is 7 ft in height. It is an adorable and child-friendly inflatable Xmas goodie that adds a charm to your Xmas eves. It is of a perfect size that allows you to add extra decorations if any. There are bright LED lights and swirling bulbs inside to light up your winter.
The inflator that comes with the package helps you to inflate it without any fuss. You can inflate it up in under a minute or so. It works well for Xmas decorations and outdoor parties. You can keep it inside your home if you prefer as it is of a decent size.
Inflatable Xmas Santa Clause with Reindeer
We all know how adorable is the scene of Santa riding his wagon with his reindeer. To mimic that onto your Xmas eve, we've got the Goosh inflatable Santa set. This is a cute 6ft inflatable Santa Claus sitting on a reindeer with his wagon. The inflatable Santa and reindeer set features good lighting from the inside as well as the outside.
It has bright white LED lights that glow from the inside and gives a cool and lit Xmas eve. There are strong anchors that hold the set after you inflate it. You can inflate it with the blower that comes with the package. This Santa and reindeer decoration is a cool and perfect Outdoor yard decoration if you are planning to throughout a party this winter.
Related: Trending Selfie Santa Christmas Decorative Brings Smiles All Over!
Christmas Inflatable Nativity Scene/ Cradle set
Xmas ain't complete if there isn't Xmas Cradle set on your lawn. The Joiedomi Christmas inflatable nativity scene is a new attraction that could be set up in the nick of time. It is a 6.5 ft blow up nativity scene that comes with extended ground stakes and inbuilt sandbags.
You also get bright Led decoration lights that can light up your Xmas eves like never before. The free blower makes it easy to inflate and is safe for kids to work with. You can inflate the whole set up in under a minute. This inflatable Christmas decoration is a perfect solution for the Xmas week parties and does well as a church decor too.
Inflatable Snowman and Penguin
The Goosh range of inflatable nxt gives you a 6ft snowman and penguin set for this Xmas. It has a bright white LED internal light and could also be illuminated from the outside. It can make your Xmas eves far more pleasant and cool.
This inflatable snowman is one of the best light up Xmas decorations that you could get at a reasonable price. Being 6ft makes it easy to keep it indoors too. It works by first inflating and then plugging the electric cord onto your wall socket. The inflator comes free with the package. You can inflate it within the nick of time.
Christmas Inflatable Polar Bear 6′
This cute little inflatable polar bear and penguin set gives a feel of that winter you were longing to get. This Xmas inflatable is hand made and has a good quality that most other inflatables lack. The nylon inflatable material gives a kind of luster and strength.
The inflatable polar bear is around 6 ft long and is 3 ft in height. This Christmas inflatable goodie is quite cute and you can inflate in under a minute. A thing to note is that you don't receive an inflator with the package. All other ropes and stacks come with the package. Also, after you deflate it, you can store it anywhere as its lightweight and shrinks in size.
Inflatable Gingerbread Man 5′
This Xmas eve, think about the Gingerman with the Santa cap welcome your guests to your party. Cool isn't it. This one you see here is a 5ft Xmas Gingerman that comes with a Merry Xmas greeting. It is a cute looking Xmas inflatable that could get some of your guests staring at the eve.
It has an inbuilt fan and internal bright lighting. The fan makes itself inflate when you plug the cordon. Also, there are 6 powerful LED lights that power up to illuminate your Gingerman at night. It comes with mot with four ground stakes but zippers on the bottom to make the inflatable more stable.
Related: 15 Best Secret Santa Gift Ideas for This Holiday Season
Christmas Inflatable Santa
The ShinyDec Xmas inflatable Santa stands tall at 5ft. It comes with a blower that helps you inflate the goodie in under a minute. This Christmas inflatable looks like the Santa carrying a Christmas tree in his truck. The whole setup comes with internal lighting too.
The LED lights illuminate the inflatable Christmas decoration and give a colorful feel for your Xmas eve. Its something cute and colorful to have at your home during this wintertime. The package comes with ropes and ground nails that help you keep the inflatable intact.
Goosh Inflatable Santa Claus 5′
The Goosh inflatable Santa stand tall at 5Ft and is exceptional for your Xmas celebrations. It comes with a bright LED light that illuminates from the inside. This inflatable Santa Claus dome with a 10 ft extensible power cord and ground stakes. This makes it easy to plug it into your wall socket near you.
The strong stakes and ropes present in this inflatable Santa hold it to the ground even after you inflate it. It is ideal for your indoor or outdoor parties during the Xmas eve. Also, it is available in an 8ft model too.
6′ Inflatable Snowman
The Snowman's a must for the Xmas eve no matter what. The MerryXGift inflatable Snowman is a cool little Xmas goodie that you can have all winter long. It is a 6ft inflatable goodie that comes with Inbuilt LED decorations. It can inflate itself when you plug the cord on to your power socket.
This inflatable snowman comes with a good quality polyester that is resistant to weather. It is waterproof and you can use it in the outdoors or indoors. There is a total of 9 LEDs inside the inflatable. By plugging the cord, the fan inside will powerup and inflate the snowman by itself. Once it gets inflated, the led lights pop up.
Inflatable Snowman
This one you see here is yet another inflatable snowman that you can get for this Xmas. It is a 6ft snowman with self-inflating fans and decoration lights. The fan makes it easy to inflate the snowman in no time. There are illumination lights and LED decorations that make it stand out during your Xmas parties.
Being at 6ft makes it up to keep in outdoor or indoor. There are ropes and ground stacks that anchor the inflatable right onto the ground. The waterproof material makes it useful and longlasting. It is also fade-resistant and scratch-resistant.
7′ Inflatable Santa and Reindeer Set
This inflatable Santa and reindeer set looks rather eye-catchy and cool. It is a 7ft inflatable snowman and Reindeer set that comes with an inbuilt inflator. The outdoor home Xmas decoration set comes with internal LED lightings that lit up your Xmas eves. The 10 ft power cord gives you more freedom to place it anywhere you like.
The Led lights take around 13V to function and this makes it safer near children. There are ropes and ground stacks that keep the Santa and reindeer model upright at all times and even could stand a strong gust. This Santa reindeer set comes in a 12ft version too.
Inflatable Santa in Chimney
This Christmas Inflatable goodie looks like the Santa's popping out from the chimney. It comes with good quality polyester that is weather and fade-proof. It is capable of inflating in under a minute thanks to the inbuilt inflating fan. There are a number of internal LED bulbs that give good illumination during the night.
You get the inflator, ground stacks, tether ropes and a voltage converter with the package. the voltage converter converts the 110V Ac to the 12V Dc so that you could get the bulbs popping up. The stacks and the ropes make this inflatable Christmas decoration stay upright every time. you can keep it anywhere you prefer, as its around 6ft in height.
Gingerman Greeting Inflatable Set
This Christmas inflatable you see here is a miniature model of the Gingerman greeting your guests a merry Xmas. The set is 10 ft wide and 4ft tall with the gingerbread man holding the "Merry Xmas" greeting.
It has inbuilt led lights that can attract a lot of eyes on the Xmas eve. It is very durable and is safe for kids. There are strong ground stacks on the four sides that hold the inflatable intact. You receive a blower that could inflate it in under a minute.
Inflatable Native Scene
Your Xmas nights are never done if there isn't a Christmas nativity set in your yard. This inflatable set has the capacity to inflate itself with its inbuilt fan. The internal LED lights provide a good illumination during the night and give an eye catchy feel.
Its 6ft in height, hence you could either keep it inside your home or in the yard as you wish. Lile all the other inflatable, you get all the necessary items such as the ground stakes and tethers with the package.
Inflatable Santa Holding Gifts
The goosh range of Xmas inflatables is never gonna end. This time we got 8Ft inflatable Santa that comes with the same inflating mechanics of the later. Like those you saw above, this inflatable looks more like the real Santa holding his bag full of gifts. It looks quite cute and children would love to have it in there yard.
The presence of the LED internal light gives a feel of illumination at night. The lights pop up when you connect the 10ft power cord onto the wall socket. Having a Santa right in front of your home or yard can bring a strong feel of the winter and Xmas to you.
Inflatable Santa on Sleigh and Reinders
This inflatable Santa and reindeer set comes at a decent price tag and offers good durability. It is 8ft in length with colorful lightings that guarantee to lit up your Xmas eves. This inflatable Christmas decoration is capable of self-inflating thanks to the inbuilt inflating fan. Also when you deflate, you could store it even in your closet.
This Christmas inflatable is made of good quality polyester and is easy to set up. The presence of the ground stakes and the tether ropes hold it where you want, intact. There are also some more Santa and reindeer models that come in different designs and sizes too.
Christmas Inflatable Lighted Santa
The twinkle Star inflatable Santa Claus stands tall at 6.4ft. It adds a festive mood to your winter nights and can welcome your guests with colorful illuminations. This inflatable Santa comes with inbuilt LED lights and inflating fan. This lets you inflate the Santa in less than a minute.
Also, you can deflate and store it within minimal space. There are sandbags inside to keep the Santa intact all the time. The tether ropes and the ground stakes also do a good job holding the Santa on a windy day. You can keep it inside your home or on your lawn or garden and let the Santa welcome your days of prosperity.
Christmas Inflatable Snowman with Light
This inflatable snowman you see here is 8.5ft tall with some crazy LED illuminations. It is capable of inflating itself when you plug the power cord into the wall socket. The internal inflating fan makes it quite easy to inflate the snowman in under a mi ute or so.
This inflatable Christmas decoration is made of good quality polyester and is far more durable and fade resistant. The presence of the LED lights lit up your winter evenings and can make your neighbors go wow. You get all the necessary add ons such as the tether ropes and ground stacks with the package.
Gemmy Inflatable Polar Bear set
The Gemmy Inflatable polar bear set is a cute little Xmas inflatable that you should this winter. It's a fancy little goodie that you can keep on the outdoors and on the indoors. The 7.2 ft tall inflatable set up comes with internal lightings. The LED lights inside give a moody illumination each time you switch it on.
You don't need external blowers to inflate this polar bear set. There is an inbuilt fan that works when you switch on the main power cord. You just need to plug it into the socket, stake it down and it will inflate itself. You receive tether ropes, ground stakes and all other things with the package.
BZB inflatable Santa Claus
This inflatable Santa and reindeer set stands tall at 12 ft. It is like those whimsical Xmas goodies that can capture a lot of looks. This little Santa and reindeer set is self-inflatable thanks to its inbuilt fan. You get LED lights inside. These light give you ambient lighting and illumination during your Xmas day parties.
It's great for parties and goes well with the indoors too. The inflatable set comes with a power cord that acts as a common channel for the inflating fan and the LED lightings. You get tether ropes, an external blower and ground stacks with the package.
Getting a pair of Christmas inflatable Snowman or Santa can really steal the show this winter. There are quite a lot of them available online with different sizes and shapes. These best Christmas inflatables are reasonable on the budget, with most of these inflatable Christmas decorations costing just under $45. We believe you've laid your eyes on some of the best inflatables on our list to bring the Christmas colors into your yard.