12 Best Alarm Clocks for a Beautiful Morning Call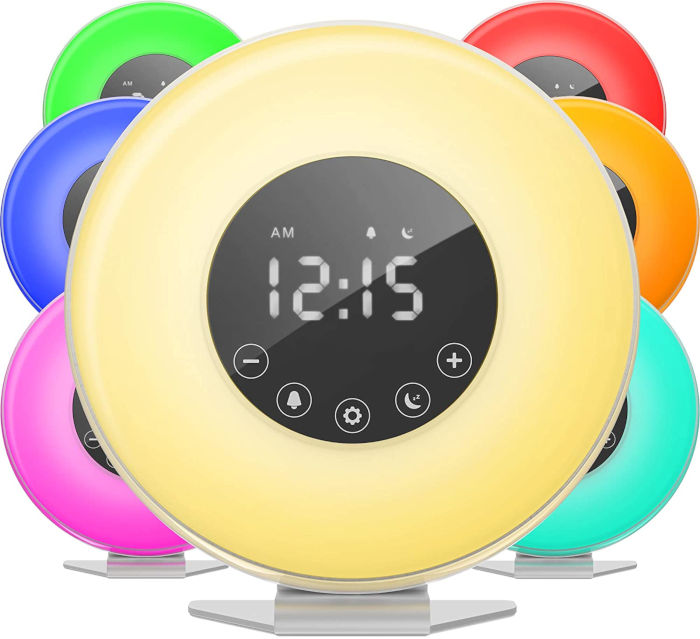 Let's face the truth, there might have been a lot of times you've slept so badly that made you skip your meetings, seminars, or even dates. We really can't rely on ourselves to wake up on time on some of those important days. This is where the new digital alarm clocks flaunt their stylish features. There are quite a lot of innovative alarm clocks that are rich in features like repeated snooze, FM, and Time Projection. These new alarm clocks make it easy to wake up on time without feeling that fussiness you get when you wake up late. These devices are now coming with USB connections, voice interactions, and smartphone connectivities too. So this time, we thought of dealing it with some of the best Alarm Clocks that you could find online. Our list includes the best and the top-rated alarm clocks that are quite rich in features.
HOMElabs Sunrise Alarm Clock
The HomeLabs Sunrise alarm clock looks elegant. It has a cool LED time display and is available in quite a lot of color shades. What makes it the best alarm clock is that it uses a warm LEDlight along with the alarm chime to wake you up on time. The lights gradually brighten 30 mins before the alarm to give you that gentle morning sunrise feel. It features a sleep timer with a sunset simulation that gently dims the ambient lighting of your room. With this cool alarm clock, you can wake up to the smooth and soothing sound of nature.
There is also an easy to set snooze and off button within the device. This digital alarm clock comes with 8 colorful lighting options. It can work as a table or bedside lamp during your nonsleeping hours. Apart from the soothing nature sounds, there is also an inbuilt FM radio available. With a price tag of $16, its one of th4 coolest and most trusted smart alarm clock ever.

Last update was on: December 1, 2023 12:04 pm
SmartRo SC91 Projection Alarm Clock
The SmartRo SC91 is, in fact, the perfect projection alarm clock for your bedroom. It can project the time and the ambient temperature to your walls from your bedroom table. It shows both the outdoor and indoor temperatures at the time of projection. This cool alarm clock is basically a wireless weather station also. It comes with a 4.5" display coupled with tones of alarm tones and alerts signals. With this digital alarm clock, you can set multiple alarms for different occasions. It features the snooze function and can set it according to your needs.
It is also easy to use and setup. The set of 7 buttons let you navigate through the alarm settings and temperature info. There are adjustable projection angles and adjustable brightness settings. The best distance of projection should be less than 9ft. The device runs on an inbuilt rechargeable battery and lasts more than a month with a single full charge.

Last update was on: December 1, 2023 12:04 pm
Philips SmartSleep
The Philips SmartSleep Alarm clock comes with a light therapy lamp that can improve your sleep patterns. It can mimic the morning sunrise and can give an ambient morning feel to your rooms. Its light increases in brightness for over a 30 min period before your wakeup time. This, in turn, stimulates your body to wake up as you used to do when the sun comes out. By the time the yellow lights of the clock cover your room, the device starts beeping at the time you set the alarm before.
This alarm clock comes with multiple wake-up chimes and has the snooze and auto volume adjustment function. You can snooze the alarm by touching anywhere on the light-emitting part of the clock. There is also time setting buttons and navigation buttons near the small led panel. This LED panel also shows you the time and other related Infos. The Philips SmartSleep works on the AC power supply. You can keep it near your bed table for easy access.

Last update was on: December 1, 2023 12:04 pm
Lexon Flip
The Lexon Flip is a compact Alarm clock for your home. It is a reversible radio controlled clock that is easy to use. The clock's pretty easy to operate depending on the side it is faced on. On the ON side, the alarm gets activated and the display shows the time left for the alarm to beep.
Moreover, you can deactivate the alarm by just flipping the clock to the OFF side. This alarm clock works on the normal AAA batteries. There are buttons on the rear for controlling and setting the alarm and time on the digital LCD display.

Last update was on: December 1, 2023 12:04 pm
Clocky Alarm Clock on Wheels
This cool alarm clock you see here looks quite cute. It's one of the best alarm clocks to keep in your kids' room. They'll love the design as its eye catchy and looks just like a toy vehicle. This robot clock can wake you up with its super loud alarm chimes. There is also a small LCD display that shows you the time, fate, and other notifications. The best part about this alarm clock is that it can move. Yes, you heard me right it can run around like your remote-controlled car.
With this alarm clock, you can set snooze for even 30 seconds to 8 mins. There are all the settings button right on the middle panel snd there is also an LED backlight to aid you during the night. The Clocky alarm clock works on the normal AAA batteries. You require 4 of them to make it running.

Last update was on: December 1, 2023 12:04 pm
WITTI Design BEDDI Smart Alarm Clock
The Witti Smart Clock is an app-controlled alarm clock with auto time sync. With this cool alarm clock, you can wake up with a refreshed morning thanks to the wakeup sunlight simulations and favorite alarm music. It shows you the weather and ambient temperatures, traffic reports, and much more. It can even communicate with other smart devices to adjust your room temperature to get that cozy feel. This smart alarm clock comes with smartphone app integration.
It lets you set alarm, track temperature, and set snooze timings from the app itself. There are two high-quality speakers that can wake you up with your favorite music. You can set tones from all leading music stores like Spotify or Apple Tunes. The device includes one 2.1A and 1A charging port for charging your smartphones. There is also a charging slot to keep your phone intact. It works on the DC 5V power supply. You get the necessary adapters to connect it with our power sockets with the delivery.

Last update was on: December 1, 2023 12:04 pm
Jall Digital Alarm Clock With FM Radio
The Jall Digital Alarm clock is compact and can fit anywhere. It is lightweight and a portable clock that you can keep anywhere apart from your bedrooms. This alarm clock comes with an inbuilt FM receiver. You can use it as an FM radio with a frequency range of 87.5 to 108MHz. It features two independent alarm settings with 7 loud alarm rings. In fact, you can set the FM stations as your wakeup ringtone if you prefer.
With this device, you get dual charging ports so that you can charge your smartphones in the outlet model. It also works with the normal AAA batteries but in this mode, you cannot operate the dual USB ports. In the outlet mode, you can adjust the brightness levels of the display panel. It can also detect the ambient temperature of your room at specific intervals.

Last update was on: December 1, 2023 12:04 pm
AmazonBasics Digital Alarm Clock
The AmazonBasics Digital Alarm Clock is an ideal nightstand alarm clock that provides utility in a compact size. This alarm clock features a 0.7" LED display that's easy to read, even during the dark. It comes with backlight illumination and shows the date and other related info. The low-intensity nightlight makes it easy to set alarms during the night. You get every setting button right at the rear part of the clock.
Like most digital alarm clocks, you can set snooze so that you could get that extra bit of sleep every morning. This device works on the AC power supply. In fact, there is an inbuilt battery that acts as an emergency backup in case you encounter a power cut during the night.

Last update was on: December 1, 2023 12:04 pm
Sony ICF1PJ Alarm Clock
This Alarm Clock is abruptly the smallest and most durable alarm clock you could get online. It features a decent yet easy to read LES display that is backlit. This display shows the date and time and alarm notifications. The device lets you project the tike on your wall or ceiling. The swivel projector can tilt up 180° and enable easy virtual time projection anywhere.
It comes with some of the most soothing alarm tones including that of the sounds from nature. This alarm clock features a side-mounted USB port. It lets you charge your smartphones and other USB powered devices. There is also the FM receiver inbuilt. It lets you tune into a number of preset FM stations you prefer. The device works on either the AC power cord or on the internal battery. The internal battery is like an alternate power backup during sudden power cuts.

Last update was on: December 1, 2023 12:04 pm
Philips Digital Alarm Clock
The Philips Digital Alarm clock is a decent clock that features classical chimes and beeps for kids snd adults. It is quite compact and fits well with your bedrooms. It comes with a cool design and has a big LED display panel. You can set two alarms with this device and the display shows all the active alarms. As an alarm clock radio, you can set the radio or beep to wake you up.
There are also 5 nature tones to select from if you prefer some soothing sounds of nature to hear in the morning. The sleep timer function on this alarm clock lets you decide how long you need to listen to music or the FM. You can set limit up to 1 hour. The Philips alarm clock works with AC power. And yes, there is the emergency battery backup too.

Last update was on: December 1, 2023 12:04 pm
That's our list of the best Alarm clocks to look out for this year. The top ones on our list include alarm clocks that feature quite a lot of innovative features like the FM radio, time projection, and much more. Some of them come with soothing alarm tones and nature sounds that you can set as alarm beeps. Most of them are pretty compact and suit well with your bedrooms, even in your kid's bedroom too. They work with either the inbuilt batteries or through the AC power supply. There are quite a few in our list that comes with emergency backup in case you go through a sudden power failure. These best alarm clocks are affordable and are easily available. So yeah, make sure you get the best one that suits all your needs and preferences.