Heat Changing Mug that Changes Color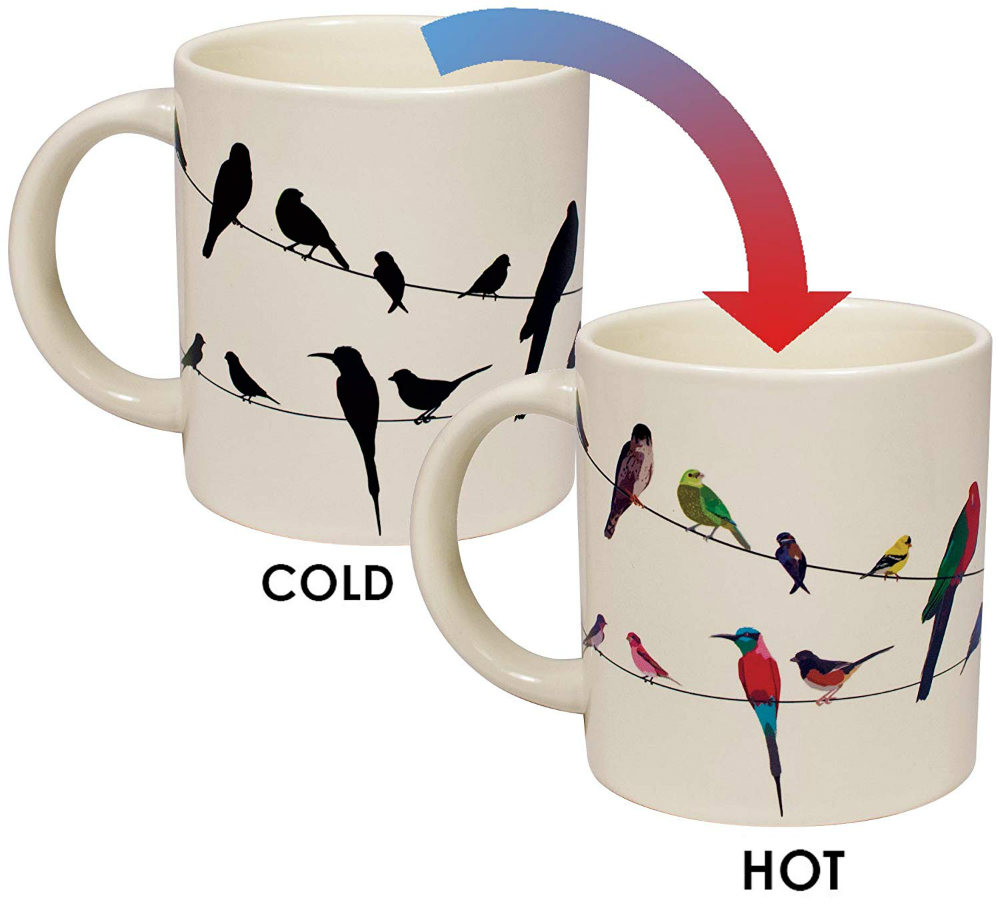 There are a variety of mugs available in the market. But most of them have some of the other common features. This makes them very boring and out of fashion. The mugs introduced by The Unemployed Philosophers Guild has a very unique feature. Their heat changing mug actually transforms color when filled with something hot.
The mug has a design of birds sitting on a wire. When the mug is cold, the design has silhouettes of the birds. As and when you pour something hot, the birds begin to take color. In addition, colorful birds appear taking beautiful shades of color. The mug is a ceramic one. It has a capacity of 10oz. The mug comes in a colorful box.
For those who love watching birds or are always in the awe of nature, the heat changing mug is a perfect gift. If you want to enjoy your evening cup of tea or coffee, you would want to buy this cup. Even while pulling off all-nighters, this cup is bound to help you wade off stress. The color-changing birds soothe your soul and are bound to have a relieving effect. 
The heat changing mug comes along with certain cautionary advice. Also, the mug is microwave safe. But loses its birds once put in the dishwasher. Do not put the mug in the dishwasher. The birds will melt away and the mug will lose its most awarded feature. You can clean the mug by washing it with your hands.
This mug tops the list of gifts for people who are into nature and books. The mug compliments their personality. Someone who has a lot of stress must have this mug. The colorful birds wade off any kind of stress and anxiety. Moreover, all 18 birds have their individual identity. The species of the birds specified with the mug.

September 21, 2023 1:59 am

Amazon.com
Last update was on: September 21, 2023 1:59 am