Teddy Bear Nightlight with Heart for Kids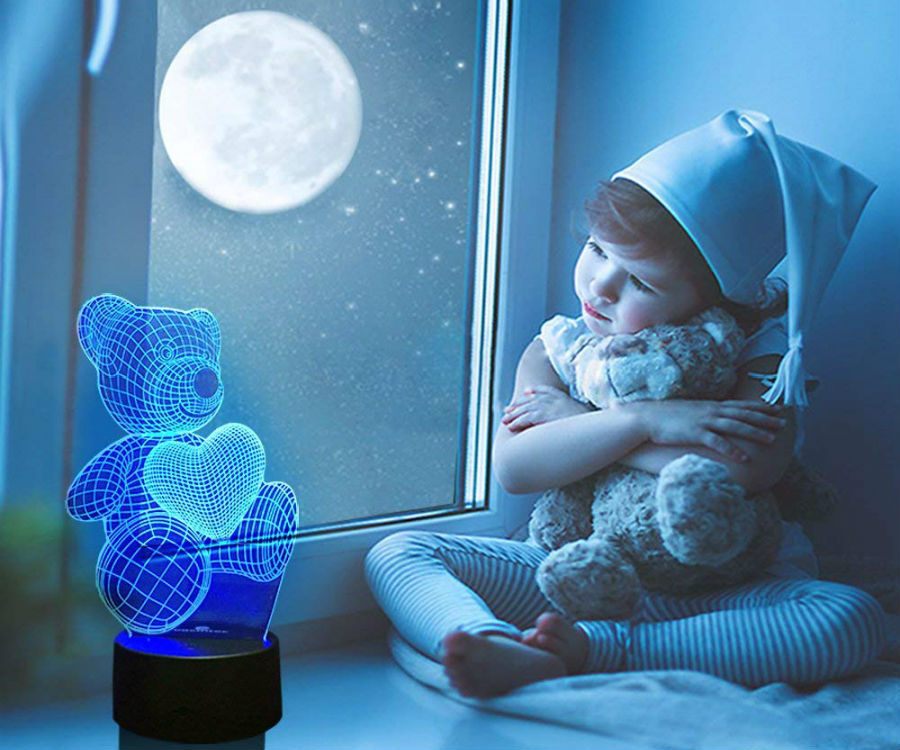 Beautiful Teddy Bear nightlight with stunning looks for your kid's room in novelty. This lighting teddy is such a beautiful gift for your kid to enjoy their sleep as well. Moreover, with multiple color options and the heart in the hands, the teddy bear nightlight is even more attractive. Putting one Teddy beside your kid is that much lovely. Though this one is much distinct comparing to traditional teddies.
The Teddy Bear nightlight will glow in 7 colors including white, red, green, blue, yellow, cyan and purple. This Teddy will get some attention from everyone whenever they have some look at it. This Teddy nightlight has some nice 3D look with the wire-frame appearance. Even though, the glowing lights produce a nice outlook for the Teddy Bear Heart. As the colors change, your rooms look warm and unique. Also, this Teddy Bear heart nightlight will help your child go asleep safe.
The Teddy nightlight measures 4.8 inches width to 8.7 inches of height making it easier for you to put it wherever you like. This Teddy bear nightlight comes with both remote control as well as smart touch control. The all-new remote control includes On/Off, Reset, Next/Previous, Single color, and multi-color modes. These multi-color modes include dimmer light with 7 colors, 4 flash speeds, and fast/slow paces. The Teddy bear nightlight with heart is such a wonderful product from Easuntec.
The Teddy bear nightlight is very flexible in the matter of power. Teddy will glow up with USB power, or power from an outlet also. This teddy lights up using such low energy and is a portable light that you can carry with. If you are out of power, use 3 AA batteries to light the teddy up again. The warm appearance of this nightlight will spread some pleasure in the room.
Also, if you prefer to give a gift to someone, the teddy bear nightlight is one great gift. This Teddy will ensure to keep the rooms look gorgeous with its charming lights is great.

September 28, 2023 12:10 am

Amazon.com
Last update was on: September 28, 2023 12:10 am