Compact Flashlight Keychain That You Can Carry Anywhere!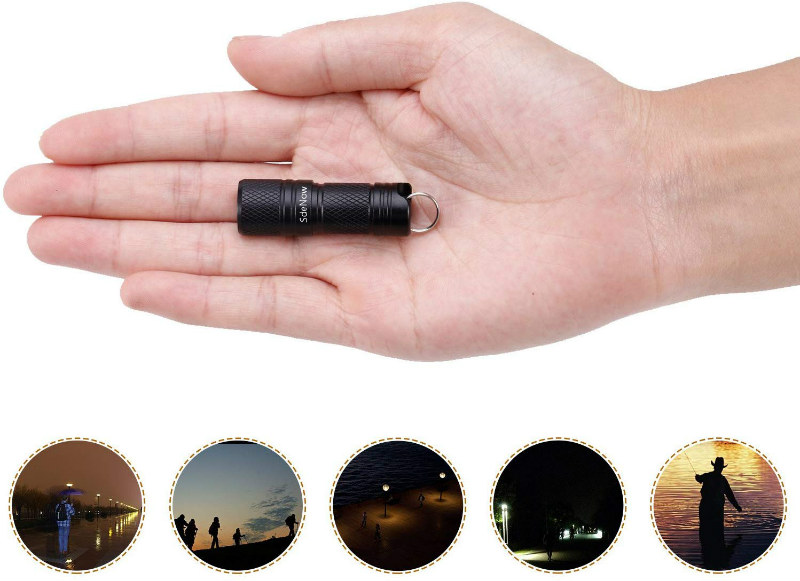 Want to go on trips without having to worry about your safety? You can now go outdoors safer with this compact flashlight keychain from SdeNow. It is only the size of your finger! This small yet useful product will provide for your safety and guide you in the night as well. Also, do not go by length, because 200 lumens which provide very bright white light. If you are going camping, this is the best camping lighting tool to have.
The design is very intuitive. You can use it in tough environments and carry it anywhere. With only 30 minutes of charge, it can stay lit up for almost 2 hours. The best part? It is waterproof and very durable. Now even if you get into water or have to go on an adventure, rely on this keychain for that purpose.
You can either carry it as a single piece or attach it to your keychain. The strength of the key-chain comes from the titanium alloy it comprises of. There is a built-in USB port that can charge the mini flashlight. The head part is especially stable because of the increase in the number of screws holding it.
Moreover, the compact flashlight keychain is easy to operate as well. With only a single turn of the head, you can turn on the light. It holds well in your hands even when they are sweaty due to the high grip nature of the material. It is best suited for both indoor and outdoor lighting.
At only 0.42 ounces, it does not add to the weight of your luggage as well. The dimensions of the compact flashlight keychain are only 1.65 inches by 0.5 inches. The package consists of the flashlight keychain, USB cable, and a special metal gift box. Hence, your search for a durable and featured keychain ends here. Carry this for your outdoor trips and stay safe!

December 6, 2023 2:47 pm

Amazon.com
Last update was on: December 6, 2023 2:47 pm