3D Wooden Treasure Box to Hide Your Little Secrets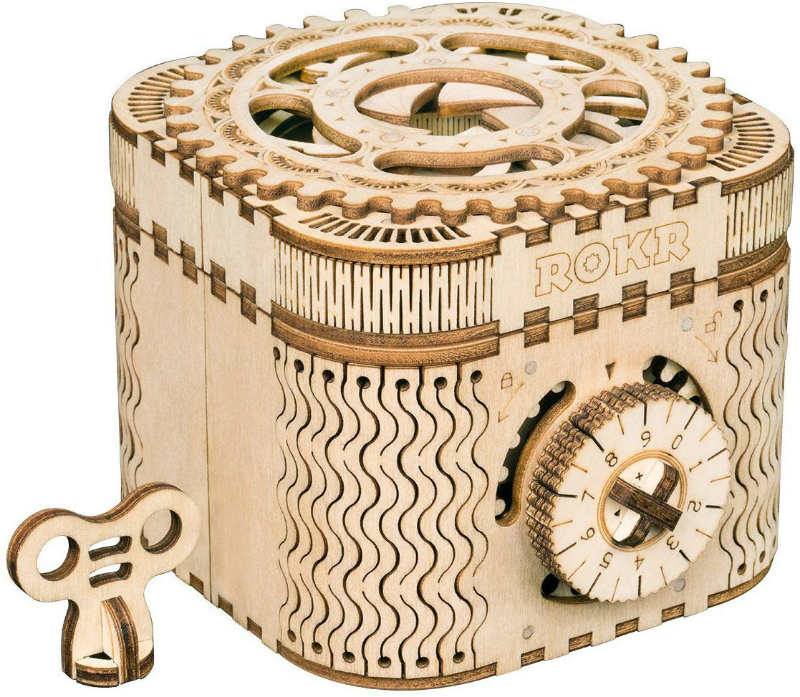 Finding it hard to keep your valuables hidden from everyone? This 3D wooden treasure box by ROKR will make your work easier.
This box has a rotary knob. You can use this knob to enter the password to open the treasure box. You can set the password at the time of assembly. Once finished, you cannot change the password. It is a three-digit number. You can choose between 000 to 999 having 810 choices for setting a combination. The combinations of 190 are not available.
Let's talk about the look and functionality of this wooden puzzle box. In the back of the treasure box, there are two holes. In these holes, you can insert the key. Then, open the box and rotate the key. This way, the inner tray will open and rise. On top of this wooden treasure box, you will see a gear. Upon rotating the gear, there will be a small space at the top.
If you think we're done, then you are wrong. There is much more to this 3D wooden treasure box. At the bottom of the box, you can record the password that you set. Similarly, you will see a laser engraved method of entering the password. To open the box and see other instructions, you can refer to the user manual.
Here comes the most fun part of this 3D wooden treasure box. You can hide tour secrets inside a little tray inside. You can even leave a secret message for someone there. This treasure box is the perfect mysterious place to hide something. You have to be careful to connect the parts. Avoid putting the treasure box in a wet place. This is a perfect gift to give to your loved ones.

September 20, 2023 10:08 pm

Amazon.com
Last update was on: September 20, 2023 10:08 pm