Multi Charging Stand – Organize all your Apple Gadgets at One Place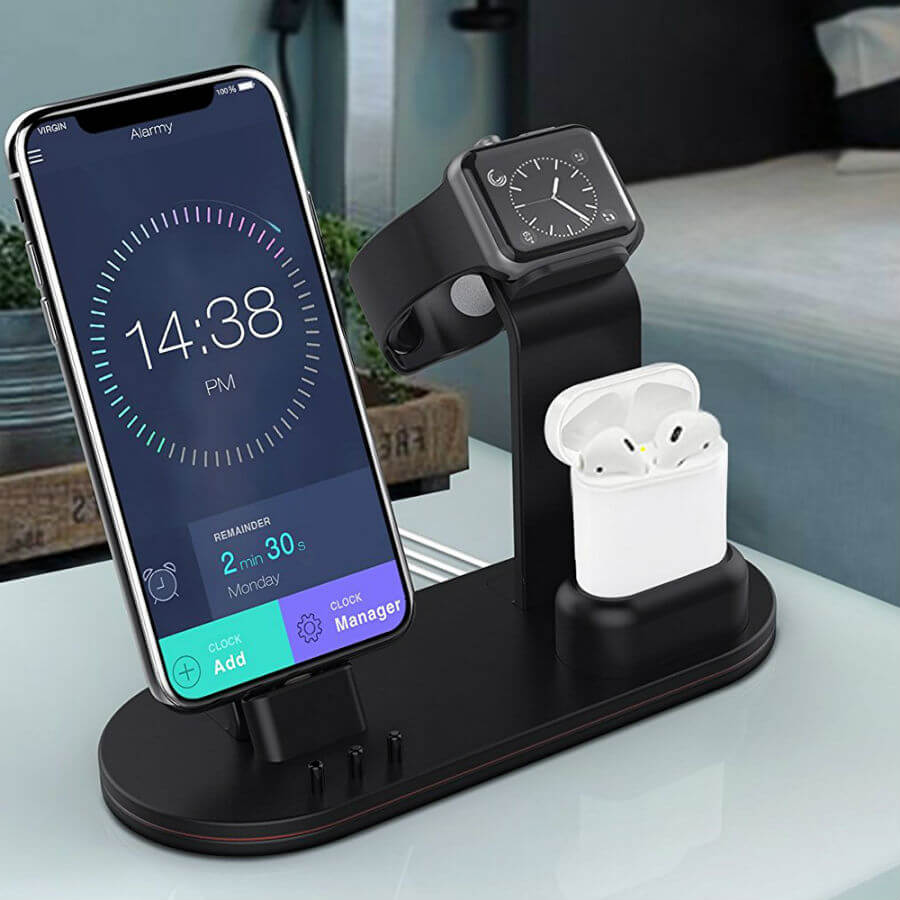 Is it too difficult to handle your Apple gadgets? Don't worry, here is a Multi Charging Stand, where you can put all your devices in an organized manner. Moreover, the black color Aluminium made stand looks very classy with the Apple Gadgets hung on it.
The solid build quality of this stand is another point to note out. The stand and base look premium with the aluminum alloy. The finishes are much smooth and highlighting. There is a non-slip pad on the bottom, keeps the stand from falling.
The organized stands make your devices fit in a small space. The stand steadily holds the Apple Watches. Also, it supports the nightstand mode. The silicone holder has great grip, hence your watch will never slip away. The watch stand fits all form factors of Apple watches ranging from 38mm to 44mm.
The charging stand is very convenient to handle. There is a finger comfortable nut which works fine on adjusting the form factor of the holders. Hence, you can place and charge your iPhone even with the phone case.
The protrusion in front of the iPhone holder acts as a stand for your entertainment time. Moreover, the TBU back protect your devices from scratching up when placed on other holders.
This Multi Charging Stand for Apple Gadgets is manufacturing at OLEBR. This handy gadget is very much useful in your office desk or your home. Besides, you can install your Apple chargers and cables through provided holes. There are special holes on the placing plates to fit the cables.
As this multi charging stand fits most of the Apple Gadgets it is a very useful tool. The cool gadget is decent on its design and organization. In short, for an Apple, the stand is one must have gadget. Also, it is a perfect gift for new homies.

September 27, 2023 4:17 pm

Amazon.com
Last update was on: September 27, 2023 4:17 pm