Scary Baby Harness Girl to Prank Your Halloween Visitors!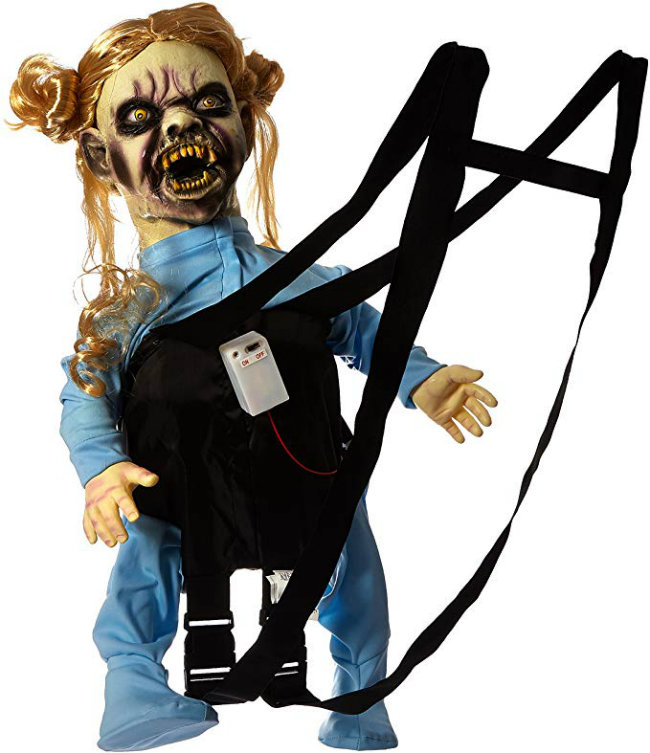 One of the scariest Halloween pranks is here! The Scary Baby Harness Girl from Morbid will be the most fearful toy at the party. Take your visitors by surprise by showing its creepy face with a lot of noise.
Pretend that you have your child in your two and come walking to your visitors. See the shocking reaction on their faces when the doll spins her head around. The head can spin 180 degrees. Some other scary features are the eyes lighting up in the dark. Her neck cracks while she talks.
The scary baby harness girl comes in plenty of color options. These include blue, blonde, yellow, purple and black. You can activate it by a button. For the operation, 3 AA batteries go into it. The cloth on the doll is 100% safe fiber. You can wash it with hand also.
There are many types of voices in the scary Halloween doll. They are clear enough to understand. Her eyes and teeth have very creepy colors which add to the fear factor. Moreover, her hairs resemble a small bay which makes the design realistic.
The scary baby harness girl is a lightweight product. With the harness, it weighs 11 pounds. Since the dimensions are compact at, 21 inches by 12 inches by 8.5 inches, the strap can fit well on any shoulder.
You can place this as a creepy Halloween prop in the party or use it as a harness. The best part is, you can add more features to make it scarier. Level up your Halloween decoration with this unique baby doll.

September 27, 2023 5:06 pm

Amazon.com
Last update was on: September 27, 2023 5:06 pm