Holife Mini Hand Vacuum Cleaner – No More Mess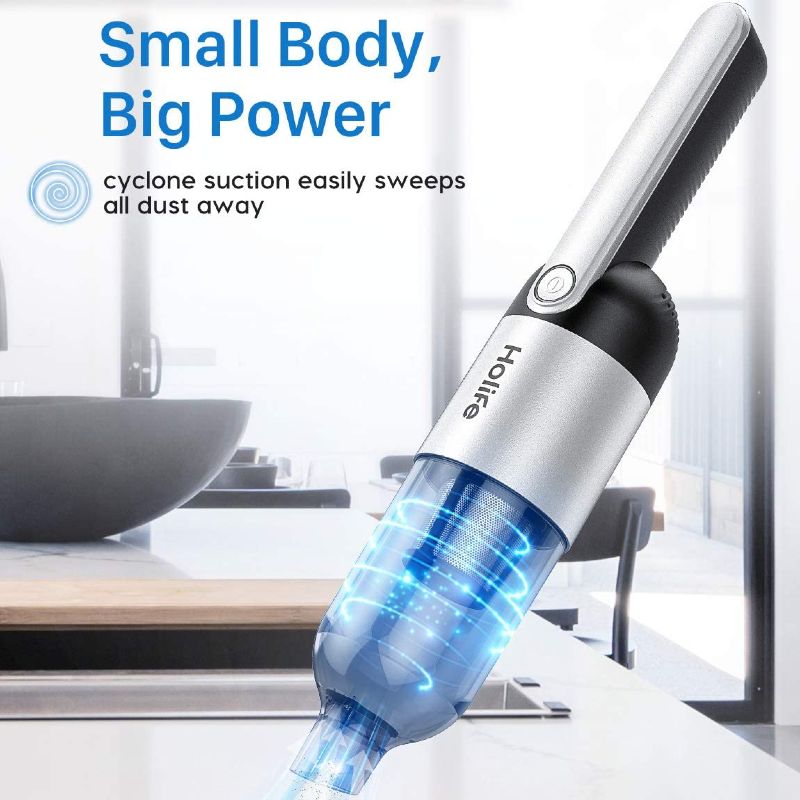 Holife is renowned for its super stylish and well-designed products. The Holife Mini Hand Vacuum HLHM555 does not disappoint in that either. The craftily designed handheld vacuum cleaner is best-suited to clean crumbs out of your car. However, it is powerful enough to manage other simple cleaning tasks as well.
Holife Mini Hand Vacuum Review
The most striking feature of this Mini Hand Vacuum is its lightweight and portable design. It fits snuggly inside your bags; and is just a little taller than a wine bottle. Besides, it weighs just around 2.5lbs, which makes it very convenient to carry along.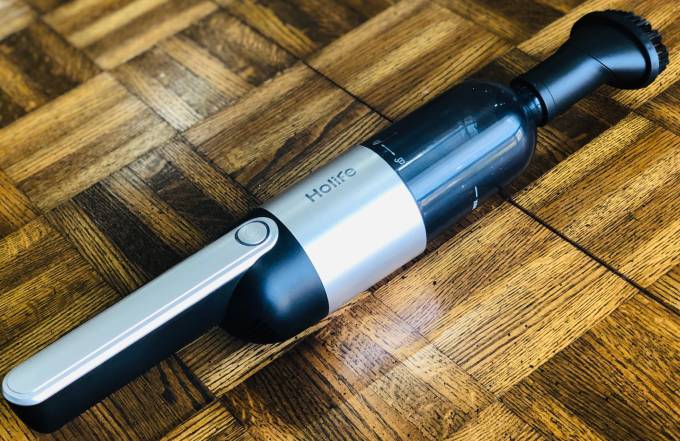 Even with the lightweight build, the Holife mini vacuum cleaner assures decent durability. At the same time, it makes it very easy to use inside your car or for cleaning your desks. You can even use the handheld vacuum cleaner to get rid of dust from the corners, drawers, and cupboard. However, it will not be suitable for heavily dirty areas.
Here is a quick look at the specifications of Holife Mini Hand Vacuum HLHM555.
| | |
| --- | --- |
| Motor | Soft start/ Brush Motor |
| Size | 14.53 x 8.98 x 3.86 inches |
| Weight | 2.5lbs |
| Suction power | 7kPa |
| Dust Container Capacity | 350ml |
| Filter | HEPA + Stainless steel |
| Battery capacity | 2200mAh |
| Working time | Up to 30 minutes |
| Charging time | 3 – 4 hours |
| Low battery indicator | Yes |
Design
Holife Mini Hand Vacuum HLHM555 is smaller than most of the other compact cleaner models. You can even leave it inside your car's glove box. This way, you can use it whenever and wherever you want.
The ergonomic design of the handle makes Holife Mini Hand Vacuum comfortable to hold. Moreover, it also features non-slip textures for an added grip. There is a soft baffle on the vacuum nozzle as well. This avoids the collected granules from getting out when you hold Holife mini vacuum straight up. This makes using the lightweight and portable vacuum cleaner much more effortless.
Performance
Holife Mini Hand Vacuum HLHM555 is powered by a high-speed 90W motor. It delivers 7kPa suction power that is good enough for most of the day-to-day cleaning jobs. You get up to 30 minutes of battery life on a single charge. This is at par with any of the other compact handheld vacuums you can get. If you need more running time, you will need an electric corded vacuum cleaner.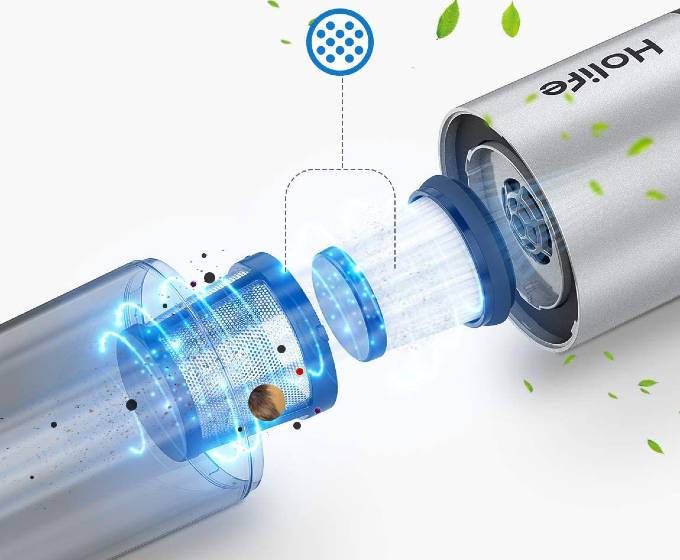 The Holife mini vacuum comes with HEPA and Stainless Steel filters. This assures you of quality filtration and steady performance. Moreover, it also comes with a 360-degree rotatable brush. This makes picking up dirt or debris from upholstery and other delicate surfaces very easy.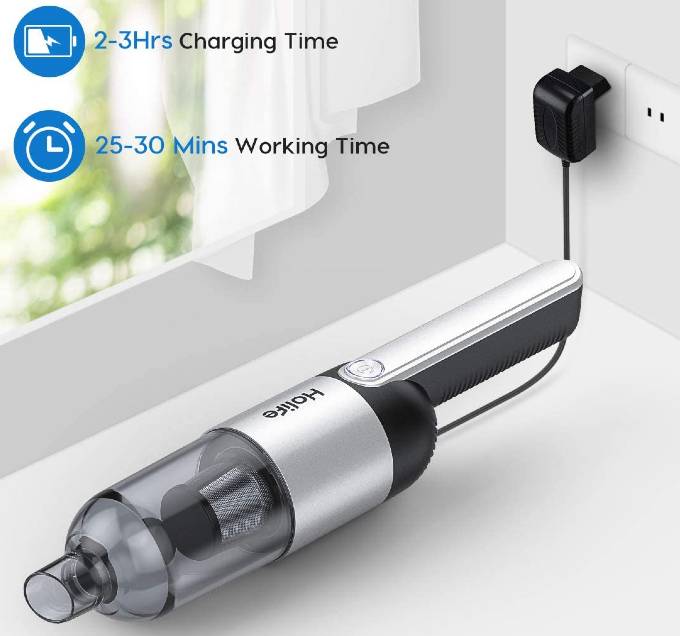 You get two serviceable attachments with Holife Mini Hand Vacuum. This further enhances the versatility and usability of the vacuum cleaner. The long crevice tool included in the pack is for cleaning hard-to-reach areas. However, you cannot use the handheld vacuum to clean liquid off the surface.
Final Verdict
The Holife mini vacuum cleaner can be a great choice for those looking for a simple handheld unit. Its small size makes it convenient to use, while its 7kPa suction power is enough for light cleaning jobs. The battery life is good and it comes with attachments that allow cleaning hard-to-reach areas as well.
Apart from being handy, Holife Mini Hand Vacuum sports a stylish design as well. It can even fit as a sophisticated decoration piece on your shelves or desktop. The pricing of the handheld vacuum cleaner is also very reasonable. All that makes it a go-to unit in terms of convenience and performance.

September 30, 2023 11:21 am

Amazon.com
Last update was on: September 30, 2023 11:21 am