Scary Standing Reaper To Make Your Halloween Scary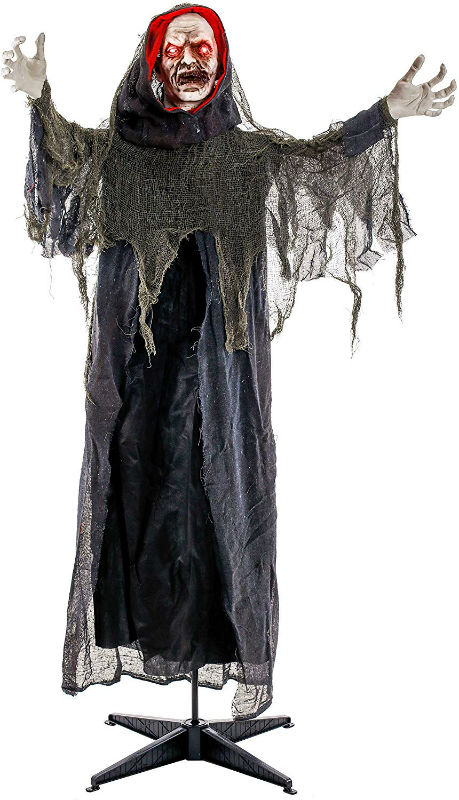 Ever wanted something spooky to scare everyone on Halloween? This Scary Standing Reaper from Halloween Haunters is 5'9" tall. It has a terrifying appearance. The first sight of this can be terrifying You can place this in your house to make it look haunted or on your porch. This creepy looking reaper turns its head from side to side. It also captures people around it by holding their arms out. These movements get activated by sound and touch.
The phrases in this unique Halloween décor are – "Who disturbs the graveyard!", "Come to meet your doom!" and before saying these creepy phrases the reaper moans and laughs. The outfit consists of a long black robe attached to a creepy red hood. This hood covers the reaper's head. The whole Halloween décor item for your home sits on a frame. This frame is of steel and has a wide base for standing.
The scariest thing about this reaper is that it grabs people of a sudden. The phrases it emits are creepy and can scare anyone who is present in front of this creepy looking reaper.
You can use this as an outdoor Halloween decoration idea also. The arms of the reaper can bend, you can try different poses and its red eyes lights up and flashes. The reaper's laugh sounds demonic and is pretty scary.
You would not need to buy batteries as it comes with 3-AA batteries and has an on and off switch. Its height is 5'9" and arm span is around 4'. It consists of up of foam, latex, fabric, nylon, steel. The weight is 3.7 lbs. The Scary Standing reaper comes with instructions do that you can assemble it with ease.

December 6, 2023 5:51 pm

Amazon.com
Last update was on: December 6, 2023 5:51 pm