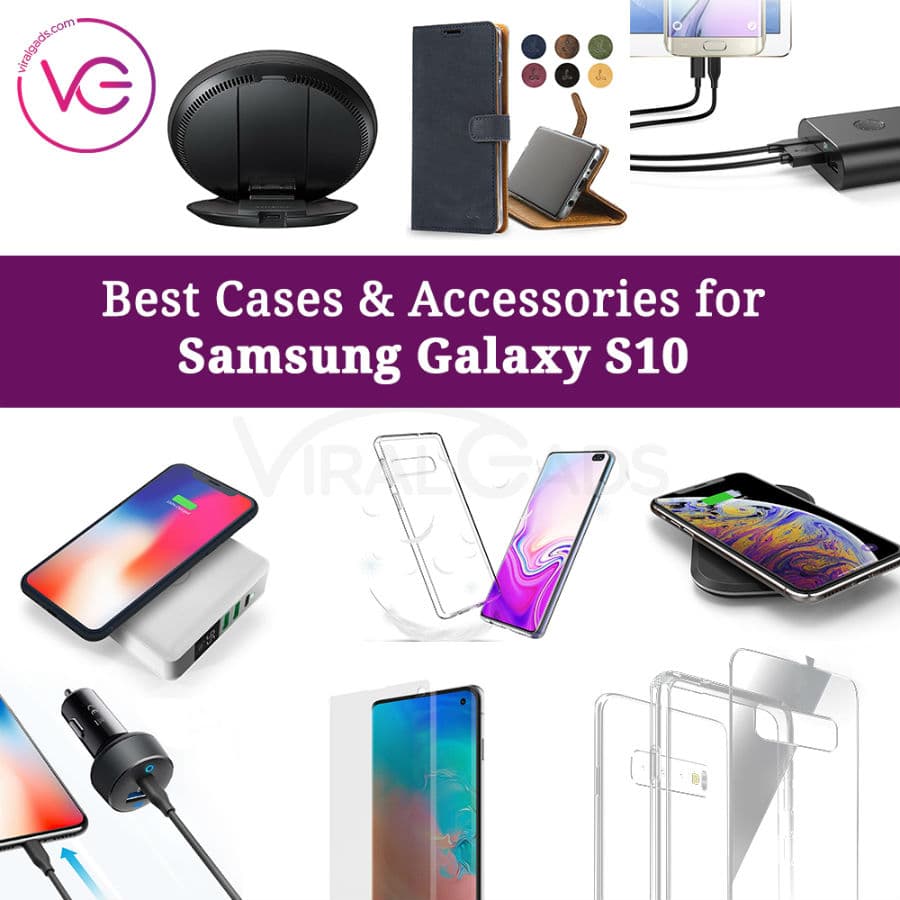 Samsung Galaxy S10 series has already started ruling the smartphone market. Sleek finish, powershare, on-screen fingerprint scanner, and a lot more to the list. Galaxy S10 series created a revolution in the wireless charging facility. With their new Powersharing ability, this phone can charge any new generation phones. As an excited owner of Galaxy S10, the only concern about the phone is how you're gonna protect your new Galaxy S10. You may need a good case for Galaxy S10, screen protector and a couple of accessories. In addition to the Samsung Galaxy S10 Case, we have listed a wide range of Samsung S10 accessories in this article.
The accessory list for Galaxy S10 includes Samsung Phone cases, wireless chargers, Bluetooth earphones, screen guards, car mounts, and many more.
Spigen Neo Hybrid Samsung Galaxy S10 Case
Spigen released a Hybrid case for Samsung Galaxy S10 series. The new addition to S10 series supports powershare. S10 can share its charge with different phones which support wireless charging. With this hybrid cover, both wireless charging and powershare are possible. This Spigen cover has a sleek design to look slim on your phone. Polycarbonate bumper to protect your phone from accidental falls. The buttons on the cover are responsive. It actually feels like there is no cover over the original buttons.
This Galaxy S10 cover has been drop tested several times to make sure the high quality design and reliability. Neo Hybrid cover also gives protection to the Galaxy S10 back camera. This model is available for all S10 series. 4 different colors are there to choose from. Spigen Neo is the most recommended cover for S10, S10+, and S10e. The lowest price is 11.99$ and highest is 15.99$.
Samsung Galaxy S10 Crystal Clear Case
What's the point in buying a colorful phone if it goes under a phone case? This rubber gel case from Anccer solves the problem. Crystal clear cover designed for Galaxy S10. This cover is not available for S10e and S10+. TPU bumper cushions in the corners are present to withstand a fall. The gel cover has raised borders for the back camera. This prevents the probability of scratches occurring on the camera while placing down.
Anccer gel cover supports wireless charging and powershare, an ideal case for Samsung Galaxy S10 series phones. Full protection from air bubbles and watermarks on the cover. Anccer Gel cover is available for 11.99$ in Amazon. If the user is not satisfied with the product, they offer a replacement.
Samsung S10 Leather Case by Snake Hive
Luxury feels for a luxury user. This leather case for Samsung S10 created in Europe by the finest creators. Finest soft matte velvet leathers used to create the outer case. The inner case has smooth leather to protect your screen. Shock-absorbing TPU case provides drop protection to your phone. 3 credit card slots are present on the cover. A larger pocket is available to hold notes. The leather case gives better grip and fits beautifully. Velvet leather adds more life to the leather case.
The leather flap can keep your phone upright while watching a movie. Wireless charging and powershare are not possible with this cover. You have to take out your phone to use the wireless facility. Although, this case has precise buttons and ports for easy access to ports. This leather case costs 36.99$ on Amazon and has a 5-star rating.
Galaxy S10 Screen Protector
Samsung Galaxy S10 series introduced on-screen fingerprint scanner. This was amazing until it came to screen guards. Luckily, Dome glass came up with the solution. LOCA Technology senses finger above the screen guard and unlocks your phone. You need to press a bit hard for the device to read the fingerprint. Using Liquid Dispersion Technology, all scratches and scuffs vanish into the air. Also, Dome glass provides rounded edge protection by using a curved screen guard. An installation kit which includes UV cure light is available with the product. This installation kit helps you to stick your screen guard onto your device. A video demo of installation is available in Amazon site.
Dome glass provides a limited warranty to the screen guard. All damaged screen guards' warranty given by WhiteStone. The whole kit costs 49.99$ on Amazon.
ESR Glass Case for Samsung S10
A 9H tempered glass to protect the back glass of galaxy s10. The raised cut gives more protection to your back camera. A soft TPU frame is also available to increase protection and grim on your phone. All the coins and keys cannot make a dent on your 9H glass while it's in your pocket. The cover is easy to install and the transparency of the back cover is 100%. The buttons click sensitive and all slots for ports are of precise size. Even if it marks too many fingerprints while using, it is very easy to wipe off.
ESR glass case supports both wireless charging and powershare. You don't have to remove the cover to charge your phone.
Samsung 512 GB Evo Plus Micro SD Card with Adapter for Samsung S10
Every smartphone needs a memory card. Samsung Evo plus is a perfect product for your Samsung Galaxy S10 series. It's class 10 making it possible to read and write files at 100MB/s. You can shoot 4k UHD videos using this card in S10.
The Micro SD is waterproof and magnetic proof. So, no data lost externally. The product comes with an SD card adapter to connect it to the computer. There is no need for software to connect the Micro SD to the computer.
Samsung Galaxy Buds, Bluetooth True Wireless Earbuds
With 6 hours of battery life and 7 hours from the bud case, galaxy buds play a lot of songs. A custom Equalizer called AKG for tuning your galaxy buds. Galaxy buds come with ambient aware. This lets you choose the perfect volume to the perfect surroundings. 3 earbuds are available to select the perfect one for your ears. Galaxy buds are water-resistant.
This Samsung Earbud is splash proof, sweat proof, and dust proof. A perfect partner to your gym life. Galaxy earbuds are compatible both with Android and iOS devices using Bluetooth. Ambient aware is only available to Android users. iOS users can setup Siri with Galaxy earbuds. The device stays connected within a 25m radius.
Anker PowerCore Power bank for Samsung S10
Anker PowerCore+ upgraded to Type C port for future generation smartphones. This power bank gets charged with your ordinary S10 charging cable. It has 20100 mAh of battery capacity. Supports type-C to type C charging also. PowerCore+ can charge up to 3 devices with 6A power. It weighs only about 500gms making it easy to carry. The model is not bulky and can fit into your pocket. Aluminum alloy to provide durability to the power bank. Sides rounded off to make it look sleek.
The package includes 2 USB cables, one Type-C, and one Type-A, a manual guide, a pouch and the power bank itself. LED power wheel for indicating remaining charge in the power bank. It also acts as a switch for toggling between Type-A charging and Type-C charging.
Sumpus QI 2-in-1 Wireless Charging & Power Bank
With wireless charging as the new trend, Sumpus decided to up their game. They installed a wireless power charging facility to their 6700 mAh power bank. It also supports Type-A and Type-C in case your phone doesn't support wireless charging. It has a LED indicator and a digital display to show the remaining power. Sumpus power bank detects the output needed for a phone and switches according to it. It has 2 type-A port and one Type-C port. This power bank can charge 2 devices, together.
This is the best wireless power bank in the market. All android phones with wireless charging facility can use wireless charging facility.
Samsung Wireless Charging Pad/Stand
The best way to charge your S10 galaxy is to use a Samsung Wireless charger. This wireless charger has many coils to charge your phone in different angles. It supports fast charging so that your phone can gets charged faster. The wireless charger has a LED indicator to show whether your phone is charging. Built-in fans are there to cool down your phone while charging. The best thing about this charger is that it can act as a stand too. This charging pad can is also used as a stand. This way, you can watch movies, video call, see notifications, etc. while charging.
The product has 3.9 stars on Amazon. The product is available in two colors, black and tan. The black costs 49.43$ and the tan costs 42.25$. This wireless charger can also charge Apple iPhones that supports wireless charging.
CHOETECH Wireless Charger
The Choetech wireless charge has 3 coils to support wireless charging in any angle. It is Qi certified which makes the fast charging possible. Choetech charger has a wider area to keep your phone. It has a LED indicator to show whether the device is charging. You can charge your phone with the case with this charger. A case with a thickness between 4mm and 5mm is acceptable for wireless charging. A smart chip is present to control temperature, short circuit, and output power. Choetech is very thin, lightweight and used as a traveler adapter.
This wireless charger has 4.2 stars out 5 on Amazon website. It is available in 4 colors and black costs the less. 19.99$ is the starting price. The Choetech wireless charger is also used to charge all iPhones.
AUKEY USB-C Car Charger
A car charger that can charge your phone 4 times faster than ordinary car chargers. Aukey created a trend in the car charger industry with this charger. You can charge 2 phones at once and also has a Type-C port. The Aukey Car charger has a 3.0 Quick Charge to charge your phone faster.  All android and apple products get charged using Aukey car charger. This will be the best car charger for the Samsung Galaxy S10 series as it supports 3.0 fast charging.
The product has a 4.4 stars rating on Amazon website. The device costs 15.99USD. The package comes with a user manual, the car charger, and a USB-A cable. The Type-C charging port produces 5A power. The Type-A charging port produces 3A power.
AUKEY USB C Fast Charging Cable
3A power produced for safe fast charging. 3ft long and braided cable gives extra durability and strength. This cable supports data transfer and can transfer data up to 480Mb/s. Used with power banks which support fast charging. The company promises the cable can withstand 6000+ bends. The connector is of aluminum alloy for long life-span. The cable comes with a 24 months warranty period. This Aukey product can charge MacBook 2015 and higher versions.
This cable costs 7.99 USD. It comes with a cable, a user guide, and a warranty card.
CHOETECH Wireless Car Charger Mount
A wireless charger that mounts to your AC vents and holds your phone perfectly. It produces 5W, 7.5W, and 10W according to the phone your mounting for fast charging. The locks on to your phone with gravity. Yes, when you place the phone, there are 3 clamps. Two at each side and one at the bottom. When the bottom clamp moves down due to the weight of the phone, the other two clamps on to the phone tightly. At the same time, the phone starts charging wirelessly. No tools required to fix the mount on to the AC vent.
The model only supports wireless charging. A cable is available with the mount to connect to the car charger. The pack also contains a user manual, 18 months warranty card, and the mount itself. It has 4.2 stars on Amazon and costs 28.99$.
iOttie Easy One Touch
You can keep this One Touch mount on your windshield or on the dashboard. A horizontal lever is present to adjust the gap between the mount and phone. This gives tight protection to your phone from falling. It can pivot 225 degrees, thanks to the new telescopic arms. The base fixed to your dashboard or windshield is one time usable. But, the package comes with an extra base, in case you need to change the position. The stand can also extend from 4" to 6.5".
It has got 4 stars out of 5 on Amazon. 24.95$ is the price of the product. It is only available in one color. IT can hold both android phones and iPhones. This mount is more suitable for Galaxy S10e. Instructions to clean the suction base given in the Amazon site.
Jabra Elite Active Earphones (Alexa Enabled)
Jabra introduced their new in-ear Bluetooth earphones with Alexa enabled. Perfect fit for your ears with 3 various earbuds. It has IP56 dust and sweat protection. So you can work out while listening to music, hasslefree. Has 4 microphones to make sure your voice is clear during calls. It also has 3rd generation connectivity. This prevents frequent call drops. Jabra has a custom equalizer to customize your beats. 5 hours of battery back-up promised with the in-ear earphones. We can move 33ft away from the device and the earphone still stays connected.
You can access, Google Now, Alexa, and Siri with a single touch. It's available in 2 styles and 4 colors. Jabra costs 159.99$ in the Amazon Market and has a 3.6 rating out of 5.
Phone Ring Holder Finger Kickstand 360° Rotation
A comfortable ring holder to your perfect smartphone. This ring holder has high ductility and abrasion resistance due to zinc and steel alloy. 3M VBH tape used to stick it on to your phone. The ring holder can support up to 5kg.
This ring holder also acts as a stand. You can keep it on a table and watch movies, attend video calls, check notifications and many more. It is possible to rotate the ring 360 degrees and flip it 180 degrees for the user comfort. The metal base sticks to your magnetic car mount stays there perfectly. It's available in 3 different colors.
PopSockets for Samsung Galaxy S10 series
Amazon fulfilled shop sells this popsocket. It is easy to stick and to remove. Perfect size for every hand. Wireless charging is still supported if you stick the popsocket accordingly. This popsocket can also act as a stand while watching movies. It can stick to all surfaces and cases.
With a 9.99$ cost, this is the best popsocket for your Samsung S10 to protect phone from accidental falling.
Best Samsung Galaxy S10 Cases and Accessories
Amazon store has plenty of accessories and cases for Samsung Galaxy S10. Once you brought the phone, make sure you brought the accessories for Galaxy S10 to keep it safe and enjoy all the features S10 offer. This Galaxy S10 Accessories list will surely help you find the perfect item for your new phone. Most of the items in the list have an Amazon Choice tag. This tag means that the seller and the product are genuine. So, hope you'll find everything you need for your Galaxy S10 in this list.