Magnetic Letter Toy Kit for Easy Spelling Learning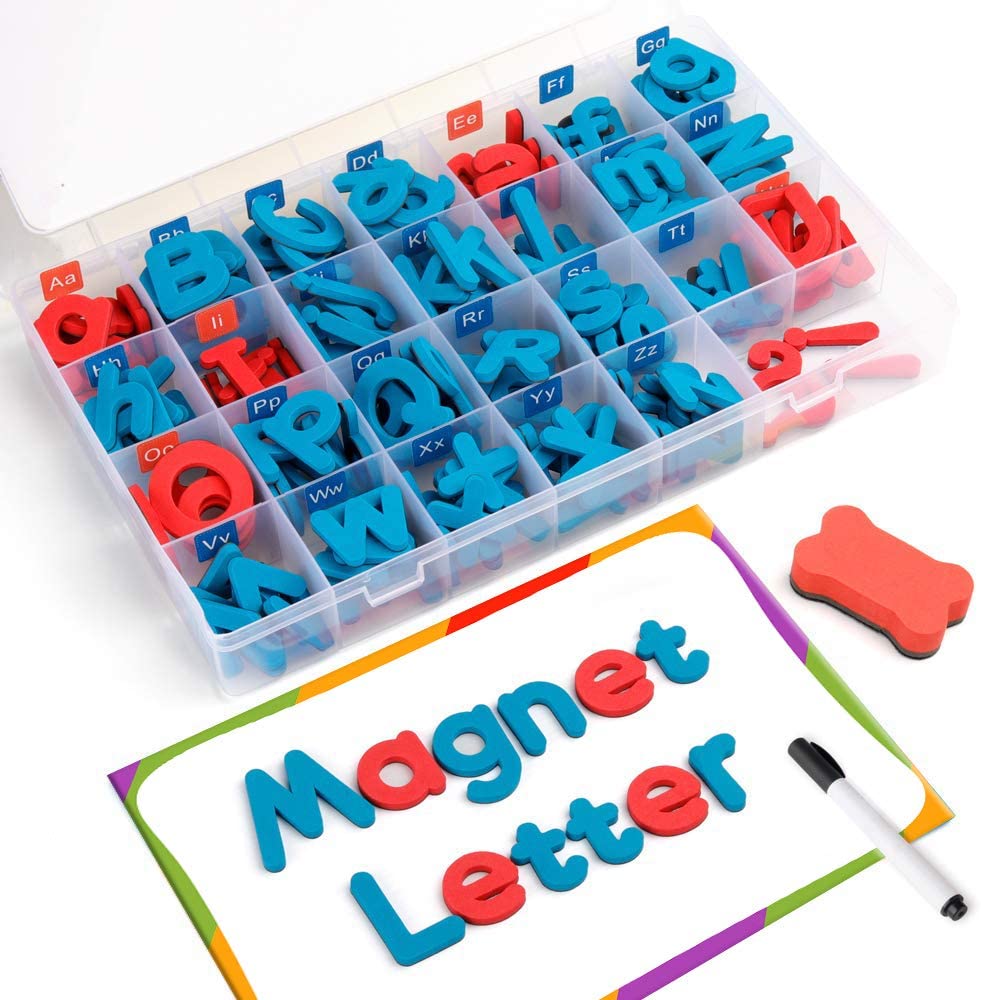 For kids, learning word spells is a good thing when they start school. Looking forward, the need for learning word spells, Coogum is presenting you with Magnetic Letter Toy Kit. The kit contains uppercase and lower case letters as well.
Let's speak about this Magnetic Letter Toy Kit with more clarity. There are 208 pieces of alphabetic magnets with double color tones of Red and Blue, contains in the kit. This includes 52 uppercase letters and 156 lowercase letters. Also, there are 2 question marks, exclamation marks, and a magnetic writing board. It also consists of a marker and an eraser.
The writing board has a dimension of 10.9 * 7.1-inch width and height respectively. Hence it is more than enough for the kids to arrange lengthy words. Since the kit weighs 31.6oz, it is easy to carry also.
Another quality of this kit is its making. The well finished rounded foam magnets are sticky enough. So, without falling off or tearing apart, they will last for a long time. Also, the full strong magnets and the sturdy storage box makes it easy to carry the kit.
The Magnetic Letter Toy Kit is a great educational gadget for kids. This will help them to learn spellings and improve their reading skills. The double color tones make it exciting to create and dispose of words. The size of the capital and small letters are different in size. Hence, it will be easy for the kids to identify between two. The kit is such a useful gadget that helps them to spend their free time productively.
This Magnetic Letter Toy Kit is also a pre-school learning tool. All the components of the kits are created to fit children's hands. The Magnetic Writing Board thick enough to write or draw. Also, it is easy to erase and reuse. This Learning Kit is great for learning and fun. Get more sets for Kindergartens, the kids will learn and make fun using these.

December 6, 2023 9:39 pm

Amazon.com
Last update was on: December 6, 2023 9:39 pm