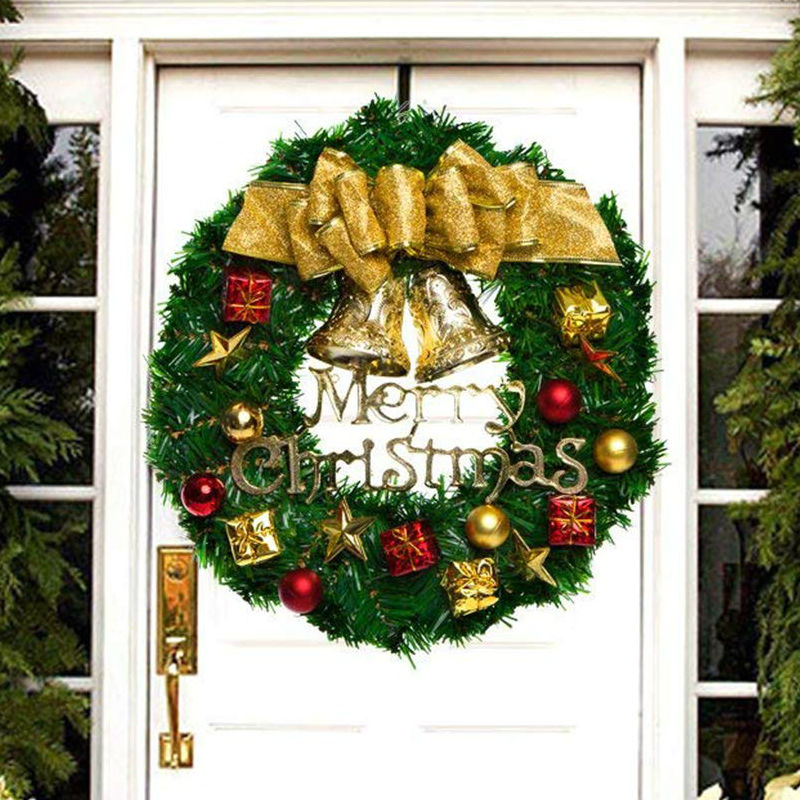 Along with Christmas come parties, togetherness, laughs, and decorations. Decorating your place for Christmas is something everyone looks forward to. After being away from home or being at work, one loves to step inside the comfort of their home and relax with their loved ones. To feel the Christmassy vibe, one must get it going with the Christmas Wreaths decoration.
Amongst a thousand ideas for decorations, wreaths and garlands are the traditional décors which speak "Merry Christmas!" more than anything else.
Wreath Garland with Ribbon and Bells
Decorate your place with this beautiful wreath garland. Trimmed with red ribbon, gold ball ornaments, red bells, pine cones, and red berries, this wreath ooze a festive look. Not only will this go amazingly well with your Christmas décor theme, but it also compliments your door or entryway. You can decorate this piece anywhere you want. Hang it on your doors, wall, stairs, and more. Going well with all kinds of decorative themes, this wreath is perfect for both indoors and outdoors. Add a magical touch to your home with this high quality, durable, and eye-catching piece of decoration.
Besides shining and glittering whenever you hang it, this wreath will create a beautiful aura at your place. Want to greet your customers at Christmas? Hang it on your store's main door and wish them a Merry Christmas! Let your creativity out with this wreath garland and create beautiful patterns this holiday season.
Merry Christmas Grapevine Wreath
It is that time of the year! The time that brings joy, happiness, and laughter into our lives. To be fully prepared, you have to make sure all your Christmas decorations are on point. And what better than a grapevine wreath that says "Merry Christmas"? Adorably standing on a sturdy natural rattan base, you will find plush Reindeer, Snowman, and Santa Claus wishing you Christmas with a smile on their faces. With green PVC pine leaves and "Merry Christmas" written on a green board, this piece of décor will surely add a great touch to your home for a cozy Christmas celebration.
Running 14 inches in diameter and going 1.2 inches deep, this holiday wreath is harmless and eco-friendly. Place it wherever you like; on the front door, hang it over the sofa or a fireplace, or on the balcony. The burlap rope bundling will protect the wreath from falling apart easily. Stable and durable, these outdoor Christmas wreaths will happily be a part of your celebrations.
24 Inch Pine Wreath
Decorations are the must for Christmas. Without it, no Christmas party or evening can take place. Choosing the best decoration amongst all can be quite a big task. But, with this pine wreath, you are all sorted for what to choose this Christmas for decorating your place. With a 24 inch diameter, this wreath is trimmed with pine cones, red berries, and snowflakes. Not only this, but you get LED lights in the wreath to light up your house beautifully. Make your decorations twinkling with 50 UL listed battery-operated soft white LED lights.
Decorate your house, store, restaurant, or any other place without any worries; thanks to the fire-resistant and non-allergenic quality of this pine wreath. It has 113 branch tips and has integrated 6 hours ON, 8 hours OFF timer. If you are confused about which décor piece to go for your indoor or outdoor covered display, then this pine wreath is the one.
24 Inch Tartan Plaid Wreath
Looking for a colorful and twinkling decoration for Christmas? This 24-inch tartan plaid wreath is the one that is best for you. With its trimmed white-tipped pinecones, it will give a unique to your decorations. Red berries and tartan cloth poinsettia flowers are sure to give it a traditional wreath look making your Christmas the old school way. With 113 branch tips, this wreath is fire-resistant and non-allergenic. Forget your worries about it catching fire or leading a spark to it. The wreath also comes pre-strung with 50 UL listed Warm White LED Lights. Also, battery-operated, it is integrated with 6 hours On/18 hours off timer.
The beautiful details in this wreath are sure to attract Santa to pay you a visit with a Christmas. An indoor or covered outdoor display- you can use this wreath for both. You would not regret this purchase and would count it as one of your best decoration purchases to date.
Lighted Christmas Halloween Wreath
Want to go all out on your Christmas decorations this year? Do so with this lighted Christmas Halloween wreath. This beautiful 16-inch wreath is powered by 2 AA batteries. The bright red and golden colors make it the center of attraction upon closing the switch. Made of high-quality PVC material, soft cloth, and strong iron wire, this wreath is durable and can be used over and over again. Beautifully ornamented, the wreath gives a cozy look and can be adjusted to the desired shape. Being safe and non-toxic, all the product materials can be used without any worries.
With golden flowers, the wreath has big bowknots, pine cones, and berries. Adding oomph to your Christmas parties, this décor will surely make your holiday atmosphere cozy. Decorate the wreath wherever you want-doors, windows, flat walls, balcony, or beside the fireplace in the living room. This wreath will get you showered with praises from all your guests. You can even gift this to your loved ones for Christmas.
Gold Glitter Pre-Lit Wreath
There goes a saying by "there is nothing like too much glitter." If you too believe in this, then this gold glitter pre-lit wreath is what you must-have in your decorations for a sparkling Christmas. With flexible branches and warm white LEDs, this 23-inch wreath is the perfect decorative piece for your Christmas and New Year's Party. Accentuate your room, door, hallway, front door, or post with this exquisite ornament. Reading at 3000 kelvin on the color temperature scale, it is safe to say that this wreath is very warm and inviting.
The 42 soft white LEDs will make your guests feel cozy and comfortable. It has a battery box and each box requires 3 AA batteries. Upon switching the 6-hour timer option, the wreath will be on for 6 hours of illumination. There will be no hindrances or pauses in the illumination helping to keep your party going. Serving as a general home décor besides a Christmas decoration, this gold glitter wreath is definitely something you should get right away.
Smokey Pine and Red Berry Garland
Thinking of something very simple yet sober for your Christmas decorations? Keeping in mind your minimalistic choice, this Smokey pine and red berry garland are what we would suggest to you. This 6 foot long Christmas garland has beautifully textured pine needles and pine cones. Alongside a perfect blend of needles and cones, this garland also has red berries to give you that holiday color. This year, keep things simple yet beautiful with this garland. You can decorate your house using this garland in many ways.
Make it a table centerpiece or hang it around your door. You can even put it on your banisters, wrap it around the handrails, or decorate your porch with it. Let your creativity out and create something new out of many garlands. Give it your personalized touch by adding stems, flowers, or picks to them. This pine and red berry garland would even look good with bows or ribbon. Use this garland as you want and in whatever way you want to decorate it.
Pre-lit Woodland Christmas Garland
What better than a garland to decorate your house on Christmas with? This pre-lit woodland Christmas garland is the perfect choice for when you want something 'woody'. Experience the spirit of greenery with the warmth of twinkle LED lights. With plastic balls in shades of rich brown, glittery deer and pine cone, this garland is all set to catch all the eyes of the passersby's and your guests. Besides, it has artificial eucalypti leaves and multicolored twigs for a woodland look.
Step up your Christmas party with the help of this elegant garland that can be decorated and placed in the bedroom, balcony, front door, porch, garden, and many other places. With a luxurious look to it, you will be left with people asking you about this woodland garland. Its timer mode can keep it on for 6 hours, off for 18 hours. The autocycle daily has an 8 light effect scheme. Besides, the LED lights are dimmable and require 3 AA batteries.
Crestwood Spruce Garland with Silver Bristle
This Christmas, beautify your home with this Crestwood Spruce Garland. Trimmed with silver bristle, cones, red berries, and glitter, this garland has all that you need for a perfect décor piece. The silver bristle will add oomph to it while the cones will give it a woody look. While the red berries give it a holiday color, the glitter will add some sparkling effect to the garland. Measuring a length of 5 feet, the garland has a 10-inch diameter. In addition, it is pre-strung with 50 UL listed clear lights. You can always run your imagination and add more garlands or throw in some more berries or lights to give your decoration a new shape and beautify it even more. Fire-resistant and non-allergenic, this Crestwood spruce garland is perfect for an indoor or outdoor display. Decorate it when you call your friends and family over for a beautiful Christmas dinner.
Bright red and gold Christmas Wreaths
Want to make your Christmas decorations look classy without worrying about the budget? You can buy this bright red and gold wreath which looks beautiful year after year. The material used is so good that it gives you all the look and feel of expensive decorations. The size of the wreath is perfect to be hung on the doors, walls, stairs, and more. The compact storage makes it perfect for easy storage after the festive season is over. The Clever Creations' Christmas wreaths add a magical touch to your décor. Its high quality, durable wreath highlights and stands out amongst all the decorations. The wreath is made up of plastic with a metal base for a long stay and celebratory look. This wreath is a perfect steal for your holiday season.
Decorated pine wreath for Christmas décor
Want to have a more realistic décor for your holiday season? Buy this decorated 17 inches pine wreath. This artificial garland ornament gives a realistic feel. The pine wreath is a perfect gift for the holiday and is delivered in a beautiful white gift box to store the wreath. This DearHouse Xmas wreath has berry clusters, spruce leaves, and pine cone which make it more attractive. You can decorate and place this wreath anywhere you wish to- doors, windows, fireplaces, front door, or staircase. Thanks to the superior material and quality, this wreath is flexible and durable. Made from quality plastic, the green pine leaf stems add the perfect touch of greenery to this wreath. These Christmas wreaths are what you should place to show off your decorations this holiday season.
Handmade wreath with red berries and pine cones
Tired of buying artificial décor stuff for your Christmas decorations? Here is a handmade wreath supplied by EOOUT which has LED lights for a more subtle look. The garland is made up of PVC material by hand. The garland is safe and does not hurt the hands or cause allergies. There are 50 warm shade LED lights that work on battery (not included). The LED lights are more energy sufficient. The size of the wreath is 22 inches with each LED light placed at a distance of 3.9 inches. You can use this wreath for various occasions like Christmas, Halloween, house parties and many such events.
Handmade Wreath with Timer
Wishing to buy a wreath with timer LED lights? LIFEFAIR presents its 24 inches Christmas wreath which has 75 LED lights which are operated by battery. The Christmas wreath features pinecones and a gold bell hung in the middle of the wreath which looks charming with realism. The LED lights give a festive radiance to any outdoor or indoor Christmas display. The Christmas wreath has 2 strong wireframes to support the wreath.  The wreath is made of waterproof and UV protection material and will keep looking fresh and beautiful for years. The wreath has a 3-year warranty and very unique design to lighten up your holiday season.
Christmas Wreaths with Sprouted Pine Cones
Often the Christmas decoration can look very cheap because of their unrealistic look. Clever Creations presents its Christmas wreaths with sprouted pine cones. The wreath has a diameter of 5 inches. The wreath features berries as well. It gives a perfect Christmas accent to your décor and makes all the decorations look expensive and real. It adds a magical feel to your outdoor or indoor Christmas setting. The wreath is made up of durable material, unlike the cheap wreaths whose material falls apart in storage. The wreath looks beautiful and doesn't fail to amaze the buyer with its Grinch proof quality. The compact size makes it easier to store the wreath after the holidays.
Fall Wreath with Autumn Leaves
Some of us do not like the brightly colored decorations of Christmas and rather prefer subtle decors. VGIA presents a fall wreath made of autumn leaves which give a feel of the autumn season along with its subtle look. The wreath is 18 inches in size and is filled with beautiful foliage along with tiny foam red berries. The red berries are woven in a way that they will never wither or fall. The wreath is hand-made and the branches can be adjusted in any direction to form a perfect shape. The wreath needs to be kept away from direct sunlight and with good care; it does not require any maintenance.
Handmade Santa Hat Wreath Door Hanging
Want to give an innovative look to your Christmas décor? Oriental Cherry presents its handmade Santa hat wreath door hanging. The wreath requires assemblage which is easy to do. The wreath is made with handpicked Christmas holiday picks of poinsettia, red berries and gypsophila. The flowers themselves feel so real. It takes a couple of minutes to assemble the flowers in the Santa hat frame which is sturdy enough to hold the whole tree. Moreover, it is best suited for outdoors and gives a very warm and welcoming look to the guests. Unlike the usual wreaths, this Santa hat wreath will make your décor stand out in the neighborhood.
Crestwood Spruce Wreath with Warm White LED Lights
Most of the wreaths available in the market are made of almost the same material and give more or less the usual look. The National Tree Company has been an importer and wholesaler of artificial Christmas trees, wreaths and garlands as well as other holiday decorations and fiber optics products. Their Crestwood spruce wreath of 24 inches has 160 branch tips for both outdoor and indoor use. The wreath has silver bristles along with red berries and pine cones which give it a very beautiful and unique look. The wreath has 50 warm LED lights that are battery operated with integrated 6 hours on and 8 hours off timer. The LED lights are energy-efficient and long-lasting. The wreath is made up of a material that is fire resistant and non-allergic.
All these beautiful Christmas Wreaths and Garland décor pieces can be hung outdoors or even indoors. Sophisticated, beautiful, and simple- these wreaths and garlands can be ornamented at homes, shops, stores, cafes, or anywhere else. It is sure to turn heads and put a smile across anyone's face that will see it or walk past it. To make your search easier, we have compiled 17 best outdoor and indoor wreaths and garlands that you can make use of this Christmas.