10 Best AirPods Accessories for New Owners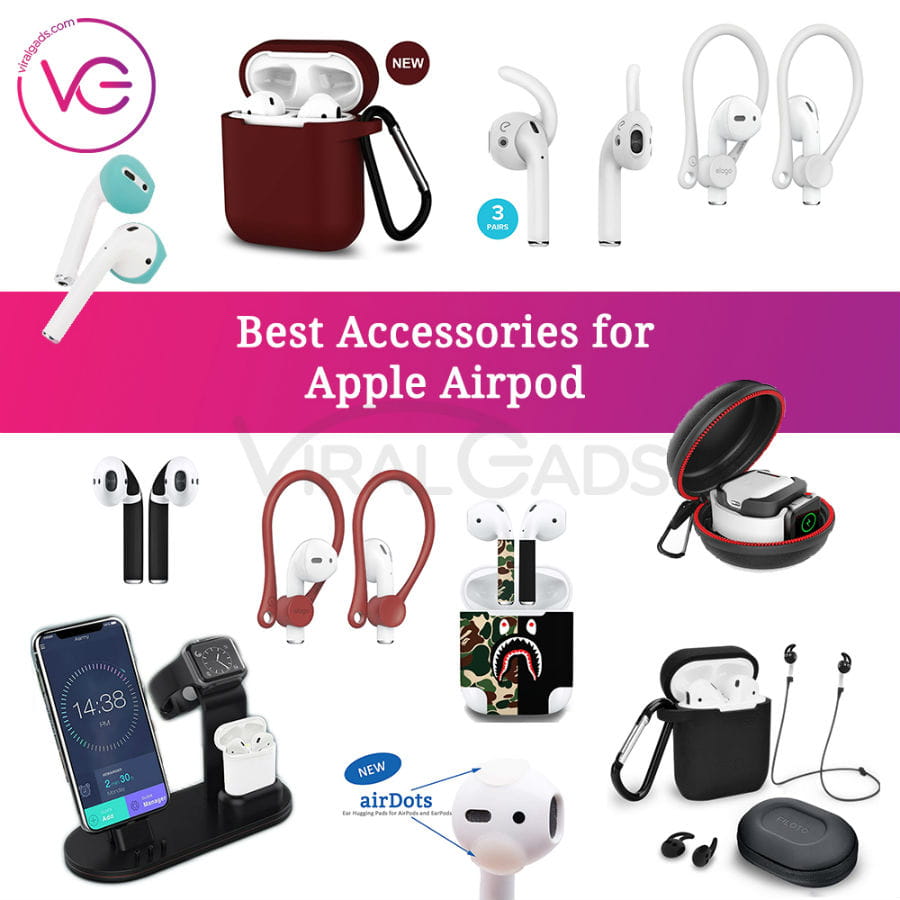 Are you a new AirPod owner? Congratulations!. AirPods are Apple's one of the most popular products. AirPods are well designed to fit perfectly on your ears. Since these devices are pretty small in size, it is easy to lose. There are a bunch of accessories for AirPods to protect your device. The AirPod ear-hooks are designed to keep the AirPod in your ear without losing it. The AirPods skins are available to make your AirPod unique and sleek.
Here is a list of best accessories for AirPods like charging stand, charging case and everything you will ever need for your AirPods.
360° Protective Silicone Case for AirPods
The high-quality protective case is made of food grade silicone material which makes it unique among other cases. Due to this, the case has a long life and will remain as good as new even after an extended period of usage. The AirPods protective case uses micro-matte and one-piece molding technology which makes it easy for cleaning. The Silicon Case for AirPod is also dust proof. The compact nature of the accessory lets you carry your AirPods anywhere you go. The carabiner that comes with the case can be hooked to your bag or belt. A full refund within 12 months is available if the product does not meet your expectations.
360°Protective Silicone AirPods Case
Multi-charging Stand for AirPod, iPhone and Apple Watch
This stand can be used for Apple Watch Series 4/3/2/1/, AirPods, iPhone Xs/iPhone Xs Max/iPhone XR/X/8/8Plus/7/7 Plus /6S /6S Plus/iPad-Black. All your devices can now be organized in a much smaller space!! The sturdy stand has a non- slip pad that holds the devices securely. The silicon holder ensures that your watches never slips away. Change the form factor of the charging stand using the finger comfortable nut. Due to this, the iPhone can be kept on the stand even with its cover on. You can also enjoy your favorite shows on your iPhone hands-free, by placing it on the holder. These features make it one of the best accessories for AirPods users to have.
Is it too difficult to handle your Apple gadgets? Don't worry, here is a Multi Charging Stand, where you can put all ...
AirPods Skin Protective Wraps-AirDots
Soft spongy material makes up Airdots which make it really comfortable to use. This AirPod accessory is designed to fit the AirPod in your ear perfectly. The AirDots let your AirPods stay in your ear even at the time of strenuous activities like running, cycling, etc. This AirPods skin also gives you the best listening experience possible. The Airdots decreases the unwanted vibrations that interfere with the sound coming out of the AirPods. The package contains 6 pairs of AirDots. This is surely the best accessory for an AirPods user. AirPods Skin is priced at $11.99 on Amazon.
AirPod Skins Protective Wraps (Matte Black)
AirPods Earpods Skin Cover
The anti-slip silicon cover makes it possible for your AirPod to stay in your ear even at the time of heavy workouts like running, cycling, gym workouts and so on. Anti-slip AirPods cover makes high-quality listening possible by damping the background noises. Unlike ear hooks the thin structure of this AirPod accessory allows it to fit in the case itself. This must-have accessory for AirPod is available on Amazon at $12.95.
AirPod Earpod Cover (Matte Black)
Earhooks to Fasten AirPods to Ears
These ear hooks help to hold AirPods securely to your ears. In addition, the ear hooks also increase ambient noise isolation. These ear hooks are very easy to install or remove. Hence, easy to charge the AirPods. These ear hooks help you to use AirPods even while doing strenuous activities. No need to worry about losing your AirPod in jogging or other sports activities. With this AirPod Earhooks, the AirPod will be secure on your ears. The ear hooks cost $10.95
Not very happy with the revolutionary earpods and airpods? Do you think they are missing on something? Is it a ...
Protective Wraps for AirPods
AirPods Skins protective wraps provide protection against wear and tear on daily usage. Special equipment is not needed to install the wraps. An in-depth description is given on ways to install it, and just follow it. Premium resistant adhesive vinyl used to build this protective wraps. The vinyl material is smooth and there is no discomfort to wear the whole day. With this protective wraps, electronic interference is reduced to the maximum. Even after installing the wraps AirPods easily fits your ears and charge it as usual. It costs $8.97 for matte black variety.
Protective Wraps for AirPods
2 in 1 Charging Case for AirPods and Apple Watches
This handy charging case can be used for both Apple AirPods and Apple watches simultaneously. You can use it with any model of Apple watch (40mm/45mm), Series 4 (38mm/42mm), Series 3, Series 2, Series 1 and Nike+. EVA exterior and nylon interior make this charging stand soft and flexible. The charging dock is capable of protecting your gadget from scratches. This waterproof case is very easy to clean and maintain. The design of the case let you store the magnetic charging cable in the holder itself. The case allows a great level of flexibility while you travel. You can charge the watch separately anywhere you want by removing the holder. This all in one charger stand is perfect for Apple users who want to stay organized. It is priced at $12.99.
Moretek is here with a much-needed product- a 2 in 1 charging case. This portable charging dock can be used for both ...
White Ear Hooks for AirPods
Hook-shaped ear hooks help the AirPod to stay in place. This AirPods ear hook allows you to use AirPods even while doing strenuous activities. The white color matches well with almost all color AirPods. Besides, different color varieties are available to fit your taste. These ear hooks are made from thermoplastic polyurethane. Due to this, the hook-shaped ear hook stays in the same shape throughout the usage. It is easy to install and ideal for runners, and out the door activities. The red color gives a fresh look to AirPods. Besides, different color varieties are available to fit your taste including white.  Ear hook white color costs $8.99 and red color costs $10.99.
Hook-shaped White Ear Hooks for AirPods
Hook-shaped Red Ear Hooks for AirPods
Protective Stickers for AirPod Case and AirPods
Do you want to have some fun with your AirPods and case? Do you want to make your AirPod case unique? These AirPods protective skins are for you. The Vinyl Skin stickers prevent your AirPod case and AirPods from scratches. The stickers are thin as well as durable. They are also very easy to install. The protective stickers make it possible to take the AirPods and case anywhere and handle it roughly. The variety color of skins makes this so unique and attractive look. The AirPods stickers cost $12.99.
Protective Stickers for AirPod Case and AirPods
Complete AirPods Accessories Set 
This AirPod accessory set contains a case to protect your AirPods against damage. This AirPods accessories set also has a set or ear hooks and strap. These ear hooks help you to fasten the ear hooks securely to your ears. Hence the AirPods does not fall off even while doing strenuous activities. The adjustable strap also helps to hold the AirPods properly. In addition, the set contains a carabiner which is detachable. The carabiner allows you to latch the case onto belts, bags, etc. It costs $11.99.
Are you an Airpod user? Looking for a provision for carrying around Airpods safely and comfortably? Wishing for ...
9 in 1 Kit Accessories for AirPods
This is an all in one solution for AirPods owners. The AirPods kit contains a protective case, watch band holder, ear hooks, straps, keychain, and a box for the headset. The protective case protects your AirPods from dirt and scratches. You can charge the AirPod even with the cover on. The case does not stop you from accessing the buttons on the AirPod. The ear-hooks in the kit helps to keep the AirPods from falling from ears. The watch band holder can be used with most of the types of watches. You can also carry your AirPods easily using the keychain that comes with the kit. All the accessories for the AirPods in the kit can be stored in the receiving box.
Has AirPods become an integral part of your life? Have you ever wished to take good care of your AirPod so as to ...
These accessories for AirPods are specially designed for maximum comfortability with your new AirPod. These products improve the efficiency of AirPods in every possible way. These accessories decrease the wear tear of AirPods and extend the life of your favorite gadget.