Wireless Virtual Projection Keyboard for Smartphones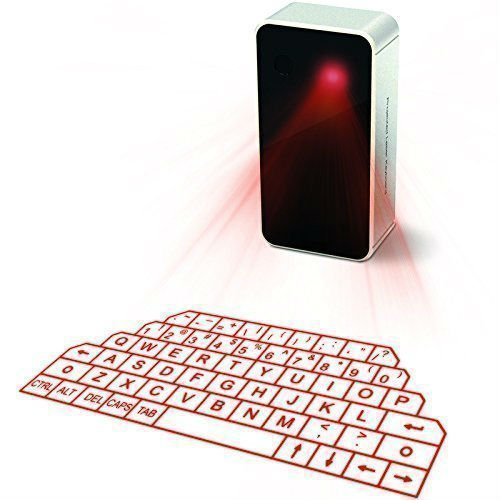 Looking for a really cool and compact keyboard? that too wireless?? and without switches??? Well, you came to the right place. It is a Wireless Laser Projection keyboard for smartphones which you can connect with  Bluetooth. You can carry this small device anywhere with ease and without any hassle. Typing anything on a smartphone can be troublesome for writers, students, and businessmen in general.
ABS Wireless Laser Projection keyboard can take care of your daily typing tasks, moreover, you don't have to worry about the screen of your smartphone getting oily while you eat and type.
You can pair Wireless Laser Projection Keyboard with Bluetooth enabled iPhone, iPad, Tablets, and  Android smartphones. You can also connect this keyboard with Mac, Windows or Linux OS computers. This Virtual Projection Keyboard requires one Lithium-ion battery to stay functional. Furthermore, you can also use chargeable batteries that comes with a standard charger so that you don't run out of power. You can use it on the surface with any texture and color.
You can also use it as a mouse as it changes to a mouse pointer whenever required. For example, if you're watching a youtube video then it has a tool which allows you to handle the cursor and click anywhere on the screen. A manual option to switch between mouse and keyboard is also available.
Overall this is a pretty cool gadget to own or gift it to your loved ones. Plus its small size gives you an advantage over the bulky keyboards. It is a perfect solution to awake the tech superhero residing within you. This product can be a perfect gift for people who type a lot.

September 27, 2023 1:14 pm

Amazon.com
Last update was on: September 27, 2023 1:14 pm