Scary Talking Eyeball Doorbell to Welcome Your Visitors!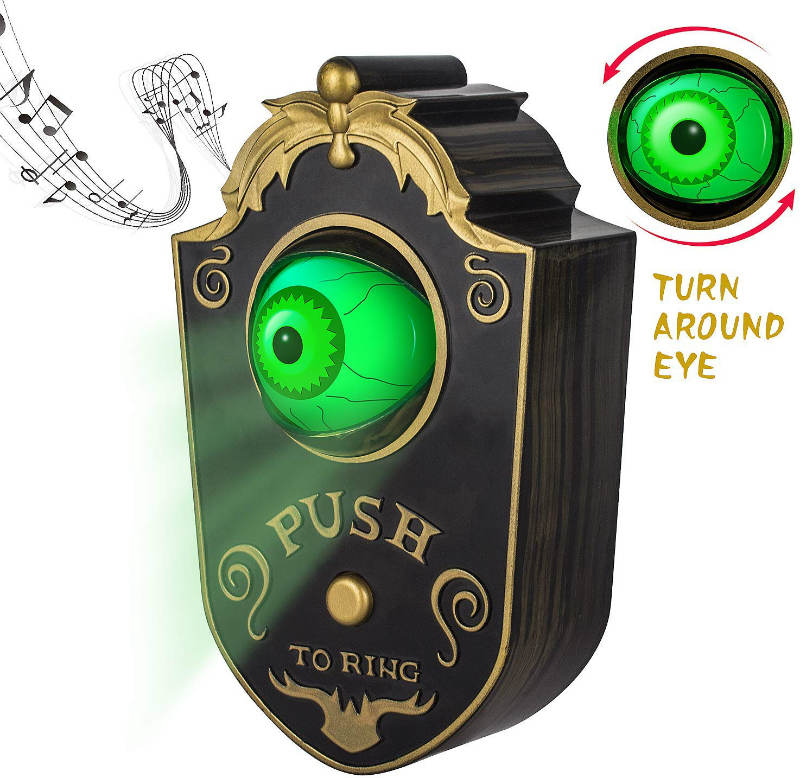 This is a great choice for a spooky outdoor Halloween decoration. You can install the scary talking eyeball doorbell from Sler in place of the normal doorbell. It is sure to scare visitors as they press the button on it. This is a great Halloween gift idea too!
The creepy Halloween doorbell is simple to use. Press the button on the back to switch on the doorbell. When you press the doorbell, a green eyeball will pop out making scary noises. The animation is smooth and realistic. The installation of the doorbell is also simple. There is a hook at the back and you can hang it like a frame. If there is no place to attach the hook, you can use tape to fasten it to the wall.
The green color of this scary talking eyeball doorbell is very bright in dark conditions. You will hear around 4 – 5 spooky voices from it and each one is clear. If you are looking for a unique trick to play on your Halloween visitors, then this is it. The best part is, you can use it for office Halloween parties as well.
The scary doorbell is lightweight, weighing at 9.6 ounces. Since the dimensions are compact at 8.8 inches by 4.6 inches by 2.9 inches, it can fit in the smallest of the spaces on the wall. 3 AAA batteries power this doorbell and they do not come with the package.
So, this scary talking eyeball doorbell is a great Halloween decoration. You can use it at your home or office parties. It is a great fun among the kids as well!

September 29, 2023 7:06 am

Amazon.com
Last update was on: September 29, 2023 7:06 am