Candelabra That Depicts Elegance and Excellence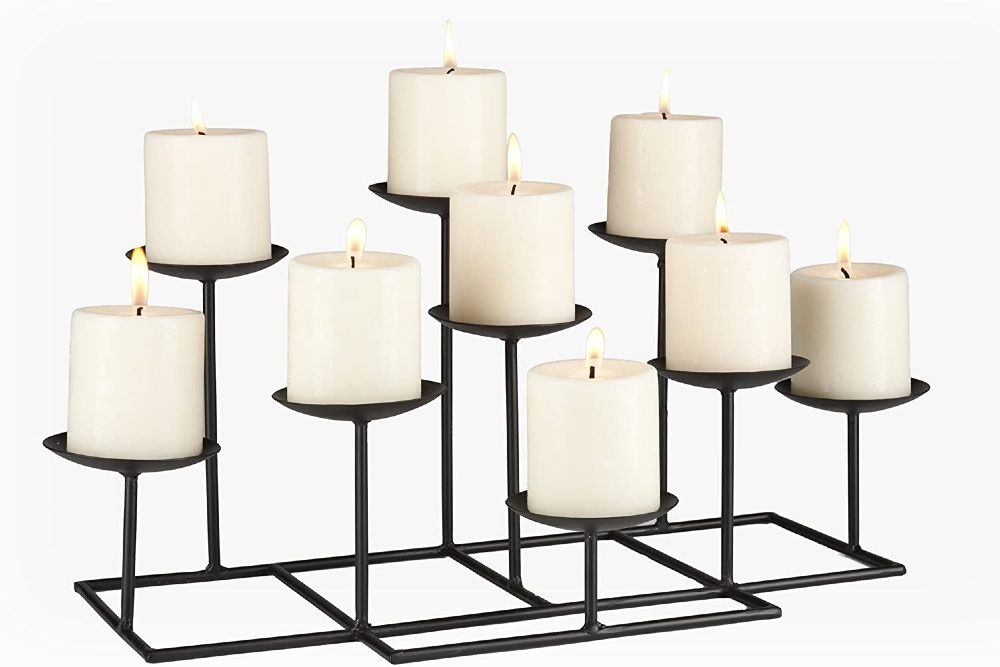 You can light up your home decor with the glamorous metal candelabra. It offers placement for nine candles. You can adorn any shelf or mantel in the living room, bedroom, or entry atop a console table. The matte black finish combines with a geometric, linear composition. For simple transitional styles, it is a beautiful home decor and consists of metals.
The metal spikes of the candle stand to keep the wax candle secure. It has nine platforms to hold candles and a strong base. Besides, the metal candelabra will add warmth and a gentle glow to any room in your home. Similarly, the candelabra constructs layers of rows with different heights. Therefore, it gives a unique dimension to the piece.
The dimensions of the candelabra are 21.5″ W x 12″ D x 9″ H; Platform: 3″ W. This one-of-a-kind item approximately weighs 3 pounds. Candelabra matches with celebration, romance, elegance, and luxury. It is famous for its timeless beauty. In addition, they attract the attention of people from all walks of life. The upper class in society makes it a sign of prestige in their society.
They won't sit levels because of the spikes. Hence, a solution is to use a wax tea light candle as a base. You have to remove the metal casing from the tea light. Stick the light candle upside down onto the metal spike. Subsequently, this creates a level tacky base for you to position battery-powered candles right at the top.
Each holder is 3 inches in diameter. That is the perfect size for use with a 2.2-inch diameter candle. You can place it around the venue as decoration. Or to highlight the ceremony if you want to induce a profound and lingering impact. Then you must get it as a centerpiece for your house. They look contemporary, stylish, and very classic. Get this candelabra right now.

September 20, 2023 5:21 pm

Amazon.com
Last update was on: September 20, 2023 5:21 pm