Secura Elite Wine Gift Set- 12 piece Wine Accessory Set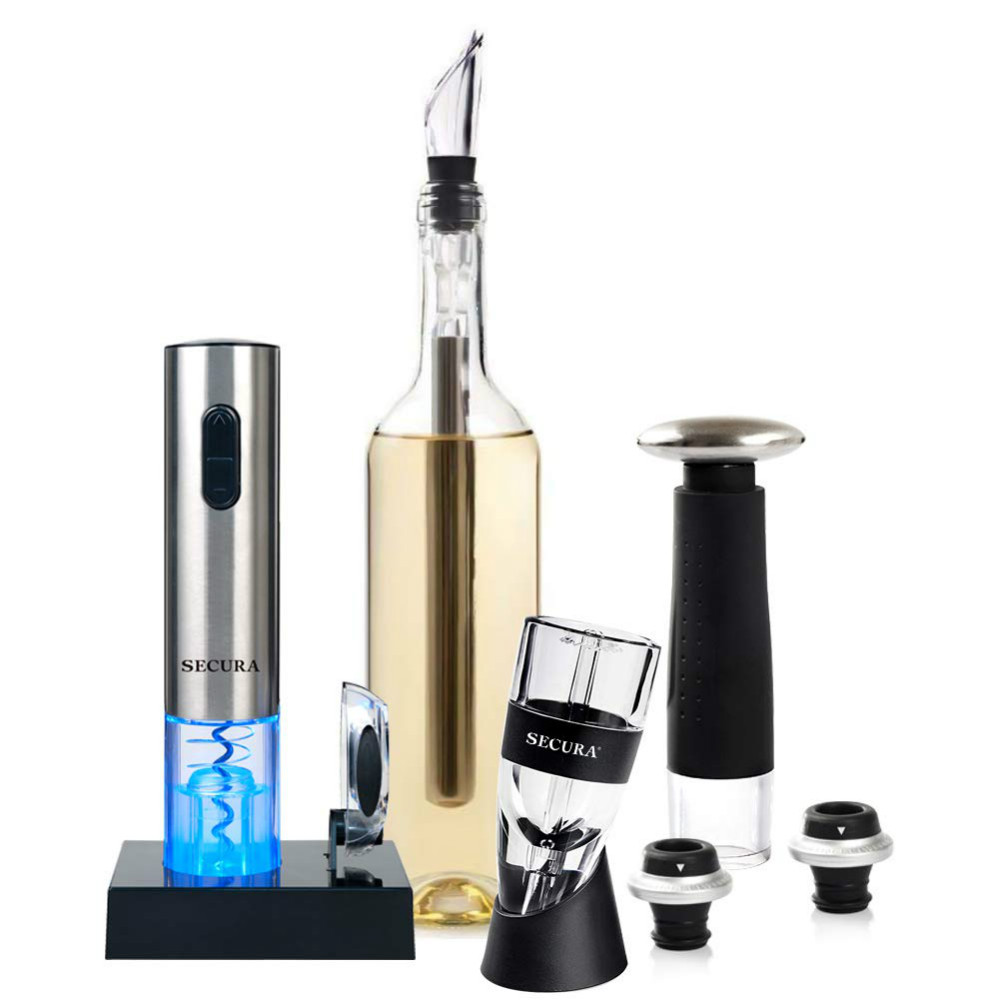 Does wine happen to be your favorite beverage? Secura brings you the perfect product- a 12 pieces wine accessory set. The set contains a wine opener, wine aerator, wine foil cutter, wine saver vacuum pump, and two wine stoppers. There is also a chilling stick which comes with a detachable wine dispenser. Stands have been provided for opener and aerator. The aerator comes in a felt tight bag.
Forget the worry of breaking your favorite bottle of wine while trying to open it, with the cordless wine opener. The  12 piece wine accessory set comes with a stand (charger base) for the wine opener and foil cutter. The design of the automatic electric corkscrew wine opener is such that it is very easy to use. It only takes a press of a single button to open the cork. It runs on a rechargeable battery. Once fully charged it can open up to 30 bottles.
Tired of drinking leftover, flat wine which has lost its flavor? The wine accessory set solves this problem too. Store the wine in the wine saver vacuum pump. It also has two wine stoppers. Enjoy wine from an opened bottle without losing its taste.
Let your wine breathe with wine aerator. You no longer have to waste time decanting the wine. The aerator lets you enjoy the unique aromas and flavor hidden in the wine. The wine aerator also has a stand and pouch.
Pour the wine without spilling it with Secura's chiller pour spout. The chilling stick is made of stainless steel. It lets you have cold wine anytime you want. Perfect for a backyard party or romantic picnics.
So hurry!! Buy this product for yourself or gift a wine lover. Let nothing stop you from enjoying a glass of good wine!

September 29, 2023 7:07 am

Amazon.com
Last update was on: September 29, 2023 7:07 am