Pizza Cutter – Super Sharp Slicer with Protective Blade Guard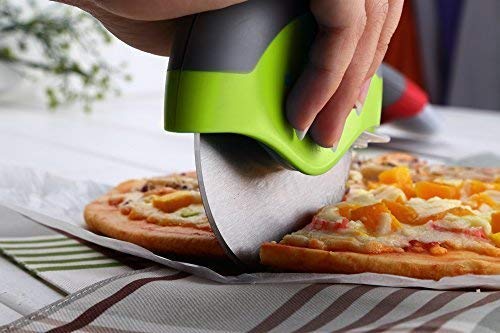 The Kitchy pizza cutter is a super sharp slicer that is very useful for slicing pizza without disturbing the toppings on your pizza. This product is easy to clean kitchen gadget. This product would be very useful for those who are careless in handling with sharp tools as it has a protective blade guard.
The Kitchy pizza cutter wheel is an expert design of engineers to improve every single aspect of traditional pizza slicers. It is small in size, protects your hands from cuts and has a stronger grip that allows you to easily cut straight through the first time.
This product features a retractable blade guard that protects your fingers from cuts when washing or picking it up from the kitchen drawer. Simply you can slide it open and slide it close. The non slip ergonomic handle fits comfortably in the palm of your hand, giving you more control and makes it super easy to get a clean slice.
The products sharp blade ensures to get a onetime clean slice and will keep the toppings on your pizza. It easily cuts through both thick and thin crust, and can also use to cut brownies, fudge, cookies and much more!
The Pizza cutter is 4.9 x 4.7 x 1.2 inches and only 5 ounces. This product can be used very quickly and simple, so you could easily wash and clean it. Plus, it's dishwasher safe.

December 6, 2023 11:29 pm

Amazon.com
Last update was on: December 6, 2023 11:29 pm