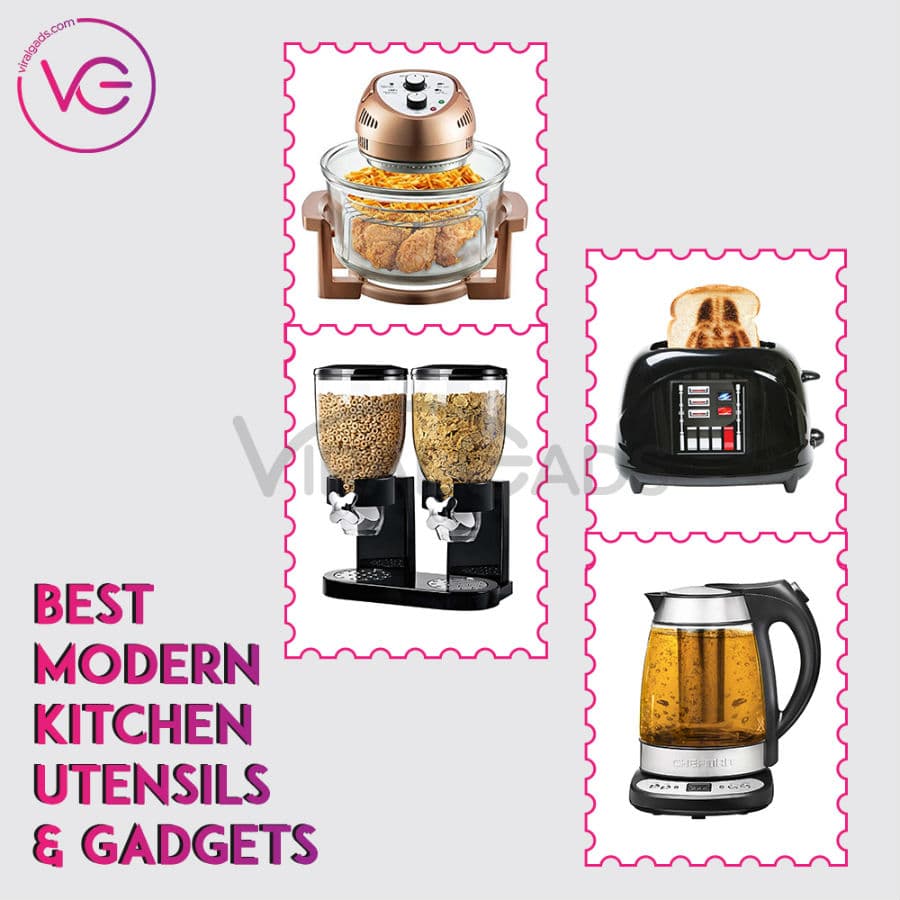 Modern kitchen gadgets are here to make our lives better and easy. Technology improved a lot and time to upgrade your Kitchen utensils with more efficient and advanced kitchen gadgets. These modern kitchen utensils are efficient and user-friendly. These Kitchen gears can save electric power, automate the cooking process and make your life easy. In our daily life, we come across many issues while working in the kitchen due to our shortage of time. These kitchen accessories will make your life simpler and less complex.
Here is a list of best modern kitchen gadgets to modern look to your kitchen and bring more attraction to your visitors.
Handheld Tabletop Vacuum Cleaner
A tidy kitchen gives every person a good feeling to work in it. Kitchen is often the most difficult part of our home to clean. This amazing handheld tabletop vacuum cleaner is one of the most wonderful modern kitchen gadgets you will come across. This easy to operate vacuum cleaner works on two AA batteries. You just need to put the batteries and make your kitchen counter dust free. You can clean spilled coffee powder or salt with this too. This premium quality cleaner is made of durable nylon brush. Also, it is really easy to clean. You can just open the bottom cover over your dustbin and it is clean as new. So, get this amazing kitchen tool for a clean kitchen.
Electric Glass Kettle
Tea is not just a beverage. It is also an emotion for many. This amazing electric glass kettle is a perfect partner for all tea lovers as it comes with a removable tea infuser. But apart from making tea, it can be used for making coffee and hot water or even heat milk in an emergency. The kettle has accurate temperature control for making different kinds of beverages. Also, the best part is you can see your tea brew from outside. This kettle boils water faster than stovetop or microwave. It has a maximum capacity of 1.7 liters and a minimum of 600 ml. Keep this modern kitchen accessory on your office desktop and enjoy hot brewed tea every time. Who does not like to have modern kitchen utensils in their collection?
Oil-less Air Fryer
Often we sacrifice our favorite snacks due to weight concern. Snacks are meant to deep fried like french fries, chicken fries, buffalo wings and many. Due to health issues and weight consciousness, many of us cannot eat those snacks anymore. This awesome oil-free air fryer makes your favorite snacks that too without oil. You can fry, bake and grill in this awesome kitchen accessories. It comes with both timer and auto shut-off feature. You can put some chicken and keep for baking while you prepare other dishes. Take out the ready to eat food and serve while you eat.
Star Wars Inspired Bread Toaster
This bread toaster can be one of your favorite kitchen accessories if you are a die-heart start wars fan. This Darth Vader toaster gives you perfectly toasted 2 slices of bread every time. You can toast all types of bread slices in this. The toaster comes with 5 heating modes. So, you can toast your bed just the way you like it without burning it. This toaster has a high lift mechanism so once your bread is toasted you can take it off easily without burning your fingers. Also, you can try defrosting your steak pieces in foil wrap in this awesome toaster. This will be a really useful hack. Please have this modern gadget for your kitchen and enjoy with perfect crunchy toasts at breakfast.
Electronic Corkscrew Wine Bottle Opener
Have you ever tried to open your wine bottle and end up with a half-broken cork inside? This happens to almost everyone. But do not worry this awesome electronic corkscrew wine bottle opener will give you perfect wine bottle opening experience. The opener takes out the cork from the bottle and ejects it automatically. Also, it can open 30 bottles per charge. So, it is perfect for opening bottles at the party. The package contains one an electric wine opener, a foil cutter, a charging base, a power adapter, and a user manual. You can this modern kitchen gadget for less than 30 bucks from Amazon.
Pineapple Peeler and Corer
Pineapples are almost everyone's favorite fruit. But real struggle comes with peeling the pineapple. This unique modern kitchen gadget is a must-have utensil for a modern kitchen. This kitchen gear will help you peel a pineapple like a pro real quick. This unique tool peels and slices the pineapple at the same time. Also, the peeler separates the core from the fruit. Just peel, slice and enjoy fresh juicy pineapple every time. No more itchy tongue and mouth while eating pineapple.
Dual Cereal Dispenser
Cereals are the best and healthy breakfast option. Many of us have once in a lifetime accidentally poured almost the whole box in the bowl. This dual dispenser is ideal for your breakfast table with two choices of cereals. Also, this can be used for keeping dry fruits, candies, and savories in parties or home use. The canister comes with a knob at the bottom which dispenses one ounce of cereal at each time. Each canister holds 17.5 ounces of cereals. This kids friendly one of the most modern kitchen utensils, a must have for all home.
Glass Whiskey Decanter with Wooden Base
Take your home bar to the next level with this amazing glass whiskey decanter. This glass whiskey decanter with the wooden base will reflect your class and taste. This decanter is perfect for all kinds of liquors like bourbon, gin, vodka, wine, whiskey and many more. This 1150 ml glass decanter is lead-free and is perfectly safe to use. Also, the huge capacity is perfect for party uses and you do not have to refill again and again. The fine oak wood base makes it much easier to handle. The decanter has a ground glass stopper on its top to avoid any chances of evaporation.
Silicone Colander
Modern kitchen gadgets are here to make our lives easier than ever. This awesome silicone heat resistant colander is the best way to strain liquids from vessels. You can safely strain your food without dropping it. This strainer fits on every vessel of every size. So, just snap it on the vessel and tilt the vessel to strain the liquid. Also, strains heavier items like potatoes, rice, and other heavy foods without slipping off from the vessel. The colander is BPA free and so really safe to use. This awesome utensil is ideal for every kitchen.
Removable Refrigerator Magnet Set
There are lots of fridge magnet options in the market available for giving your fridge a makeover. This magnet is really different from the others and apt for a modern kitchen. The magnet set is removable and does not leave any mark behind. The 6 piece magnet set looks like a 90's video game. The removable magnet set comes with 16 inches by 12 inches writing pad magnet. You can write anything on it and erase it. The writing pad magnet can be used to write daily notes and lists. Keep your fridge surface mark free with this awesome magnet set.
Bullet Shaped Whiskey Stones
Who does not love a perfectly chilled peg of whiskey? The awesome stainless steel whiskey stones chill your drink without any dilution like in case of ice. These bullet shapes stones are the better replacement of ice and a decorative utensil for the modern kitchen. Just throw the stones into your freezer for some hours and enjoy your parties. These bullet-shaped stones are perfect for all kinds of drinks and juices. The stone set consists of 6 food grade bullet shaped stones which are perfectly safe to use. Enjoy dilution free drinks every time with these awesome kitchen accessories.
Sous Vide Cooker
The most amazing modern kitchen gadgets you will ever find in the market to date. This Sous Vide Cooker gives 360-degree circular motion for even temperature in the liquid. This Vide Cooker is ideal for water bath cooking like steak or poaching meat. All you have to do is fill in the container with water and place your food in a ziplock bag in the pot. The sous vide immersion circular has a touch panel on the top. This cooker is working on 110-120 Volt and the temperature ranges from 40℃-90℃. This will give you perfectly poached a temperature control on cooking food.
Vintage Butter Churner
Nothing beats a freshly churned chunk of homemade butter. This awesome modern kitchen utensil is completely inspired by vintage churners. All you need to do is add some whipping cream or double cream in it and churn till butter is formed. It takes only minutes to make fresh homemade butter. The rustic charm of the churner gives your kitchen a classy look. The set contains 34 fl oz container and churning mechanism. It is really easy to clean and also dishwasher safe too. Now create your own flavored butter in the home quickly and easily. This is one of the best modern kitchen utensils with a touch of a vintage classic touch.
Electric Gun Wine Opener
Now open your wine in style with this electric gun wine opener. It is basically a corkscrew in the disguise of a gun. You just have to place the bottle in the gun and pull the trigger. The cork will come out easily without any parts inside. The gun comes with a rubber coated charging base. With one charge the gun can open 30 bottles. The package includes a wall plug and a foil cutter to. Let's make our parties more fun with one of these awesome modern kitchen gadgets.
Vertical Waffle Maker
Eat super crispy waffles at breakfast with this awesome vertical waffle maker. The waffle maker is completely different from other waffle makers in the market. The maker is nonstick so the waffles come out without any breakage or dent. You have to pour the mixture from the top and the green indicator will light up once the waffle is ready. So, you don't have to open and check whether your waffle is ready or not. The dishwasher plates are removable and really easy to clean. No more leaks and no more mess with this awesome waffle maker.
The advanced gadgets are built to work as energy efficient and quick result. For working mom, these modern kitchen utensils automate most of the process and can save cooking time. It is the time to upgrade your old Kitchen Utensils to a new one. Choose the best modern kitchen gadgets from this list and cook in style. Bring more attraction and modern look to your kitchen and yourself with these amazing accessories. No more tension with opening wine bottles or straining liquids with these awesome kitchen gadgets.