12 Inch Tall Chess Set and Chess Mat for A Real Game Experience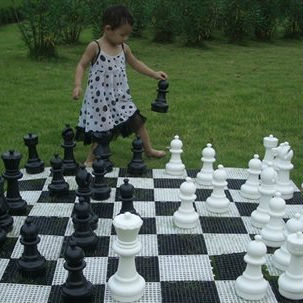 Chess is the game of kings. It also sharpens your intellect. If you are a chess-lover, you will like this plastic mega chess set from MegaChess.
Every piece of this mega chess set is water-resistant. So, you do not have to worry that its quality will fade away due to being washed. Also, these pieces are UV rays safe. So, you can bring this set and play under the sun anytime you want.
The32  pieces of this set are made at various sizes. The 2 kings are 12-inches, 2 queens 11 inches, 4 bishops 10.5 inches, 4 knights of 8.5 inches, 4 rooks of 8.5 inches and 16 pawns of 8 inches length. The mat also is 5 x 5 feet in dimensions. So, you can be sure to have a great experience while playing this set.
The mat of this plastic mega chess set itself has a metal grommet in each corner. So, you can be sure that this mat is secure when you play it on the ground. This further supports its compatibility for outdoor playing. You can play with your friends wherever you want. This includes the park, the beach, and any other outdoor environment.
With a large size, this plastic mega chess set aims to be the favorite of everyone, including the children. This set is safe for children because they cannot put these pieces in their mouth easily. Thus, it reduces the potential of them eating these pieces. Hence, this chess set is absolutely safe for children.
Also, this plastic mega chess set is very durable. It can stay the same for years. This makes a perfect gift for your friends and family members. So, you can challenge your friend for a chess duel when you go camping outdoors.

June 3, 2023 11:55 am

Amazon.com
Last update was on: June 3, 2023 11:55 am