Anti-Spy Tempered Glass Screen Protector for Apple iPhone Xs & iPhone X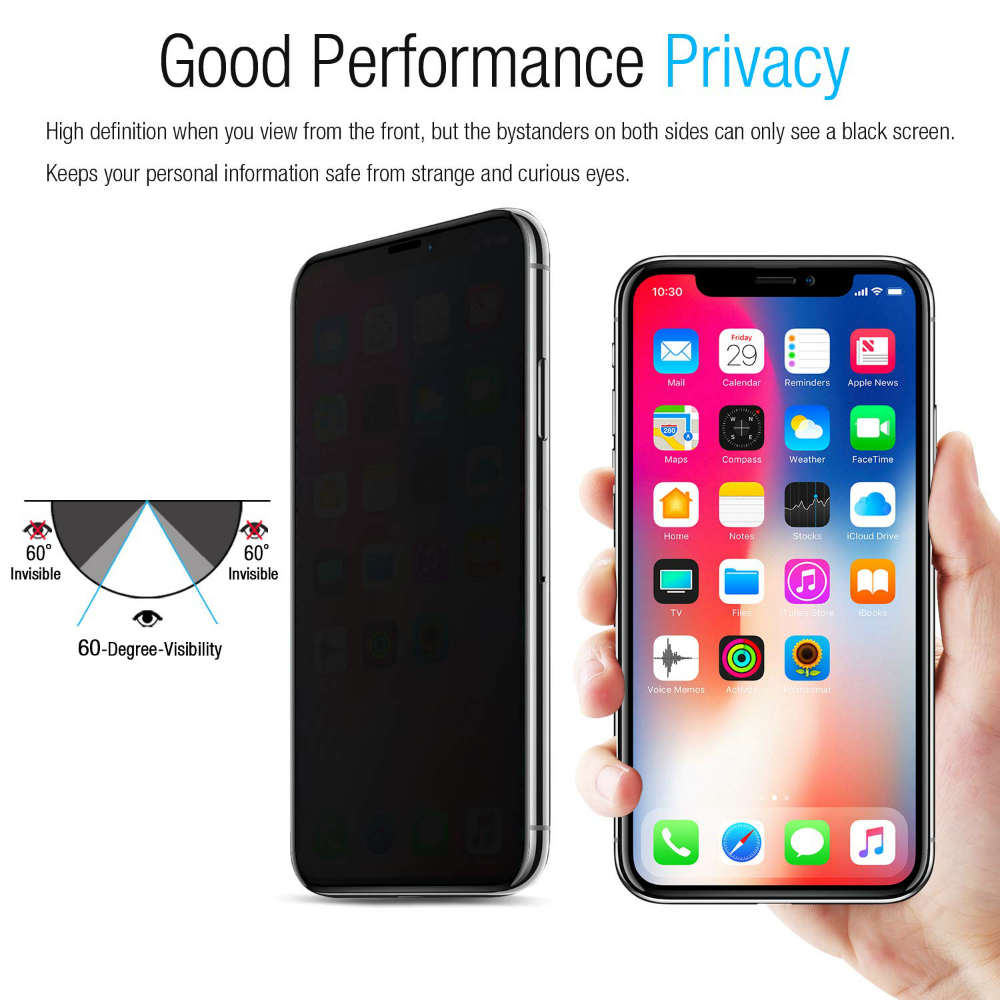 We all feel private about our phones. Have you ever wanted to hide your iPhone1 display? Now you can do so, with this tempered glass screen protector. It covers the whole phone and not just the screen. This is the perfect screen protector for iPhone X/ iPhone XS (5.8inch).
It is an Anti-spy screen protector. Also, this will keep your personal information safe from strange eyes. People in the left and right sides can only see a black screen. It won't give rainbow glare on your screen. The invisible angle is 60 degree at both left and right sides. Also, the protector is designed with coating and an anti-scratch surface. This protects your screen from oil residue from fingerprints, bumps and daily wear-and-tear. All these qualities make it highly durable.
It's 4D curved makes it more beautiful visually. Its edges will never crack due to its carbon fiber frame. It gives an edge to edge full coverage. Also, it is touch-sensitive and doesn't affect face recognition.
The tempered glass screen protector is super easy to install. First Use the wet cloth to clean the screen. Then Use the dry cloth to clean the screen. Use the dust-removal stickers to clean the screen. And finally, align the screen protector to your device and make sure all cutouts are in the right position
The tempered glass screen protector comes with a lifetime warranty. Also, it has a free replacement or money back policy. So, if you do not like it just gets your money back. This screen protector covers all problems like bubble issues, cracks issue, touch issue, face ID issue, etc. The screen is directly visible and clear and doesn't reduce the lightness of the screen.
This makes the perfect gift for all your iPhone owner friends and family members.

September 30, 2023 12:06 am

Amazon.com
Last update was on: September 30, 2023 12:06 am