Animated Flying Dragon To Take Your Fear To New Heights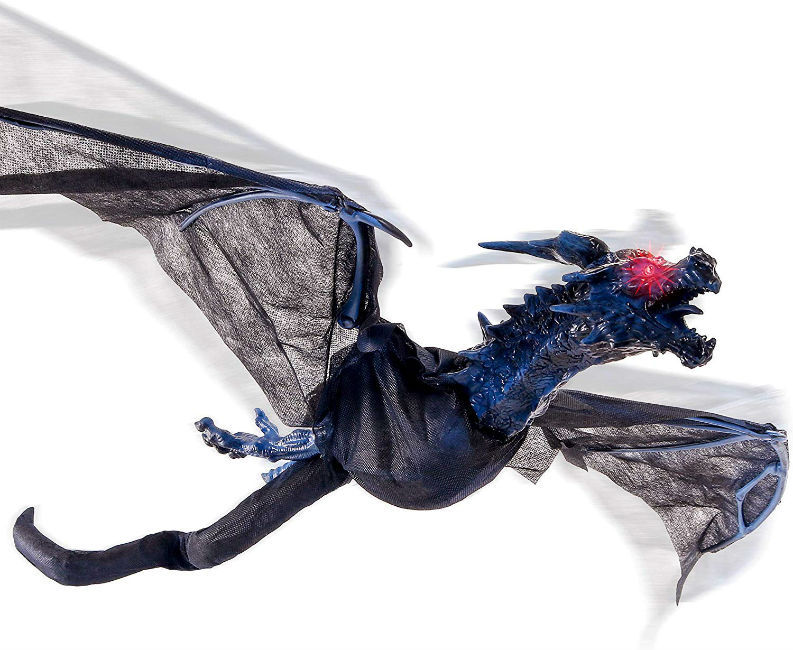 The festive season is already here! Various brands are revealing their best Halloween products. Halloween Hunters' Animated Hanging Flying Dragon is the exclusive choice for this year. This decorative 4-foot long dragon's head move and wings flap.
What makes it unique are the flashing red LED eyes and the sound that it produces. It is a perfect display for a themed party. You can place it in your home, or the garden. Its flapping wings are sure to scare your guests to their spines. Along with it, the movement of its head and the howling sound makes it more realistic. Its features work the best for Halloween. It comes in a size that makes it stand out among other props.
The Halloween toy measures 4 feet (48") wingspan and 3 feet (36") length. It also needs 3 – AA batteries power on. A switch in it controls when you can on or off the dragon. It's here to grab the star ratings.
It's an animated decorative piece. You can use it indoors and outdoors. The materials of the dragon are steel, nylon, and plastic. All these come together well to create this amazing product. The animated flying dragon has a lot of positive reviews on Amazon. You are sure not to regret this buy.
One sentence to describe this? A unique and distinguished Halloween art piece that is light on the pocket. An eye-catcher for all guests. This product is sure to brighten up the charm of your Halloween party. Block the animated flying dragon before it runs out of stock. Make this Halloween one helluva experience with this perfect piece.

September 28, 2023 12:25 am

Amazon.com
Last update was on: September 28, 2023 12:25 am