This Flask Bracelet Bangle Hidden Liquor Wine Flask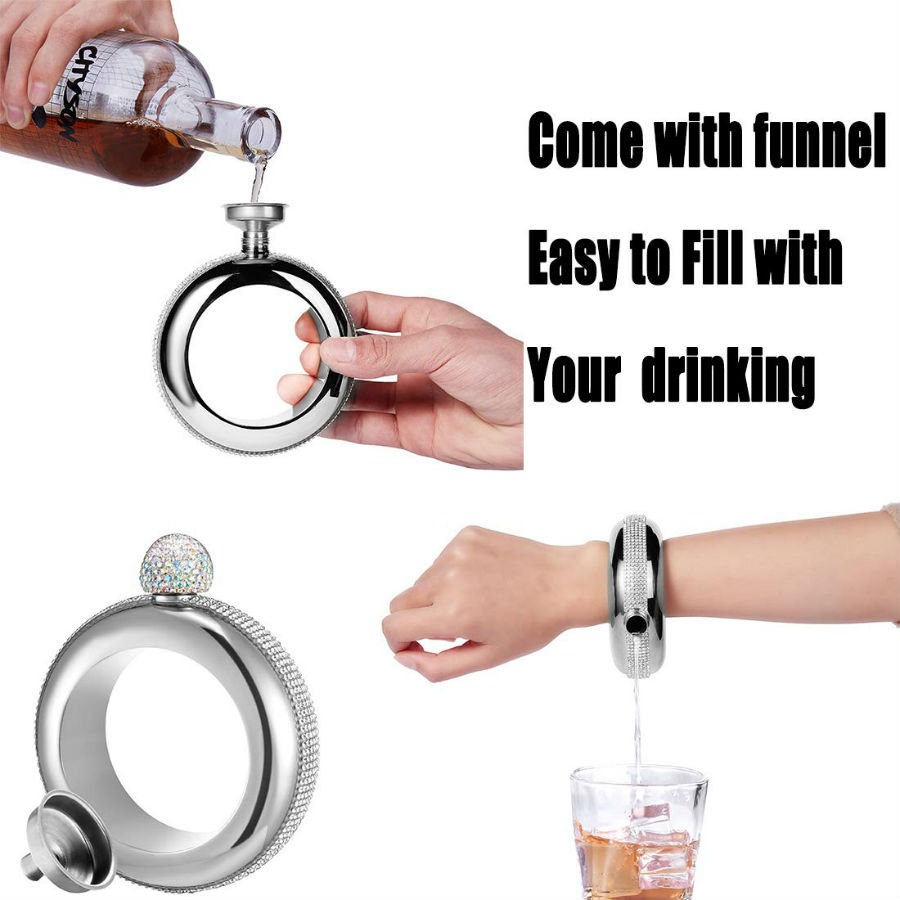 Enhance your personality with the help of this flask bracelet bangle. This innovative bangle lets you keep any drink with you and sip to your favorite drink anywhere you want to. Besides using it as a flask, you can also use it as elegant jewelry bangle.
This beautiful gift is for every woman. This fashion Bracelet bangle features Full AB crystal Stone Lid Cap. Also, it is bigger than a normal bangle. Its outer diameter is 3.93'' while the inner diameter is 2.75''. You can keep up to 3.5 ounces of liquid equal to 2 shots. You can wear it during Party time and bar time.
This Bracelet bangle comes with 30 days return policy, if not satisfied. You can just clean the flask with neutral detergent and hot water. Also can be sterilized the product with strong liquor. Fill only alcoholic beverages inside it. Don't use it as a normal bracelet wearing.
Also, this Flask Bracelet Bangle comes with a funnel to pour drinks easily. It also features a delicate vacuum electroplating process, glistens in the sunlight. It will never fade.
This Hillside-Kit Hidden Flask Bracelet Bangle comes as a surprise to you and your friends. You can carry it to the parties where you are not allowed to bring your own drinks. This is a perfect gift for those who love drinking. It comes with a decent packing box along with a black velvet bag inside it. This makes the perfect gift for alcohol lovers women out there. So, gift it to them and share the fun. You can also buy it for yourself and fool people around you while showing off such a unique bangle.

September 20, 2023 11:43 pm

Amazon.com
Last update was on: September 20, 2023 11:43 pm