Amazfit Bip vs Bip Lite: Which One You Should You Choose?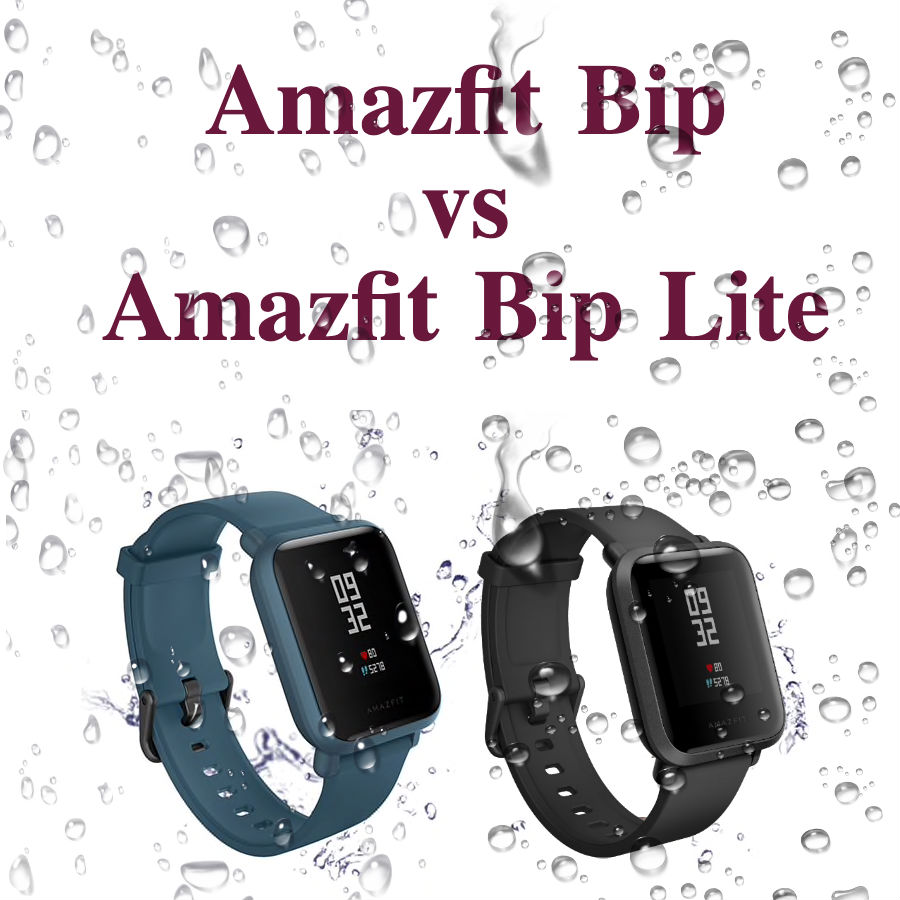 Amazfit smartwatches always turn a lot of attention due to its attractive features and aggressive pricing. Their latest device Amazfit Bip2 went on sale in August 2019. But Amazfit Bip2 happens to be more of a health monitoring device suitable for elders. Unfortunately, the Bip2 is not available online and let's focus Bip vs Bip Lite models.
Amazfit Bip and Bip Lite are much more features packed and are more inclined towards youngsters. Are you planning to buy one of them and is stuck with choosing Amazfit Bip or Lite? Let's compare them and find out which one is suitable for you.
The Common Features: Bip vs Bip Lite
Both Bip and Bip Lite are amazing value for its price. But let's choose the better one. First, let's see the features common in the two devices. Both the devices are claimed to have 45 days of battery life from a single charge and have a 1.28-inch transflective display with gorilla glass protection. PPG sensor, Sleep tracking, and sport modes with multiple sports activities like cycling, treadmill, walking, and running can be tracked.
Both devices have a reflective always-on display with AF (Anti-Fingerprint) coating. There is no change in display resolution, both watches, Bip and Bip Lite carry a 1.28″ 176x176PX display.
With a polycarbonate body, both Bip and Bip Lite are light (32g), sturdy, and are comfortable to wear. It takes about 2.5 hours to get the devices charged completely. Notifications from calls, messages, or other apps in the smartphone connected can be seen through both the devices. Vibration alarms are also present in Amazfit Bip and Bip Lite. The bands in both watch models are in the same size, 20mm standard.
Please check for more deals and discounts for Amazfit Bip and Smartwatches: Smart Watch Deals
The Difference between Bip and Bip Lite

Now let's check the differences between Bip and Bip Lite. Well, when you switch to Bip Lite, you are going to miss the GPS. GPS is an essential feature if you are going to use your Amazfit watch for outdoor activities and sports. The built-in GPS & GLONASS is surely an advantage for Bip over Bip lite. The builtin compass also makes Bip more convenient in use for outdoor activities like walking and running.
Bip VS Bip Lite
While we dig into more deep, there are additional specs that are more common to both models. In addition to the GPS, there are a couple of other sensors are missing in Bip Lite. The Amazfit Bip has an Air Pressure and Altitude sensors; those do not come with Bip Lite.
| Specification | Amazfit Bip | Amazfit Bip Lite |
| --- | --- | --- |
| Watch Display | 1.28″ Refl. LCD | 1.28″ Refl. LCD |
| Display Resolution | 176x176PX | 176x176PX |
| Screen Size | 1.28 inch | 1.28 inch |
| Always On Display | Yes | Yes |
| Charge time | ~2.5 hours | ~2.5 hours |
| Battery Life | 30 Days | 30 Days |
| Battery Life (Max) | 45 Days | 45 Days |
| Battery Capacity | 190mAH | 190mAH |
| GPS | GPS+GLONASS | No GPS |
| Sensors | HR/Aclr/Comp/ Baro/Alti | HR/Aclr |
| Compatibility | Android 4.4 and iOS 8 and above | Android 4.4 and iOS 9 and above |
| Water Proof Rating | IP68 | 3 ATM |
| Check on Amazon | Amazfit Bip | Amazfit Bip Lite |
In addition to this, you are going to miss the Accelerometer if you go for Bip Lite. When you consider the dustproof and waterproof rating, both the devices are water and dust resistant but Bip is IP68 rated while Bip lite is 3 ATM.
How much you Save between Bip vs Bip Lite
Both Bip and Bip lite is an amazing value for the price. Bip is available in Amazon for less than $80.00 in four colors, red, green, white and black. The Bip Lite sells from Gearbest for $59.99 and from Amazon for just above $60.00 with three available colors, pink, blue and black.
There is a $20.00 difference between the devices, and you are going to compromise a couple of sensors for this price saving. Whether the price difference is going to make a huge impact? Well, it depends on your needs and the location where you are.
Which one should you buy? Bip or Bip Lite
The Bip and Bip Lite Smartwatches from Amazfit are cool and useful devices and offer a lot of features for its price. If you are someone who does more outdoor sports activities and needs to track your path using GPS without carrying a smartphone with you, Amazfit Bip is the device for you. For someone who needs a simple and cheaper device and if you prefer more indoor activities, then Bip Lite is a perfect device for you.
The price difference is not huge while you consider the built-in sensors that you can get for additional bucks while considering the other expensive smartwatches from Apple and Samsung.

December 8, 2023 4:35 pm

Amazon.com

December 8, 2023 4:35 pm

Amazon.com
Last update was on: December 8, 2023 4:35 pm