Camera Lens Kit for Smartphones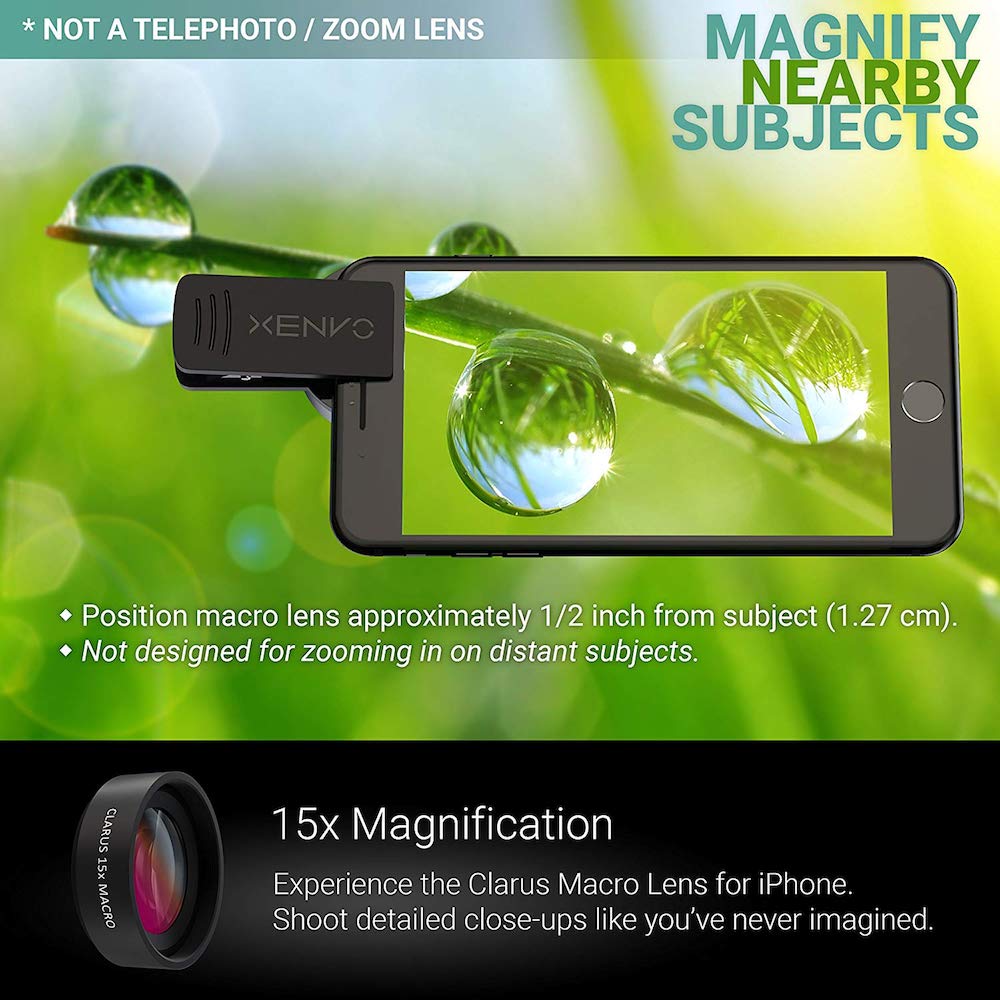 Take more stunning images with your smartphone camera! Now take more creative and better photos with your smartphone. Xenvo iPhone camera lens kit pro takes your phone camera to another level. The kit contains TRUVIEW 0.45× wide angle lens, CLARUS 15× macro lens, and GLOWCLIP rechargeable LED fill light.
Take 45% of more picture using the TRUVIEW 0.45× wide angle lens. Shoot creative photos of people, pets, landscapes, and selfies. The lens is made using multi-element, coated glass. This minimizes ghosting, reflections, lens flare, and other artifacts. Also, this doesn't add dark corners(vignetting) like other cheap lenses. And it avoids any unwanted distortions which are seen in most of the cheap lenses. Hence this lens keeps straight lines straight.
Also, use the CLARUS 15× macro lens to magnify nearby subjects and take super close-up photos.  Hence, capture all the details with precision-focus and be more creative. Take amazing closeups of flowers, fruits and more.
Whenever you don't have enough light for a good selfie, just clip the GLOWCLIP rechargeable LED fill light anywhere on your phone. This instantly illuminates your subject and surroundings with warm continuous light. The light has three brightness levels. This helps you to take creative photos and selfies.
The DURACASE and quick release LANYARD makes transportation and protection of your products hassle-free. Take it anywhere and keep it handy.
Finally, use the quick-release lanyard to carry your lenses on your next outing. Xenvo camera lens kit pro matches with almost all smartphones and tablets with its high-quality rigid clip.

September 20, 2023 7:56 pm

Amazon.com
Last update was on: September 20, 2023 7:56 pm