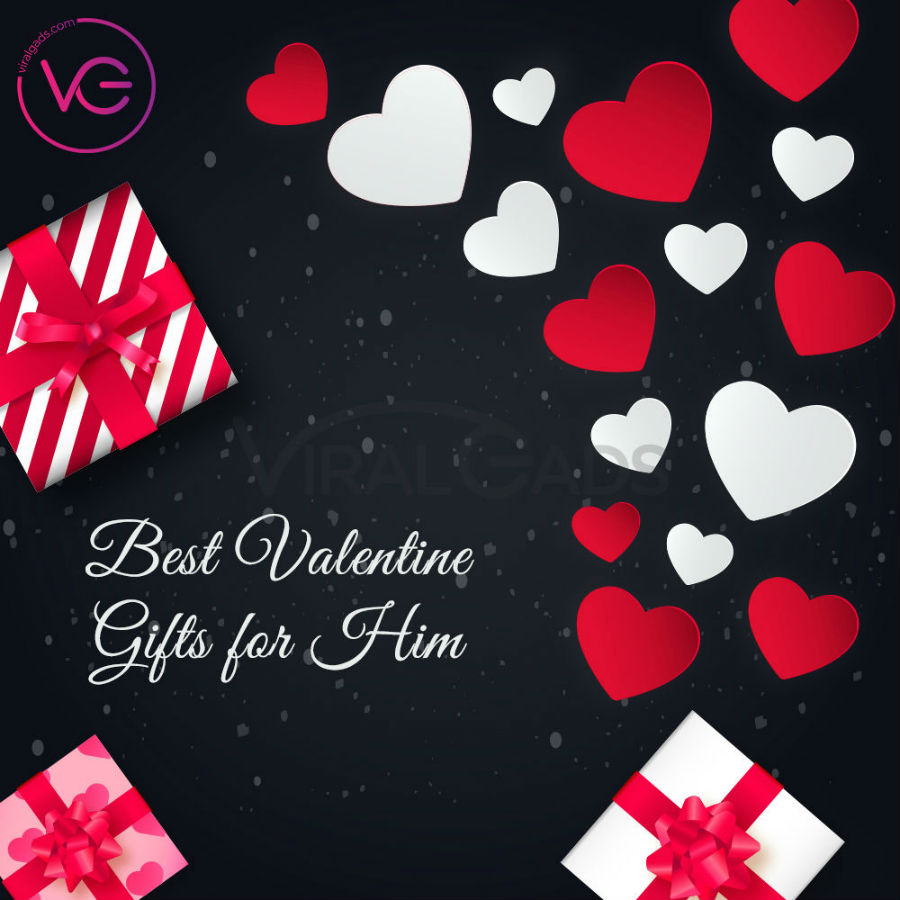 The month of love is already here and Valentine's Day is just around the corner. This is the time to show your love to your partner with some special gifts, dinner dates, and many more surprises. It is at times a really hectic job to find the best Valentine gift for him. Whether he is a wine lover, a gadget freak or tech geek, we made a list of gifts ideal for him on this Valentine's day.
Here we have made a list of best Valentine gifts for him which can surprise your boyfriend and be the apple of his eye on this Valentine's Day.
Classy Glass Globe Decanter
This classy glass globe decanter is a perfect gift for your partner. This is a liquor dispenser with a glass stopper and pouring funnel. The ship is designed in it and the setup stands on a wooden base with amazing perfection. This will be a cherry on top of your boyfriend's bar accessories. The best part is you can revolve the globe along its axis. This is one of the best Valentine gifts for him to surprise.
Star Wars Inspired Power Station
This is a star war inspired wall mounted power station. This is an impressive and useful gift for your boyfriend on this Calentine's day. The power station can be plugged into type B socket and has 2 USB ports and 4 US standard sockets. This little droid is just perfect to charge all electronic gadgets at the same time and in the same place. This droid will be a boon for your star wars lover boyfriend. This is an officially licensed product from Star Wars.
Bullet Shaped Chilling Stones
These chilling stones are perfect for your boyfriend who loves ON THE ROCKS! This is perfect to avoid dilution in the finest peg of scotch, bourbon, and whiskey. All you need to do is chill it in the freezer. The chilled bullets chill your drink in less than 5 minutes. It is made of high-quality steel and it does not change the taste of the drink. It is coming with a set of 6 pieces of stainless steel chilling stones, one velvet pouch, and tongs. The whole thing comes with a luxury look and ideal to gift to your boyfriend.
Nordgreen Philosopher Sleek Watch
Nordgreen Philosopher Rose Gold (rose gold mesh strap) costs just around $230. This makes it one of the most alluring options for a stylish and functional accessory. Nordgreen Philosopher comes in Gold, Silver, Gun Metal, and Rose Gold colors. As for the dial color, all the Nordgreen Philosopher models sport a white dial. However, the color of the dial ring markings and watch hands will change as per the color of the bezel. The Philosopher watch embodies Scandinavian design as well as values. You cannot find many watches out there that can compete with Nordgreen Philosopher in both these regards. Read the full review here: Nordgreen Philosopher Watch Review: Stylish Design at Affordable Price.
Quirkily Printed Couple Mugs
This is a pair of ceramic couple coffee mugs with a funny message printed on it. You can gift this coffee mug to your boyfriend this valentine and give him a good laugh. The quirky message says "I like her butt" and "I like his beard". These cups will keep the Xing in your relationship going even when he has his morning coffee. The cups are dishwasher and microwave safe, and this comes in a white gift box and an ideal gift for your valentine.
Handmade Wooden Greeting Card
This is a unique Valentine's gift item exclusively handmade in the USA. This wooden greeting card is coming with a matching envelope. Also, this card is a little smaller in size as it is made of natural wood. It has a big heart on it and "I Love You" inscribed on it. This is the unique card with a minimalistic design and an ideal gift to show your infinite love towards your partner. You can gift this to your boyfriend who doesn't like to get gifts but will treasure this forever. He will utter in happiness that this is the best Valentine gifts for him, that he may ever receive.
Stainless Steel Wine Chiller Stick
This is a unique bar accessory and a perfect Valentine's gift for your boyfriend who loves his wine serve chilled. A glass of wine is best served chilled. This chiller stick is made of high-quality steel and comes with a double lip pourer. Also, the wine chiller avoids any kind of spilling. The stick is very easy to use. All you need is to just freeze the stick in the freezer and put it in your wine bottle. This chiller stick cools your wine perfectly within 15 minutes. It can also be used repeatedly for chilling beers. An ideal gift to your boyfriend that can be used multiple times.
Coffee Mug With A To-Do List
This coffee mug is a nice gift for your boyfriend with some gentle reminders. The cup comes with a light-hearted to do list printed on both sides. The bright black print on the white cup makes it look attractive. This coffee mug gives you a reminder to wake up, drink coffee, poop and be awesome. Your boyfriend can even keep this in his workstation and you are always with him. It also comes with a protective gift packing.
Awesome Husband Printed Mug
This awesome coffee mug comes with printed messages. The message says this guy is one awesome husband with an arrow upwards which shows the person drinking from it. The printed mug can be used for drinking both tea and coffee. The attractive matte finish black color mug comes with white print on both sides. This mug is absolutely fit for daily use and is easy to clean. It is both microwave and dishwasher safe. You can gift this to your man and make him feel extra special.
Star Wars Inspired Bluetooth Speaker
This one is a perfect gift for your star wars fan boyfriend. This is a Bluetooth speaker with a powerful sound performance inspired by star wars. This can be connected with any tablet or mobile. The star wars theme song is also available in this. It works on a rechargeable lithium-ion battery and also has a cable for recharging. So, your boyfriend can enjoy songs anytime with this. Also, this has a 3.5mm jack for use of headphone. This valentine's day impress your star wars boyfriend and he can have his favorite music with him all the time.
Stainless Steel Crab Multi-Tool Set
This is a good quality 6 in 1 multi-tool with a twist. This is made of beechwood and in the shape of a crab. It has mini scissors, bottle opener, flat head screwdriver, can opener and a rope saw. The grip coming with this tool gives an easy grip. This multi-tools are man's best friend at all the times. Also, it is portable and easy to carry. It is 2.5*1.5*1.1 inches in dimensions. You can gift this to your boyfriend this Valentine.
Fruit Infuser Water Bottle
Keep your boyfriend hydrated in a tasty way with this fruit infuser water bottle. This bottle has a chamber in it to put fruits of choice. Just one has to add fruits like kiwi, orange, watermelon or even lemon, mint, ginger etc and flavor the water and drink it on the go. This will help in hydration without added sugars and calories. It is made up of 100% BPA free plastic and also it is leak proof. Hence, it is very easy to carry. This will be a perfect gift for your gym-going boyfriend. It is also a great gift if your husband is ever forgetful ad drinks the least water. This will be the best gift for health-conscious boyfriends too.
Sony Wired Headset With Adjustable Headband
This is an essential thing for all music lovers. If your boyfriend is into music and loves to listen whenever he travels, then this is the best gift. This headset is wired and is from Sony which assures its quality and no need to worry about the battery. This Sony headphone also has an adjustable headband and swivels ear cups which gives a comfortable listening experience every time. Sony ensures high quality and powerful sound for this wired headphone with the best quality build material. It also has deep bass, ideal to use in noisy streets, gyms, etc.
Rechargeable USB Cell AA batteries
These are travel-friendly USB cell AA batteries, that can be used with any gadgets. This USB ported device is the same size as a standard AA battery and can be recharged with the attached USB port. These batteries are 1.5V and are made of lithium. The battery can be charged with 2 hours from PC or other USB ports. The recharged battery can be used in an electric trimmer, mouse, keyboard, game controllers, remote control, digital camera, and many other household products. This USB Cell has a recharge cycle of 1000 that can save many dollars from buying batteries repeatedly.  Also, these are also leak-proof, unlike traditional batteries. These batteries while on charge indicate with a red light and a little hot and once it is charged shows a green light and cools down. This can be a very useful Valentine's Day gift for your boyfriend or even husband.
Comforting Car Seat Cushion
This could be a very thoughtful gift for your boyfriend who drives for a long time every day. This is made of high-quality memory foam and ideal for people already suffering from back pain. Driving for a long time gives back pain to almost everyone. This seat cushion is a perfect solution to such back pain or sciatica pain. Also, this corrects wrong seating posture and pains arising from such. This would be a perfect gift to show your care n love for your boyfriend this valentine's day.
Car Clothes Hanger Bar
Car clothes hanger bar are an absolute necessity for every car owner. This car clothes hanger lets you hang your clothes in the car and keeps them wrinkle-free. This clothes hanger bar is made of heavy duty and rust-free steel and is expandable. It is capable of holding 30 lbs of weight at a time. This cloth hanger fits in almost all cars. The hanger is also very easy to install just you need to hang it on your cars grab handles. This will make a really good gift for your boyfriend on Valentine's Day.
We have listed some best valentines gifts for him to surprise your boyfriend. Choose wisely from this range of products and make your boyfriend realize how much you love him. Make this Valentine's Day special and a day to remember for both of you.