10 Best Apple Watch Stainless Steel Bands for Men and Women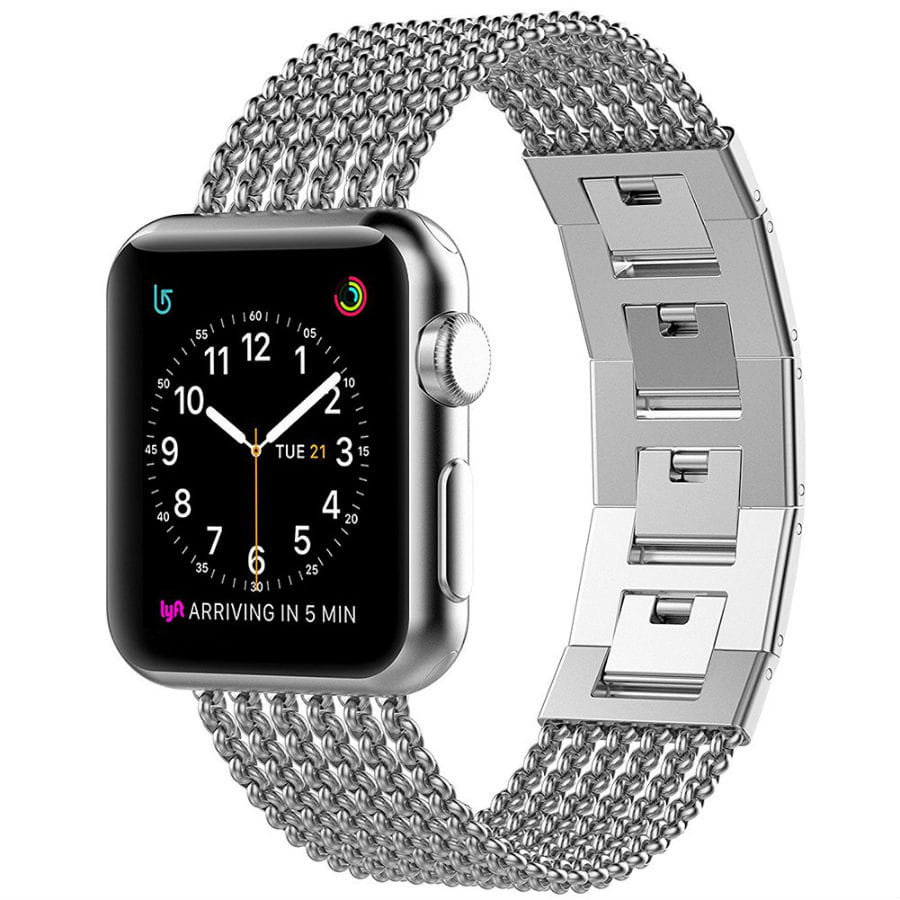 Even though you have a basic model of Apple Watch, you can change the style every day with a variety of Apple Watch bands. The bands are made easy to change whenever you want. When you go to the office, you can have a set of nice stainless steel bands. You can use sports bands for outdoor activities. Though the same band of your watch may seem monotonous. You obviously want different bands for different occasions.
Here is a list of elegant Apple watch stainless steel straps to make you even trendier every day.
Metal Link Bracelet Band
This replaceable apple watch band is compatible with Apple Watch Series 1/2/3/4. The link design of this band gives it a more formal and classy look. It is ideal for daily wear to the office and also corporate parties. This band fits on wrist size of 150 mm – 215 mm and is ideal for men. The awesome metal strap comes with a little tool. You can easily remove some links and adjust it to your own size with this tool. The company provides a lifetime warranty on manufacturing defects and excessive wear. So, buy this for upgrading your old apple watch with a new look.
Natural Wood Red Sandalwood Black Stainless Steel Metal Link Bracelet Strap for Apple Watch
Unisex Metal Replacement Band
This apple watch stainless steel strap is a unisex one. The strap is made of premium quality stainless steel and looks absolutely elegant. You can use it both as daily wear and party wear. It comes in 4 different colors, black, silver, rose gold, champagne gold. So, you can choose the color which suits you the best.  The band is compatible with all 4 editions of Apple Watch. This strap gives your Apple watch a personalized touch. The replaceable bracelet strap comes with 4 clasps on each side for size adjustment. It also comes with a band adjustment tool. The strap fits on wrists of 150-220 mm. Also, the company offers life-time hassle-free services.
Stainless Steel Band for Iwatch Cowboy Bracelet Style Replacement Strap Black
Elegant Apple Watch Bands for All
The unique apple watch stainless steel band is designed with premium quality materials. It is compatible with 44mm (series 4), 42mm (series 3, 2, 1). So, you can replace your old monotonous apple band with this elegant looking apple watch stainless steel strap. This band is durable and perfect for everyday wear. The unisex band comes with adjustable strap length. It has an attached link removal tool to shorten the length of the strap. So, this band fits wrist size of 6.14-8.38 inches. The band is really easy to install with refined steel connectors that lock your watch securely. Also, it has double button insurance of folding clasp on both sides for easy installation.
Fullmosa Stainless Steel Metal for Apple Watch Bands Black
Stylish Integrated Stainless Steel Band
This integrated stainless steel band for all Apple Watch Series is a showstopper. The brushed finish of the premium stainless steel makes it look out of the world. It is ideal for both men and women. Also, it can be used on a daily basis without any harm to your skin. The integrated no screw style of the band makes it unique. This band is 2.0mm thick and weighs only 0.16lb. So, you won't feel any weight on your wrists. If any quality issue arises within 3 months of purchase of this apple watch stainless steel band you will get a replacement or refund from the company.
Solid Stainless Steel Band Business Replacement iWatch Strap for Apple Watch
Apple Watch Stainless Steel Band
If you are looking for some durable and at the same time stylish band for your Apple watch, then this is the best thing. This luxurious stainless steel strap comes with an adjustable strap. The band is compatible with all Apple Watch of Series 1,2,3, and 4. The depth of the connector is the best part of this band. It holds your watch securely and feels comfortable on your wrist. You can remove up to 6 links from the band to adjust it to your size. This apple watch band fits on wrists of 150mm – 220mm size.
Premium Stainless Steel Metal Replacement Band for Apple Watch
Cuff Bangle Style Bracelet Strap
Of all apple watch bands in the market, this cuff bangle-style bracelet is an absolute stunner. This apple watch stainless steel band is exclusively made for the divas. So, if you are bored with your normal apple watch band you can replace it with this band and pair your watch with all the dresses. This durable band is compatible with all apple watches. Also, it is lightweight and is smooth on your skin. The band has to hand removable links to let you adjust it as per your wrist size. This replaceable band fits on the wrist of 140-190mm in size. The company provides a year refund or replacement policy for any defects. So, buy yours now.
Adjustable Stainless Steel Replacement Band Strap Cuff Bangle Bracelet Accessories for iWatch
Apple Watch Strap with Butterfly Clasp
This premium quality stainless steel apple watch band comes with luxury butterfly clasp. So, it is really easy to lock and unlock in no time. This watch band is compatible with all series of Apple watches. Also, it is unisex and can be sported by both men and women on any occasion. The band has a matte yet subtle shiny look. This classy and durable apple watch band has a width of 2cm and weighs only 0.16lbs. The main attraction of this band is it fits to even XL size wrists. It fits wrists of 5.5" to 8.1". So, you can replace your old apple watch band with this awesome band anytime. It comes with a one-year limited warranty.
iPhone Watch Bracelet Band with Butterfly Buckle
Bracelet Band with an Added Bling
Can you imagine an apple watch band with the show of a bracelet? Yes, it is possible. This apple watch bracelet has the show of a cuff bangle bracelet.  The band is made of high-quality metal and is colored by vacuum plating. The stylish design of the band makes it stand out from the rest of the apple watch bands in the market. It has stone embedded on the sides which gives it a party look. The band is ideal for all apple watches, be it series 1, 2, 3 or 4. Also, it is easily resizable. You can easily remove extra folding links to make the band fit your wrist. The band fits on wrists of 5.5"-8.1" size. Make this awesome looking apple watch band your daily companion as it is really durable. The company provides a warranty for 1-year for full refund or replacement.
Diamond Rhinestone Stainless Steel Metal Replacement Wristband Strap iWatch
Metal Wristband for Apple Watches
This stunning-looking wristband for Apple watch is made of premium stainless steel and not an inexpensive metal. So, this is durable and gentle on your skin. The band has sparkling rhinestones fitted at both ends to give it the look of jewelry. This band adds a personalized touch to your same old apple watch which is a part of your everyday routine. Also, it is compatible with Apple watches of all series. This 38mm band comes with a removable clasp for easy resizing. Also, no tool is needed for resizing it. So, get yours now and fit it to your perfect size.
Stainless Steel Women Metal Wristband Strap Cuff Bangle Bracelet
Apple Watch Band with Luxurious Rhinestone
This high-quality silver-plated stainless steel apple watch band is a perfect accessory for every woman. You can now upgrade your boring apple watch to an exciting piece of everyday wear or party wear accessory. The well-polished surface gives it an exquisite look. Also, the 38mm band is studded with rhinestones which make it perfect for occasions and parties. The band has a removable clasp for size adjustment without the assistance of any tool. It is recommended to keep it dry and away from water splashing. The manufacturer provides 2 years warranty on the product.
Stainless Steel Metal Wristband X-Link Sport
Silver Cuff Bangle Bracelet Strap
This cuff bangle bracelet strap for Apple watch is made of stainless steel and studded with white crystals for a glamorous look. It has layered metal lines for adding glamour to any outfit.  You can easily pair it with any other piece of jewelry. So, you do not have to compromise anymore on your Apple watch while going to parties. The band comes with adjustable links that can be removed by hand for easy fitting. It also comes with an 18-month warranty for a full refund or replacement without return.
Stainless Steel Band for Women Wristband Strap Cuff Bangle Bracelet with Diamond Replacement for iWatch
Here is a list of apple watch bands that you might be looking for. These apple watch stainless steel straps are for all occasions. The list includes both unisex and some exclusively for women. No more the same old boring apple watch band. Indulge in a variety of bands for various occasions for your beloved apple watch.