12 Best Accessories for Samsung Galaxy Note 10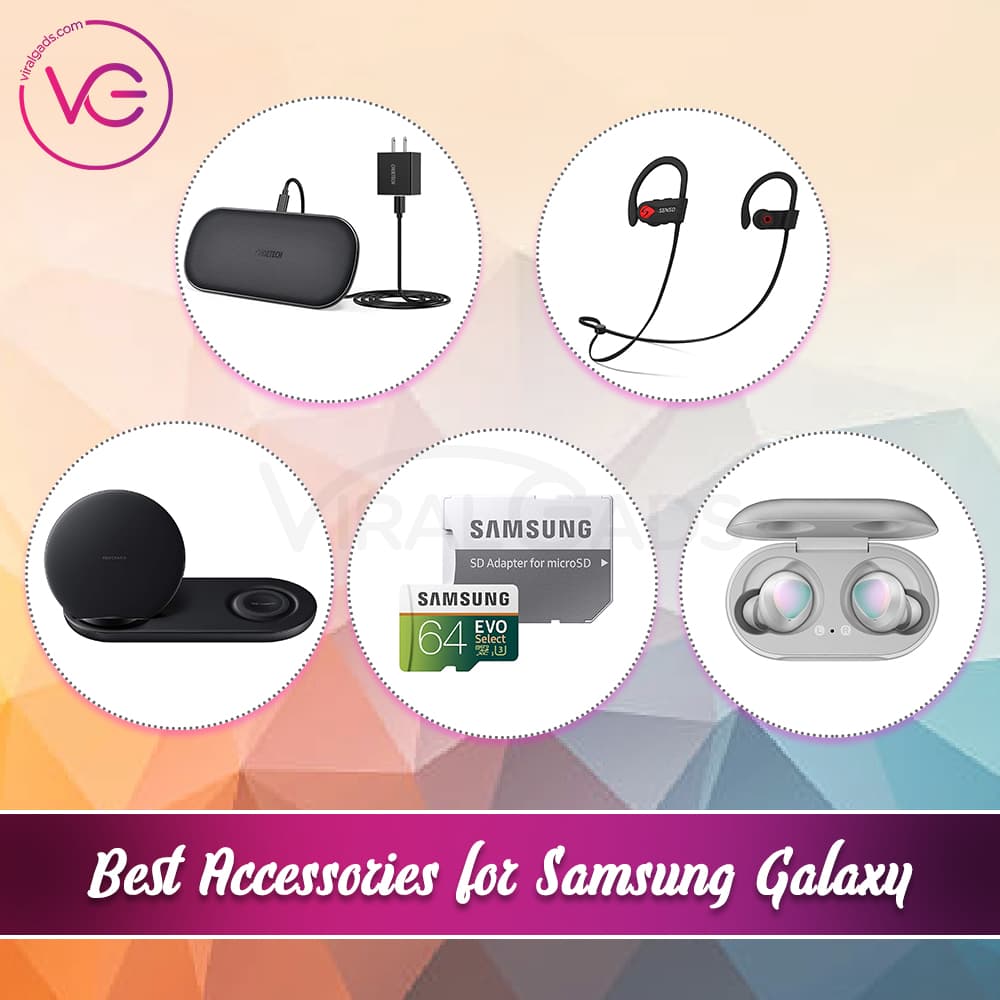 Samsung Galaxy Note 10 is one of the most awaited smartphone launches of 2019. With its amazing features, the device has won a recognizable space in the smartphone market already. You can have a couple of accessories and cases (check here for cases and screen protectors) to protect your investment. Here are the Best Chargers and Accessories for Samsung Galaxy Note 10.
Dual Wireless Fast Charging Pad with Smartphone Stand
This Wireless Fast charger enables you to charge not one but two Qi-enabled devices from a single outlet. It may be two smartphones or other Qi-enabled devices like the Samsung Gear Smartwatch. This charging pad also has a smartphone stand. You can wireless charge your smartphone in landscape or portrait positions. It also lets you read the notifications on the smartphone while it is charging on your tabletop.
A built-in fan is also provided to cool your devices while fast charging. Two led lights are available to let you know when the devices are charging. This device is safe to use and is tested and certified by Qi for its safety. The package includes Dual Wireless Fast Charging Pad, Fast Charging Wall Charger, and USB-C cable.
Samsung Wireless Charger Duo Fast Charge Stand
Samsung Galaxy Buds
A Compact and portable wireless headphone with 13 hours of charge is a heaven for all music lovers. Samsung Galaxy Buds does exactly the same. With its sound by AKG, the device delivers premium natural sounds with an excellent dynamic range. The ambient aware lets you hear the surrounding noise you want to let in like traffic when you're walking out or if someone calls out to you. Designed to fit comfortably in your ears, the Galaxy Buds comes with three ear tip and wingtip sizes right from the box.
The Galaxy Buds pairs with both Android and iOS compatible devices via Bluetooth connection. The device has an exceptionally good built quality with its sturdy design and IPX2 splash resistance. The case is also included that doubles as a wireless charger to provides an additional 7 hours of battery life to the Buds. The device also has simple controls. Now take calls or skip tracks with just a touch.
The music automatically stops when you remove the buds from your ears and continues when you place it back. Connecting to a device is so simple. Just open the case and the window appears in your smartphone asking to pair the device. Samsung Galaxy Buds are one of the best wireless headphones in the market with its premium built and exceptional features.
Samsung Galaxy Bluetooth True Wireless Earbuds
Wireless Fast Charging Car Mount
This wireless charger lets you charge your smartphone wirelessly from a car power socket. The smartphone mount holds the smartphone firmly while the strong and sticky suction can be attached to any surfaces like tabletops, windshield, dashboard, etc. The device supports 10W wireless fast charging for Samsung Galaxy Note 10. The device can be easily positioned in any direction you like for better visibility. This Wireless Car Charger is certified with CE, Qi, and ROHS for its safety and quality. Now travel anywhere without worrying about running out of empty battery when you navigate with a smartphone on the bracket.
CHOETECH 10W/7.5W Qi Wireless Fast Charging Car Mount
Nylon Braided USB Type C Cable
The durability of the charging cables is one of the issues while charging smartphones. The breakage of charging cable at its ends irritates us all. equally. This USB C to USB A cable is nylon braided and hence doesn't get damaged easily. It supports fast charging (5V/3.0A) and fast data transfer(480Mbps). With tangle-free design and premium aluminum housing, the cable is safe and reliable for daily use. The cable has a length of 2m/6ft and is compatible with all Type-C supported devices. The package includes two nylon braided cables.
BrexLink USB Certified Type C Nylon Braided Fast Charging Cord for Samsung Galaxy
USB Type C to Type A Adapter
This USB adapter lets you convert USB Type C  ports(Male port) in your smartphones or laptops to Type-A port(Female port) thereby allowing to connect USB devices like keyboards, USB Flashdrives, printers, consoles, etc to your device. The device is compatible with all USB type c devices and has a data transfer speed of 5Gb/s. The device is highly compact and convenient to use with its minimalist and delicate non-slip embossment. The internal engineering design solves the problem of the interference between USB 3.0 and Wifi 2.4GHz signal. The package includes two adapters.
Syntech USB C Adapter Compatible with Galaxy Note
USB-C to 3.5mm Headphone Jack Adapter
More and more devices are lacking 3.5mm headphone jack making a way for a sleek design and new wireless technologies like Bluetooth headphones. While many of us still have good 3.5mm wired headphones with us. This USB type c to 3.5mm adapter is a simple device that can let you use your favorite wired headphones with your smartphones. The device is equipped with a DAC chip that provides 96khz and 24-bit audio output. The adapter is made of TPE, which is flexible thereby protecting the core from damages. The device is compatible with all USB type c devices like laptops, smartphones, etc. Just plug this device to the type-c port and connect your headphone to its 3.5mm port and enjoy your favorite music in your 3.5mm headphones.
USB-C to 3.5mm Headphone Jack Adapter for Samsung Galaxy Note
Portable Powerbank for Days of Smartphone Charge
One of the things we worry about while leaving the workspace is charging the smartphones. A Powerbank with days of power for your smartphone makes us confident in our adventures. This Powerbank with its 26800mAh capacity can charge your smartphones for over 6 times. 3 devices can be charged at a time from its three 2.4A USB ports.
The device made strong and portable with its anti-scratch body and minimalistic compact design. Recharging the device only takes about 14-15 hours with a 2.4A charger. The package includes 1 x RAVPower Xtreme Series 26800mAh Portable Charger, 2 x Micro USB Charging Cables, 1 x Carry Pouch, 1 x User Guide & Free 18 Month Warranty.
RAVPower Portable 26800mAh External Battery Packs with 3-Ports for Samsung Galaxy
Bluetooth 5.0 Sweatproof Headphones with Mic
Most of the new smartphones lack a 3.5mm headphone jack making way to new technologies like Bluetooth headphones. There are many Bluetooth headphones available in the market but some of them lack built quality while others lack good quality sound. But this Senso Bluetooth headphones offer both comfort and best sound quality at an affordable price. The balanced sound output with dynamic bass, balanced midst along with crisp clear highs is the best in class. The improved lithium-ion battery charges in just 2 hours and can provide continuous usage of up to 8 hours. The sweatproof design with three interchangeable earbuds and adjustable ear hooks provides you with a perfect fit and avoids the headphones from falling off while running or workout. Bluetooth 5.0 connectivity used in the headphone has a range of up to 30 feet.
Bluetooth 5.0 Wireless Noise Cancelling Headsets for Workout, Sports
Dual Wireless Fast Charging Pad with 5 Coils
Wireless charging is a convenient method to charge the smartphone without missing up the tabletop with tangles wires and chargers. Having more than one Qi-supported devices and only a single wireless charger is often a problem for us. This wireless charger can not only charge two devices at a time but also contains 5 coils that provide a wider charging area to boost charging efficiency, the sweet spot is no longer a problem.
The two Qi-compatible charging mats have the ability to charge two phones simultaneously at up to 18W output. The anti-slip PU leather surface, not only provides sleek and modern style but also prevents your smartphone from sliding. The anti-slip pads on the bottom help keep your charging pad in place.  Heat dissipation holes at the bottom are designed to keep the devices cool while charging. The device is safe to use with Qi-certified Built-in over-charging and over-temperature circuit protection that never overcharges your battery or wastes energy.
CHOETECH Dual Coils Qi Certified Fast Wireless Charging Pad for Samsung Galaxy Note
Bose SoundLink around-ear wireless headphones II
Being one of the best headphone manufacturers in the world Bose never fails to Provide exceptional quality audio through its headphones. This Bose SoundLink around-ear wireless headphones II does exactly the same. It provides you with deep, immersive sound and improved EQ offering best in class performance for wireless headphones. The Latest Bluetooth technology used makes connectivity easier with a 30ft wireless range and seamless audio/video syncs. It gives a clear, natural sound even when you're in windy or noisy environments at both ends of a call.
The rechargeable lithium-ion battery used can provide up to 15 hours of playtime from a single charge. The Seamless switching technologies used lets you switch between two Bluetooth devices easily. Design to be comfortable on your ears, the convenient controls make changing music or taking calls much easier. The package includes Bose SoundLink around-ear wireless headphones II, USB charging cable, Backup audio cable, and a Carry case.
Bose SoundLink around-ear wireless headphones II
Portable USB C Car Charger 
This USB car charger contains two USB type A-ports and one type C-port to charge multiple devices at a time. This 3-Port USB car charger with a total power of 30W supports charging for 3 devices simultaneously allowing you to recharge you and your friends' phone all the way traveling. The built-in smart IC chip ensures complete protection for you and your devices from over-heating, over-current, and short-circuit while High-quality fireproof material and anti-oxidation aluminum pull tab avoid radio loss or effect to Bluetooth or Wi-Fi devices in your car. Now travel anywhere without worrying about charging your smartphone.
30W USB Car Charger with 18W Power Delivery & 12W 2.4 A Dual USB Port
USB Type-C to Type-A 3.0 Adapter
This adapter converts USB Type-C to Type-a adapter thereby allowing you to use a wide range of devices like mouse, keyboards, printers, etc with your Type-C devices like smartphones, laptops, etc. The device has a data transfer speed of up to 5Gbps. The premium material used ensures durability and maximum flexibility. Bend it to any angle you desire when you connect it to your USB-C devices as many as 10,137 times! This adapter is compatible with all type-c devices.
nonda USB-C to USB 3.0 Adapter for Samsung Galaxy Note
Samsung 64gb MicroSD with adapter
Extended memory is a safe way to backup private and important data for safe storage and easy transfer in case of any damages to the smartphone or other devices you use. MicroSD is an easy way of carrying information as it is portable and highly compact. This Samsung EVO MicroSD has a storage space of 64Gb. This MicroSD has 100MB/s read and 60MB/s write speeds making data transfer super easy. It is ideal for 4K UHD video recording, high-resolution photos, gaming, and music. It is compatible with all devices like smartphones, action cameras, laptops, tablets, etc.
The package also includes an SD card adapter allowing you to use the MicroSD card with devices having only SD card slots like DSLRs, Laptops, etc. The MicroSD card is Waterproof, Shockproof, Temperature proof, X-ray proof and Magnetic proof thereby allowing you to use it in extreme conditions.
Samsung 64GB 100MB/s (U3) MicroSD EVO Select Memory Card with Adapter
Here you can have the battery pack for Samsung Galaxy Note, Bluetooth headphones and other accessories for note. Provide Your Samsung Galaxy Note 10/10+ smartphone with the latest and the Best accessories available now for convenient usage and its safety.