10 Best Cases and Screen Protectors for Samsung Galaxy Note 10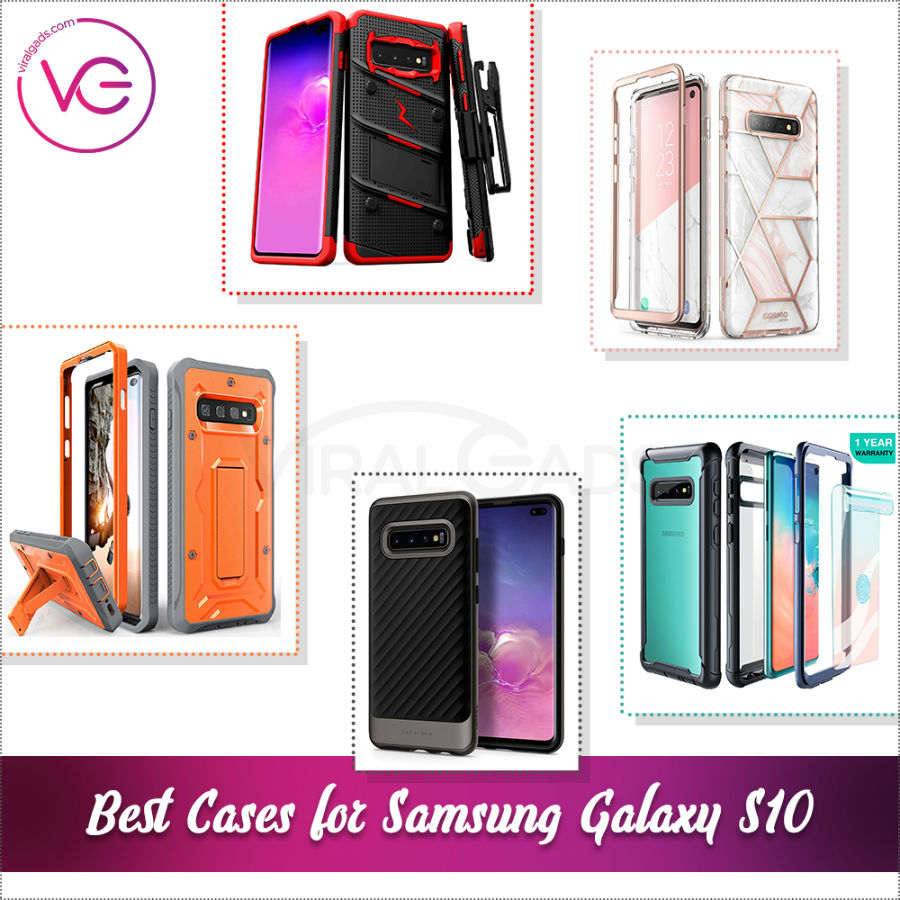 One of the most awaited smartphones of 2019, Samsung's flagship device Galaxy Note 10 is here (256 GB Unlocked Version from Amazon) to rule the smartphone market. Its cool features and the Samsung brand is truly promising for smartphone enthusiasts. We do care about you and we believe you deserve the best of everything. Here Are The Best Cases and Screen Protectors For Samsung Galaxy Note 10.
Hybrid Case with 9H Tempered-Glass Back and Flexible TPU Bumper
This is a transparent case for your device with flexible TPU cover and scratch-resistant tempered glass back. It provides your device with protection without compromising on its premium sleek looks. The back cover is made with genuine tempered glass and hence doesn't scratch easily like plastic back cases. The glossy back provides you with grip while its non-slip corners prevent the device from sliding around on flat surfaces. Wireless charging and Wireless PowerShare is also supported by the case. If you want a case with neat clear looks and overall protection for your device, Pick this one.
ESR Mimic Series Compatible with Galaxy Note 10 Case, 9H Tempered-Glass Back Cover, Scratch-Resistant, Flexible TPU Bumper
Multipurpose Stand Case with Credit Card Slots and Magnetic Flip Cover
You are having a device with the latest features. Why not have a case with cool multiple features? This magnetic case provides your device with full protection by keeping the device closed firmly. There are two slots to carry your credit cards, ID cards, etc along with your smartphone. The case also acts as a stand with multiple viewing angles so you can have a hand-free usage while watching movies or hanging out with friends on Face Time. The soft leather outer cover makes the device comfortable to hold while the shockproof TPU case protects the device from daily bumps and scratches.
Wallet Case Galaxy Note 10 / Note 10+ Plus Soft Leather Magnetic Flip Cover Folio Wallet Stand Credit Card Holder Slots
Protective 3D Curved Anti-Spy Tempered Glass with 9H Hardness
This 3D tempered glass not only provides your device with protection but also protects your privacy. By avoiding the display light spreading to the sides, this tempered glass blocks the view from people peeping into your smartphone while you're in public places like trains, meetings, etc. The 3D curved edges avoid the screen protector from lifting at the corners of the smartphone. The tempered glass is very sleek and can be used with most of the smartphone cases available. 9H hard glass protects the device from daily bumps and scratches. If you're highly concerned with your privacy and also want your device to be safe, This is the one for you.
VitaVela 9H Hardness Privacy Tempered Glass Film 3D Curved Anti-Spy Screen Protectors
Tempered Glass Camera Lens Protectors
Smartphone camera lenses are the surfaces which are not protected even if you put some case on the device. These glass surfaces are kept open and are vulnerable to scratches and fingerprints. This tempered glass camera lens protector protects your camera lens while also maintaining the gorgeous look of your smartphone. It fits perfectly on your device and its high transparency allows you to record pictures and videos without losing its quality. This lens protector is easy to apply and is bubble-free. Once removed, it leaves no residues on the lens. The package includes 4 camera lens protectors.
Donse Compatible Samsung Galaxy Note 10/Note 10 Plus/Note 10 Pro 5G 9HD Screen protector Camera Lens, 4 nos
Wireless Charging Compatible Hybrid Case
This lightweight hybrid case is made from poly-carbonate bumper and TPU case and thereby offering protection for your device. The cutouts are precisely made to access buttons, ports and S pen conveniently. The bezels are raised to protect the rear camera from scratches. You can wirelessly charge the device and wireless power-share with the case on. This case is very sleek and slim to avoid your smartphone from getting too bulky while also protecting the device from daily bumps and scratches

Spigen Neo Hybrid Designed for Samsung Galaxy Note 10 Case (2019) - Gunmetal
Give Your Device a Unique Look With This 3D Marble Pattern Case
This cool looking case is made from shock-absorbing polycarbonate back to protect your device from bumps and scratches. Edges are made from durable TPU and are raised 3mm from the screen for further protection. PET material makes the case anti-fingerprint.  The marble pattern is designed in such a way that the golden-colored surface is printed under a layer of PET to give a 3D touch while the case is smooth and provides grip to hold the device with a single hand. The cutouts for slots are precise and the raised bezels protect the rear camera from scratches and dust. If you want your device to look unique and eye-catchy, Choose this one.
Wallet Case Galaxy Note 10 / Note 10+ Plus Soft Leather Magnetic Flip Cover Folio Wallet Stand Credit Card Holder Slots
 Scratch-Resistant Liquid Skin Screen Protector
Are you worried about scratches and dust on the smartphone screen? Protect your device screen by using this liquid skin screen protector. This product is made from flexible and tough TPU that self heals minor scratches over time. The screen protector doesn't decrease the touch sensitivity of the screen. It is also compatible with the S pen. Ultrasonic fingerprint scanner under the screen and facial recognition are also supported by the case. The package includes not one but two screen protectors in it. The screen protector can be used with almost all cases available for the device.
ESR Screen Protector,TPU Film,Compatible with Samsung Galaxy Note 10, 2 nos,Full-Coverage Liquid Skin Easy Installation Kit
Wireless Charging Compatible Military-grade Parallax Case
A good looking case that provides overall protection for the device is what we expect while buying a smartphone case. This Samsung Galaxy Note 10 compatible case does exactly the same. Dual-layered design made from the TPU case and strong polycarbonate frame give enough protection for the device. 3D hexagonal patterns on the back give the device a unique feel and grip in your hand. Precise cutouts are also provided to access all the ports and buttons conveniently. The case also supports wireless charging and wireless power share, so you don't need to remove the case to charge your device.
Caseology,Parallax Samsung Galaxy Note 10 Case,Matte Black
Flexible Transparent Case to Reveal the Beauty of Your Device
Samsung Galaxy Note 10 is one of the best-looking smartphones at the moment. Why not reveal its beauty without compromising on its protection. This case lets you do the same. This transparent case is scratch-resistant and doest give your device a yellow tint like other clear cases. The soft PC material used is shock absorbent and slim. The 0.5mm extended edges and bezels protect the screen and cameras from dust and scratches. This case also supports wireless charging, so you don't need to worry about removing the case for charging. The cutouts for slots are also perfectly made for easy accessibility and usage.
TOUBER for Samsung Galaxy Note 10 Plus/Pro/5G Case, with Flexible and Durable Shock Absorption with Super Crystal Clear
TPU Screen Protector for a Bubble-free Display
We want our smartphone screens to be protected without compromising on its looks and features. This screen protector does the same. The 100% bubble-free adhesives avoid the formation of bubbles on the screen. This tempered glass screen protector provides your device with protection from scratches while providing excellent screen clarity and touch screen accuracy. Ultrasonic fingerprint scanner and face unlock is also compatible with this screen protector.
GESMA for Galaxy Note 10 Screen Protector, GESMA for Samsung Galaxy Note 10 Screen Protector, Bubble Free Clear Soft Screen Protector
Provide your Samsung Galaxy Note 10 Smartphone with protection from unexpected moments like falls and other damages. The Samsung Galaxy Note 10 cases and screen protectors listed here are the best durable and good looking ones available now in the market for a reasonable price. Be free from worries about your smartphone by using the best accessories for its safety.