Echo Show 5: Compact Smart Display with Alexa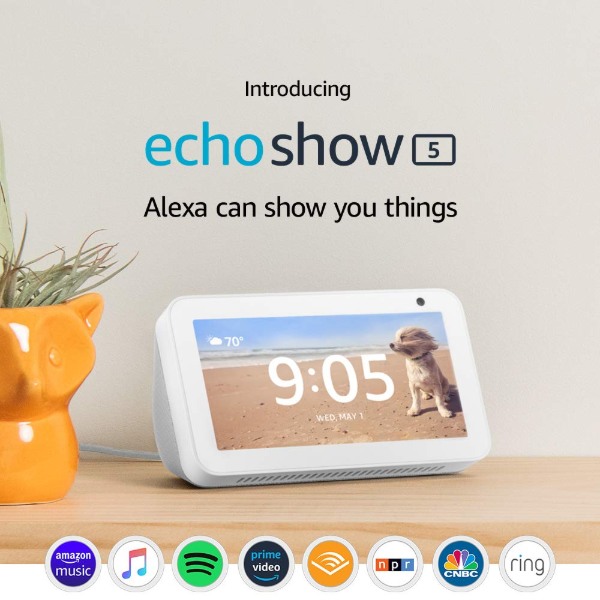 The Amazon Echo Show 5 is now available on the e-commerce giants website Amazon.com. The Echo Show is a smart display that has built-in Alexa voice assistant. It has a display size of 5.5″ that can help you to interact and keep track of your daily tasks. Also, an entertainment at glance is for sure.
Moreover, you can use it to connect to your friends and family via the Alexa Calls. Also, the Echo Show 5 can connect with other supported smart devices in your home. It will make an announcement to every room with those devices.
The display is a very nice add-on on the Echo Show 5 through which you can watch the lyrics to your songs, watch video content, set alarms, and timers, etc. Even, Alexa shows you the news or sports highlights with ease. Not only the display but, also the sound quality is amazing here. Moreover, it can display the weather and traffic information on the screen for you.
The Echo Show 5 comes with enhanced security features which include that it will wake up only when you have said the trigger word "Alexa". Your voice will only be streamed to the cloud after you say the trigger word. Besides, it also offers you to shut the microphone and camera off with the tap of a button.
There is a built-in shutter that blocks the camera when you don't want to use it. With the Echo Show 5, you can also control all the smart lighting system installed in your house or you can view your security camera on the crisp display.
Other features that make this device a great product is that you can turn the Echo Show into a nightstand with its ambient sunrise feature. Also, there are several face widgets for your clock and alarm face designs. It has over 80,000 skills and it is continuously upgrading. You just have to trigger it saying "Alexa, show me some skills" and you will be shown the already learned and updated skills.

December 2, 2023 8:46 am

Amazon.com
Last update was on: December 2, 2023 8:46 am