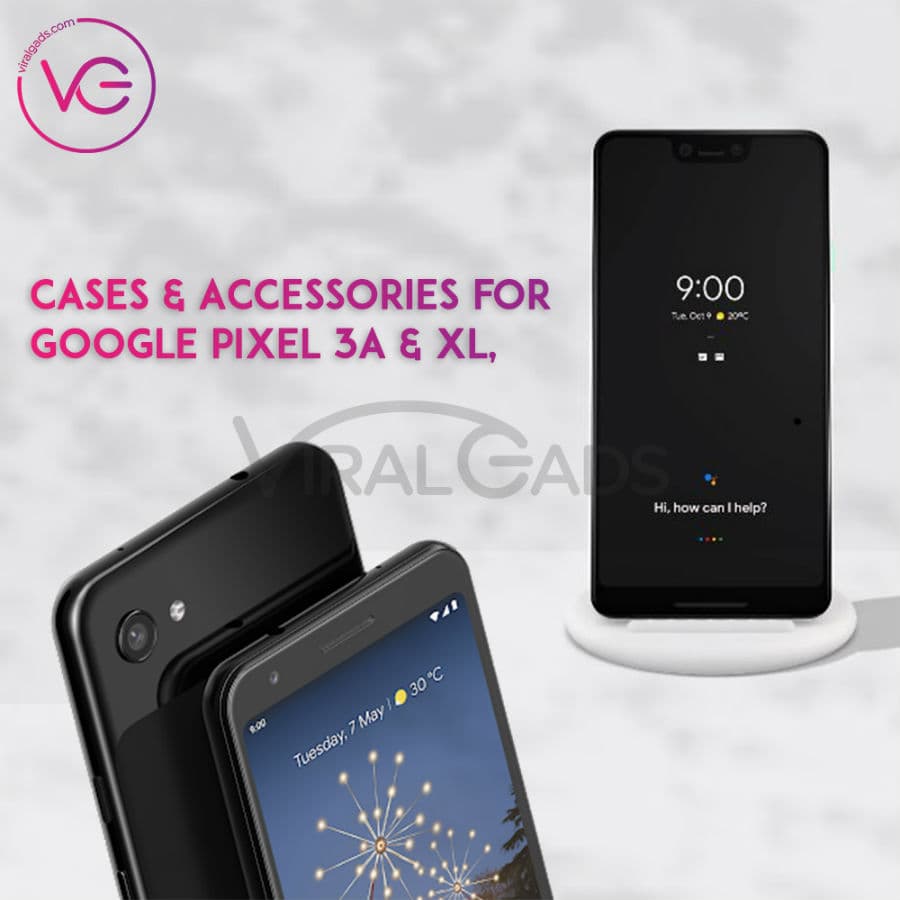 Google Pixel 3a and 3a XL are launched and has created a lot of buzzes. If you already bought it, it is the time for shopping for the accessories for Pixel 3a. Google has ditched the wireless charging feature from Pixel 3a & XL and brought back the 3.5mm audio port. There are plenty of cases and accessories for Pixel 3a and 3a XL available that can add a nice touch to your smartphone.
Let us take a look at the best chargers, headphones, other accessories, and cases for Google Pixel 3a and 3a XL. (Check for Google Pixel 4 and Pixel 4XL Cases & Accessories)
ESR Mimic Series Google Pixel 3a Case
ESR Mimic Series case is a clear and transparent case. It is a hybrid of 9H tempered glass and soft TPU frame. This offers sturdy protection from drop and absorbs the shock nicely. It has all the buttons and camera vents cut out accurately. This case gives a premium look to your device. You also get a good firm grip on your phone.
The 9H tempered glass which is used mostly for screen protectors offers resistance against scratches. The corners have the Air Guard that prevents your phone from damage. The case feels really smooth and gives a transparent look to your Pixel 3a device. You also get the least fingerprint smudges due to the premium 9H glass. After installation, the buttons are also very tactile and smooth to press and use.
Google Pixel 3a XL Fabric Case
This one is officially from Google and you can buy this case from the Google Store. The Google Pixel 3a XL Fabric Case is one of the most elegant cases available for the smartphone. The fabric is stain-resistant and is beautifully crafted to perfection. It covers your mobile all around and gives good protection. The material used in the case is Polyester and polyamide fabric, and Polycarbonate.
It is available in three stunning colors. This case is not full protection though it will protect your case from scratches.
TopACE Phone Case for Pixel 3a
TopACE Phone Case is a three-layered protective case. The three layers are metal primer layer, micro-matte granule layer, friction-resistant layer put on one another to give sturdy protection. Moreover, you get a cushioned corner that can absorb any kind of impact. You don't need to worry about its thickness as it is just 0.4mm thick. This avoids adding to the weight of the phone.
This case gives you 360-degree protection and also supports wireless charging. Besides, the color of the case will not fade away due to the three-layer mixed together. It has a 0.3 mm camera bum to protect your camera and buttons feel more tactile. The TopACE comes with a lifetime warranty, free replacements, and refund orders.
Speck Presidio Grip
The Speck Presidio Grip is a slim yet durable case for your Pixel 3a XL. You get a 10ft military-grade drop protection which is certified. Moreover, it gives your device dual-layer protection for durability. The inside is made of soft TPU and the outer body is made of hard polycarbonate.
The button vents and cuts are precisely made. The soft TPU covers the edges of your device accurately. It can absorb impact from drops or sudden shocks. The cuts design at the back gives you a more firm grip on your device.
Pixel 3A Leather Wallet Cover
If you want a full leather coverage around your Pixel 3a XL device then, the Premium PU Leather Wallet Case is the one for you. It gives you a beautiful premium leather finish. You can get this leather case in several other different colors. The case has cutouts for your credit/debit cards and has 2 more sections for more wallet space.
It has a magnetic latch that protects your cash or cards from accidental fallouts. You can also fold this case as a kickstand for your device.
Spigen Tough Armor for the Pixel 3a XL
Now you all must be familiar with Spigen. They are a quality case manufacturer of cases and other mobile accessories. Spigen Tough Armor Case is our first pick for the Pixel 3a XL. It is different from the Rugged Armor case as Tough Armor has a kickstand and is more durable.
Moreover, it has a dual-layer design. On the inside, you get soft TPU and hard polycarbonate on the outside. The frame of the case covers all the edges very accurately. It is well protected around the corners to avoid damage due to drops, or any other life hazards. This case is slim at 0.15mm of depth. But, gives the phone a clean look. The Kickstand is well hidden at the back.
TUDIA Merge Extreme Rugged Case
The TUDIA Rugged Case is a sturdy and sleek case for your Pixel 3a XL. It has dual-layer protection covering. Moreover, this case comes in four colors. The case gives a great edge to edge protection adding just a bit of weight.
There is a soft TPU lining inside of the case. This protects the phone from damage and absorbs impact from drop or shock. Besides, the outer shell is made of polycarbonate plastic. TUDIA Rugged Case has buttons components big and that makes the phone buttons tactile and easy to press. Furthermore, you get a raised edge on the back to protect the camera and find the location of the fingerprint scanner.
IdeaLine ShockProof ClearShell Case for Pixel 3a XL
The IdeaLine ShockProof ClearShell case is an awesome lightweight case. If you want to show the beautiful color of your smartphone then, this one's for you. This case is thin, transparent from the back and tough on the frame. Moreover, you get a good grip on the buttons as well. The soft rubberized TPU bumper protects the mobile from shock, or drop.
The clear back provides the color of the phone to be seen. Besides, gives you a sturdy yet elegant feel when using the phone with this case.
Skinomi MatteSkin Screen Protector (Pack of 2)
We always love it if we get two for the price of one. The Skinomi MatteSkin Screen Protector comes with 2 anti-glare screen protectors. It is precise and has accurate cuts and vents for the camera and speaker grills. Moreover, it is a matte finish screen protector that would eliminate the finger smudges on the screen.
This screen protector gives you visibility and reduces glare while using in bright sunlight. It is made up of military-grade elastic polymer. This ensures that the screen protector is sturdy and rugged. One of the best things is that it comes with a lifetime warranty.
ESR Tempered-Glass Screen Protector for Pixel 3a
The ESR glass protector for Pixel 3a and 3a XL is tempered glass, which can withstand up to 11lb force. This Pixel 3a glass protector can fit with most of the cases. The cleaning kit included will allow removing bubbles when installing the first time. The screen protector for Pixel is Oil and fingerprint resistant.
This screen protector is also the first to use the ClearPrint. Along with the protector you also get the EZ Tab to align the screen protector while installing. The product comes with 180 days warranty and customer service offers replacement or refunds for the customer.
Google Pixel Buds
If you want great sound quality and the trust of Google with it, the Google Pixel Buds is your device. It has premium quality both in terms of build and sound quality. You get one-touch access to Google Assistant and music control. Moreover, you get 5 hours of playback with just one full charge.
This headset is optimized with Pixel devices. This ensures that you will get the best output from these wireless headphones. The Pixel Buds charging case has multiple charges, which means you can get 24 hours of listening time on the go. You can also use Google Translate with this device.
Jaybird Tarah Sport Wireless Headphones
The Jaybird Tarah Sport Wireless Headphones provide a premium sound quality. They are great for your Pixel device. It has a minimalistic design and microphone. This wireless headphone is sleek and sturdy and feels comfortable. You can use the headphones for the gym, running, sports or any other activity.
It offers you a fast-charging battery that supports fast charging. You also get six hours of wireless playtime on a single 100% charge which is good. Moreover, you get 1 hour of playback with just 10 minutes of quick charging. It is available in two colors; black and grey.
Google Daydream View
If you are a fan of immersing yourself in the world of virtual reality, then this device is the one for you. You just have to place your Pixel 3a XL on the space provided and you are done. It provides high quality and immersive virtual reality. Moreover, it is lightweight, durable and has a premium finish.
It is surprisingly comfortable due to the soft fabric used in this VR headset. You can enjoy any type of Daydream content ranging from fro HD videos to games. With the help of a controller, you can personalize your Daydream experience. Overall, a good accessory to buy.
Bolt Smart Automatic Car Mount for Pixel 3A
With an automatic locking and unlocking system, this car mount and holder features smart security.  Moreover, which opens in one touch, then securely hugs your phone when you place it over the built-in infrared sensor. The Qi Fast Wireless Car charger helps you to keep up your phone alive for a long time.
The bolt can hold phones with 4″-6.7″ displays. Also, you can rotate the mount and adjust the feet to find the perfect position for your device. Bolt works with most phone cases up to 3.5" wide including heavy-duty ones like the Otterbox Defender. Since Google Pixel 3a is not supporting Wireless charging, you may need to connect the cable direct to the phone while holding in the car charger.
Choetech Wireless Car Charger Mount
The dashboard phone charger holder uses a gravity linkage automatic clamping. Automatic clamping and release mechanism makes it easy to use. This helps the user to operate with even one hand. Forget the fear of the phone falling down. The phone will not slip from the holder due to the anti-slip L shaped hook air vent mount.
You can use this device only for holding the phone. The Car mount is coming with a wireless charger. The Pixel 3a is not supporting wireless charging and you have to plug the cable direct to the phone while mounting on this holder.
Aukey PD Ultra-Compact USB C Charger
The Pixel 3a XL supports the 18W fast charging. The Aukey PD ultra-compact USB type C charger is great for your Pixel smartphone. Moreover, you get overcurrent protection. This protects your smartphone from damage due to fluctuating current. Besides, you also get short circuit protection as well with this travel adapter. The features just not end there.
The Aukey PD Charger also protects your phone from overvoltage and over-temperature damage. You also, get cashback and discounts as well.
Portable Charger Anker PowerCore (20100 mAh)
One of the best Power Bank out there for any smartphone is the Portable Charger Anker PowerCore. The PowerIQ and Voltage Boost allow this Power Bank to deliver Fast Charge. The Power Bank can charge to full capacity in 10 hours with the 2amp charger. While using the phone charger it can charge in 20 hours.
The Power Bank comes with safety features for your smartphone as well. It has the Multi Protect System to ensure the safety of your device while it is plugged into the Power Bank.
Anker Powerline USB C cable
The Anker Powerline USB C cable will be a good replacement for the official cable provided with the Pixel device. The reason for that is its Aramid Fiber core and laser-welded connectors. This gives the cable a sturdy and rugged strength. This cable supports Qualcomm Quick Charge and other protocols.
You can charge your device faster and quicker. It is compatible with almost any USB-C device. You also get a long 6-foot cable which is ideal for any situation. Anker also gives a lifetime warranty with this device.
36W Smart Car Charger with USB C Port
The compact and small size makes it stunning. This stylish Smart Car Charger is almost the size of a thumb. Simple but effective, this Charger delivers high-quality performance. The technology used goes beyond limits and makes it a super gadget. Qualcomm 3.0 technology provides 4X charging than conventional Car Chargers. The Car Socket Splitter boosts the charging speed and hence the efficiency.
The body is made with advanced Aluminum for scratch and damage resistance property. Many hurdles may come but, this gadget would remain sturdy and efficient.
USB C to USB C Nylon Braided Cord [2 Pack 6.6ft]
For Pixel owners, the charging port is coming with USB C. This cable is a USB C to USB C cable supports to charge your Pixel 3a. The USB cable can power up to 20V, and handle 3 A. The USB C cable offer fast charging.

The cable is built with premium nylon braided cable for additional durability. The USB C cable is tangle-free with Strain Relief design. The cable is coming with 6.6FT length with two in one pack and offers 18 Months Warranty.
Belkin USB-C Home + Car Charge Kit (Type-C)
This bundle is very good for those who spend most of the time-traveling in a car. The Belkin USB-C Home + Car Charge Kit (Type-C) is a great pack of home and car charger. You get a 6 foot USB- C to USB-C cable. You can charge your Pixel device up to 70% faster than the 5W charger.
The pack includes a 45W home charger, a 27W car charger, and a 6-foot USB-C to USB-C cable. It gives you access to fast charging whether at home or on the go.
Pixel 3a is an amazing device with the best smartphone camera. we have listed the best accessories available for Pixel phone from Amazon and Google Store. Now the time to spend a few bucks to protect your device from accidental drops. We hope this case list for Pixel 3a will help you to find out the best match to protect your device.