15- Piece Knife Set with Block by Emojoy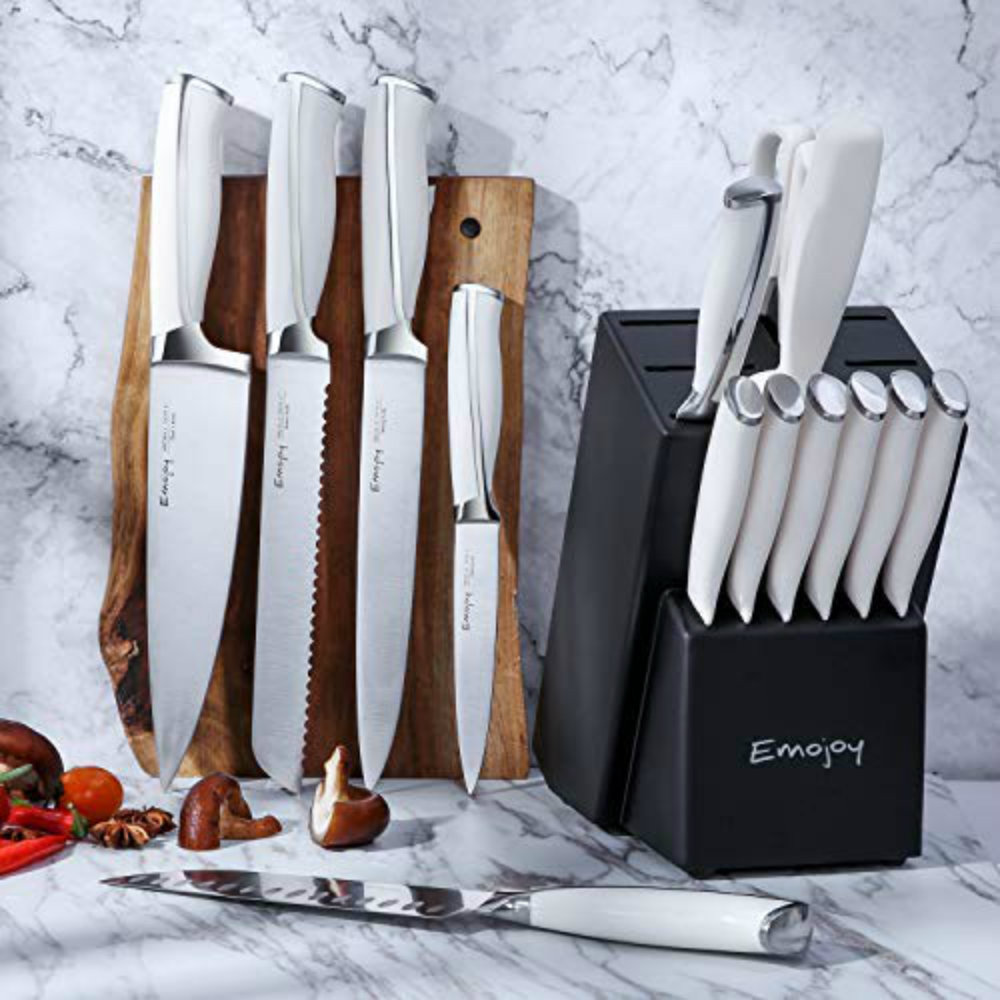 An amateur in the kitchen? Hate chopping vegetables? Enjoy the task of cutting with this 15- piece knife set from Emojoy. The set contains 8" Chef knife, 8" slicing knife, 8" Santoku knife, 8" bread knife, 5" utility knife, 3.5" paring knife, kitchen scissors, knife sharpener and 6 pieces of 4.5" steak knives. The knife sharpener ensures that the knife always stays sharp.
The blade is made of  German stainless steel. It is of very high quality. The ergonomic design makes it a very desirable product. One can use this knife set for prolonged periods without getting any severe finger cramps and aches. Such is the design of its handle. Forget the fear of throwing away knives due to rust! The use of high carbon stainless steel makes the knife rust free. The polymer used is of industrial standard. This makes the knives durable and strong. The bolster provides both stability and control.
Emojoy gives priority to safety too. The knife set also comes with a block so as to store the knives safely. The block is a must for both amateurs and professionals alike. Make safety a habit. Though the knives can be put in a dishwasher, hand washing is recommended. This is to preserve the fine quality of blades.
Emojoy knife set is a rare blend of design and practicality. It is designed to fulfill multiple purposes. You can use it to chop vegetables or as cutlery during your BBQ sessions. Be sure to own one if you want to set your kitchen apart. Emojoy's prime objective is to achieve 100% customer satisfaction. Feel free to return the product if the product does not meet your expectations and receive a full refund.

September 20, 2023 2:20 pm

Amazon.com
Last update was on: September 20, 2023 2:20 pm