Watermelon Cube Slicer for All Watermelon Fans Out There!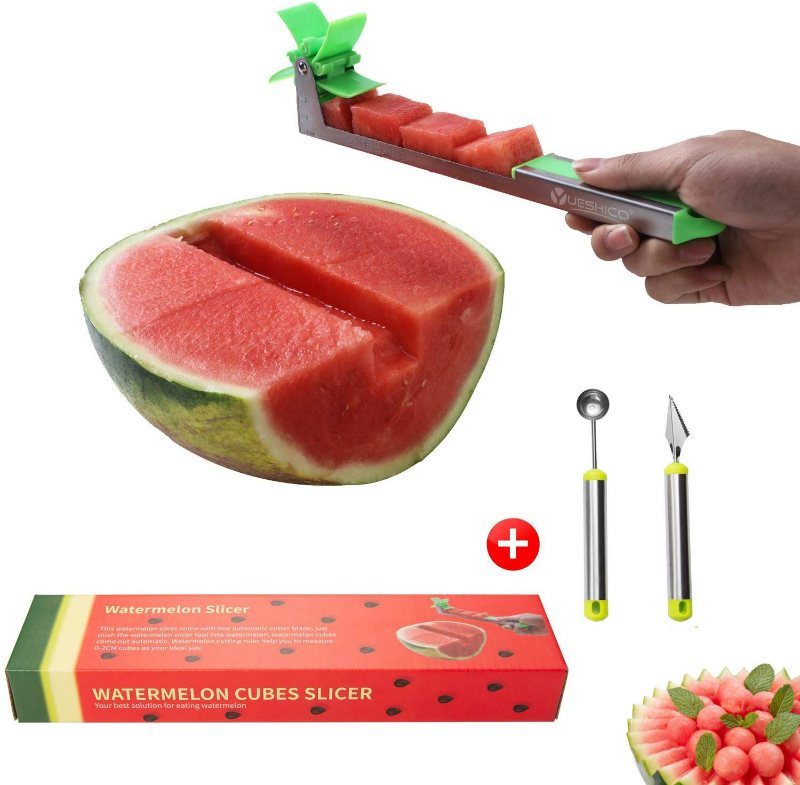 Did you ever wonder of a tool for cutting watermelon? Well, here it is! This watermelon cube slicer from Yushico is a revolution for watermelons! The design ensures that you cut the watermelon to perfect cubes, every time. If you want to be more specific, 0.8-inch cubes!
The package has a cutter blade which is automatic. You have to only push it into the watermelon. The cut cubes come out when you pull it out. This novelty tool is very handy for both watermelons and honeydew. Within a minute, you can have clean watermelon slices. The best part? You do not have to deal with the dripping mess.
Although the cutting instruments are sharp, they are safe to use. The cutter consist of rounded edges and the blades are not – sharp. Even your children can use the fruit slicer without the worry of accidents.
Along with the watermelon cube slicer, you will find a melon baller. If you want to take your watermelon slices to the next level, use this. You can get ball-shaped cuts from your melon within a minute! Make a wonderful watermelon salad and treat your melon – loving friends!
The most amazing feature is not said yet. It is the packaging. The company provides a bright – red and cube-shaped packaging for the watermelon cube slicer. Its aesthetics provide a feel of freshness and summer. Also, each pack comes with a small surprise.
Whether it is a picnic or an outing, you can carry this watermelon slicer anywhere. It only weighs 7.2 ounces. Grab this unique fruit-slicing tool for your next melon party!

December 6, 2023 6:34 pm

Amazon.com
Last update was on: December 6, 2023 6:34 pm