DIY Robot Music Box Makes For An Amazing Puzzle Piece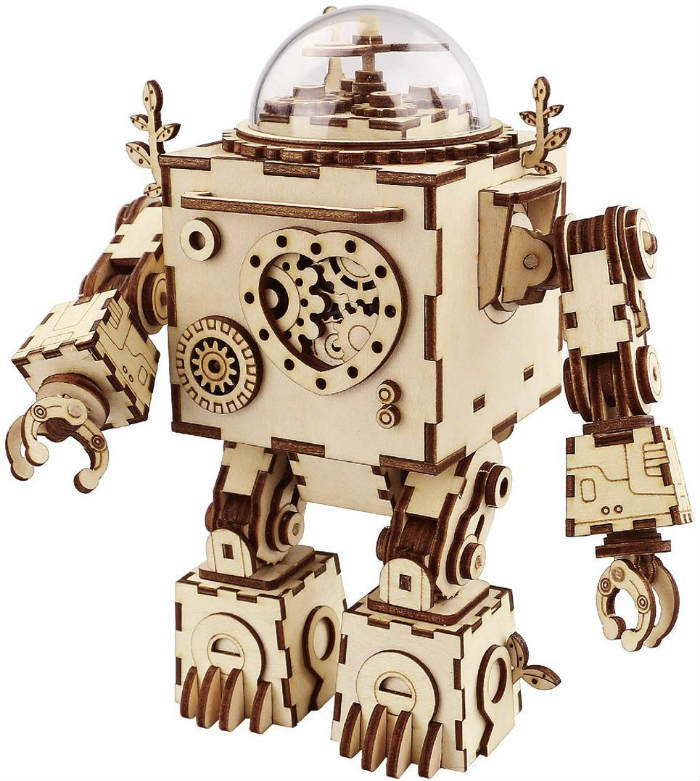 Puzzles are one thing that everyone has solved and played with. To be honest, puzzles can be boring at times too. But, that is not the case anymore. Look at this DIY robot music box by Robotime.
This 3D puzzle music box has laser cutting technology. It has an exclusive design as well. Now, the puzzles won't include just long hours of silence and stress. Just like its functions, this DIY robot music box has an amazing name of its own; 'Orpheus'.
Orpheus can play music and lighten up. This robot is very sad and melancholic. But once you assemble the puzzle pieces and turn it on, this robot will happily play music. Let your kids unveil this brilliant puzzle cum music box.
You can even assemble this kit by yourself. Exercise your mind by solving the puzzle with laser-cut wood pieces. This way, you will have your own hand-cranked music box. It has moving gear and lights. What more do you want? It has arms and legs as well.
The music played is "Cycle of Happiness." As the music will play, it will give you an inspiration at any time. You can play it in case Orpheus is lonely. This way, Orpheus will get some attention and can enjoy it too. This DIY robot music box is the perfect gift you can give to someone.
It is a perfect gift to give on birthdays, Christmas, Thanksgiving. Make your loved ones feel happy and beaming with joy with this music box. Gift it to your brother, mother, lover, colleagues, or your friend.

September 29, 2023 8:03 am

Amazon.com
Last update was on: September 29, 2023 8:03 am