Extend Memory up to 512GB with this iPhone SD Card Reader.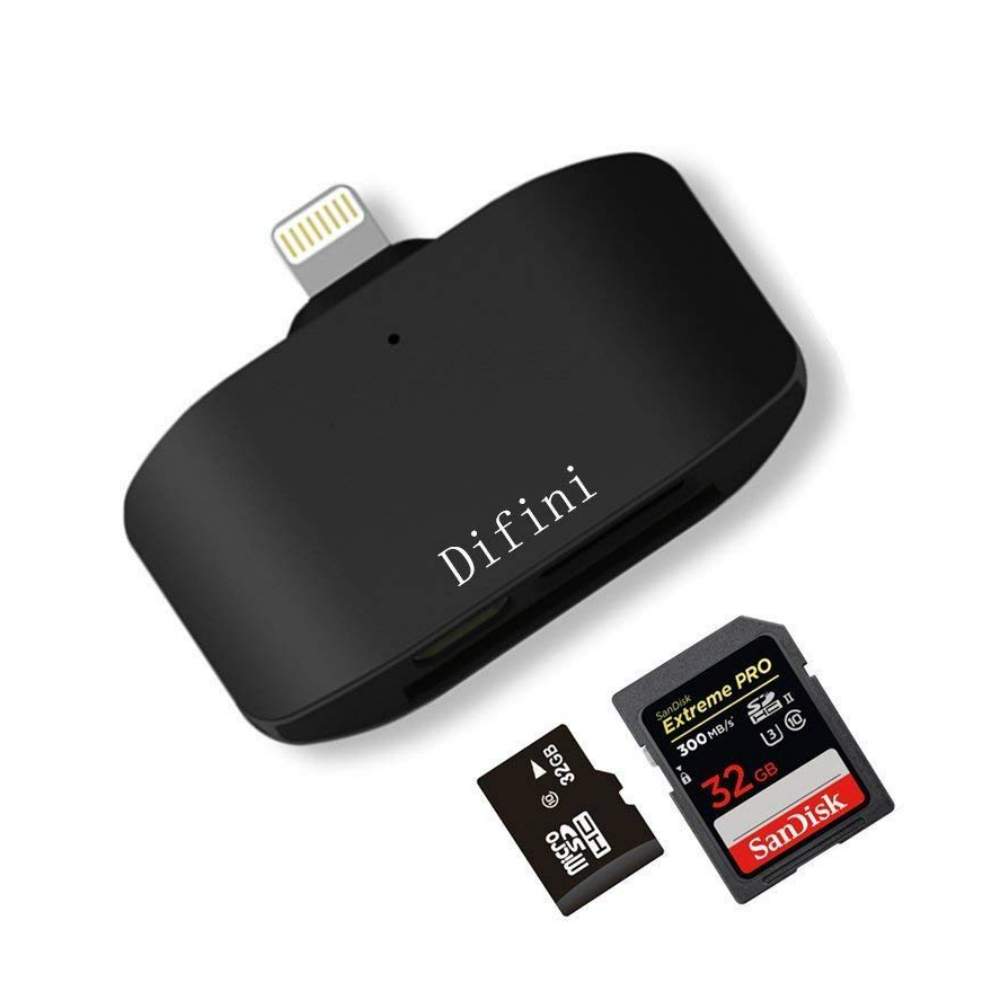 Running out of memory on iPhone? Do you want to transfer photos from iPhone to memory card reader? Or do you want to see recent images taken on SLR camera to an iPad screen? A multi-function iPhone SD card reader with high-speed data transfer is your last answer.
This lightweight and long-lasting card readers support many file formats. Thereby you won't have any difficulty in editing or viewing files. This simple and elegant Difini card reader lets you import photos and videos from SD card to your iOS device.
By inserting the Difini SD card reader to your iPhone device, you can read your SD\TF card. This allows transferring data through the iPhone lightning port to the memory card reading device. When you are running out of memory on iPhone, this can be your best bet to expand memory. This iPhone memory card reader supports up to 512GB external expansion.
These iPhone card readers are high-compatible with SLR camera, Trail Camera and Go Pro Cameras. It is the best partner for SLR and trail camera. And it allows viewing, editing, sharing in the Trail camera and SLR camera by the phone.
Whether you love iPhone photography or GoPro, this is an ideal solution for you. Since they can transfer pictures between the camera and iPhone/iPad, you can immediately check your photos from SLR camera on the big iPad screen.
This is an ultimate gag for travelers. One can send the photos that you took with a camera via card reader from SD\TF card to your iPhone. And thus can share the beautiful moments of your journey.
This ensures 100% compatibility and syncs with most of Apple lightning devices. Thus it feels like a flash drive for iPhone iPad iOS. This high compatible device can backup your important Photos, Videos, and Contact list.
No more worries about your iPhone/iPad phone filled up with pictures and videos anymore. A Lightning device can shoot picture and video via the app "xDisk" from App Store. And allows to save them to your SD/TF card. Difini SD card readers have secured file encryption for a private file.

September 27, 2023 3:01 pm

Amazon.com
Last update was on: September 27, 2023 3:01 pm