WalkingPad C1 : Your Fitness Companion For a Healthy Life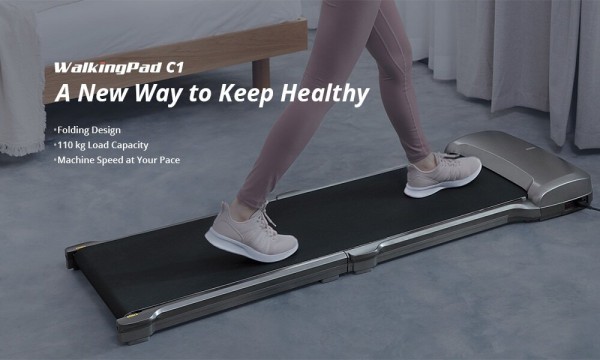 Whether you open social media sites or watch videos on youtube, you can witness yourself that the whole world is slowly moving towards a healthier lifestyle. Eating right and exercising is very essential for one's physical and mental wellness. When it comes to exercising, choosing the right machines is very important. As there are people out there which boast about a hell lot of benefits from their machines. But you'll come to the realization that you were scammed after purchasing them. Stay away from those fraud marketing and stick to proven scientific facts when it comes to fitness. The WalkingPad C1 is here to help you with it.
Walking is an exercise that can benefit you in many different ways. Reduced body fat and reduced risk of heart diseases, stronger bones and muscles are some of them. While we are unable to perform this exercise outdoor due to our busy schedule, weather or city traffic jam. It shouldn't be the reason for avoiding your daily exercise. Since we have many exercising machines like treadmills. You can do it without even leaving your room.
WalkingPad C1: Basic Details
WalkingPad C1 is an amazing smart treadmill that can keep you fit at the same time does it smartly. Its design is very compact like no other treadmill in the market currently. The minimalistic and compact design doesn't affect its capabilities. The device has a load capacity of 110kg. Its foldable design (0.45m2 after folded) makes it possible to store it in the smallest storage areas in your apartment. The machine is equipped with two wheels, making it easily portable and convenient. It is built to last longer with a light but strong alloy frame. WalkingPad C1 is equipped with an antiskid walking belt for your safety. The walking platform protects your joints even after a longterm exercise. Its EVA Cushion layer comforts your feet while the smooth layer and anti-friction layer allows for an easy walk with reduced friction.
Autonomous Speed Control and Working Modes
WalkingPad C1 with its Autonomous Speed Control feature intelligently keeps the device speed according to your pace of walking. While the machine starts and stops automatically, you can also change your position to adjust its speed. The builtin high precision sensors with acceleration, constant-speed and deceleration response areas on the walking platform avoid you from falling forwards or backward due to increased or decreased speed respectively. The manual mode allows the users to easily adjust their speed using the remote control provided. While the automatic mode is for skilled users. They can start, speed up, decelerate and stop the machine by changing their positions on the walking belt.
Remote controller and Exclusive WalkingPad app
The remote controller provided is comfortable to hold while working out and has a digital display to show the necessary information. It tracks real-time data including distance, time, speed, paces, calories burned, etc. The Smart Exclusive WalkingPad app records data every time you exercise in your smartphone. It helps to make appropriate changes to your fitness plans for optimal results.
Noise Reduction and Safety Features
WalkingPad C1 when unfolded only has a height of 69mm. It reduces the space between the floor and the machine itself and thus lessens noises during the operation. Thoughtful of you for your family and neighbors. The WalkingPad C1 is also equipped with all necessary safety features such as newbie speed limit, auto standby, child lock, and overload protection.
Conclusion
WalkingPad C1 is an amazing fitness machine. The features it offers for the price makes it a good value for your money on a treadmill. Grab yours now itself at the cheapest price.