HomeSpot Bluetooth Transmitter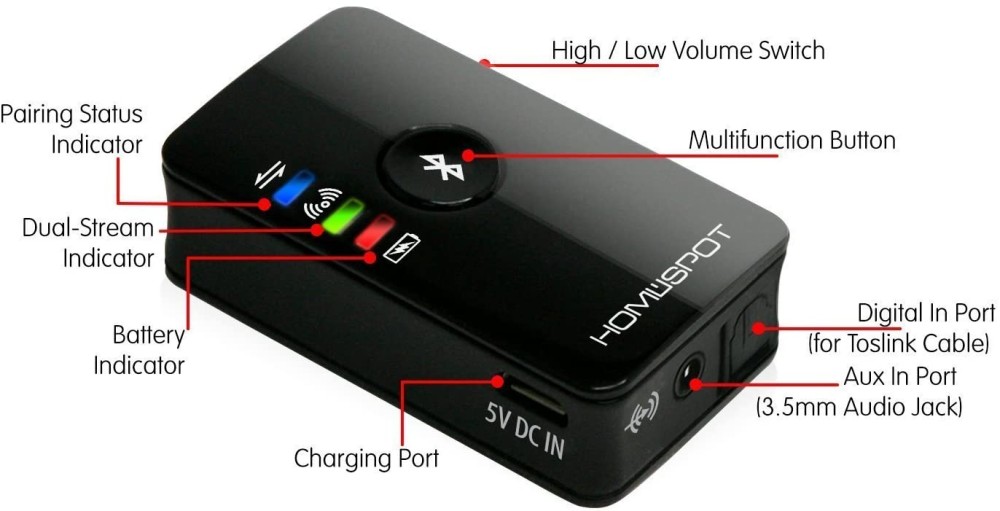 Bluetooth Transmitters converts your old boring stereo audio devices into a Bluetooth-enabled device. Hence making it a smart wireless stereo device without purchasing a new one. But the market flooded with a plethora of Bluetooth devices makes it difficult to choose the one for you. Don't worry. We're here to help you. This HomeSpot Bluetooth Transmitter provides the best value on a Bluetooth transmitter device.
This HomeSpot Bluetooth Transmitter lets you connect to 2 devices at the same time. Independent volume adjustments are also available. So, two people can listen to the same audio source at the same time. This Transmitter can Connect to other devices via 3.5mm audio jack, RCA, or optical TOSLINK. Making it compatible with a wide range of TVs and other stereo devices. It is very easy to pair your Bluetooth devices with a single button press. There are 3 LED indicators. It shows the different status of the connection.
HomeSpot Bluetooth Transmitter never runs out of power. Keep the transmitter always powered with any USB 5v1a power adapter. Or you can connect it to the USB port on the TV. And it also works while charging. The built-in battery support 7-hours of playtime. The HomeSpot Bluetooth Transmitter supports aptX Low Latency codecs. So you can watch movies or play video games with minimized lip sync latency. The package includes Optical Audio Cable, 3.5mm cable, micro USB, and an instruction manual.
All these features for this low price make this one of the Best Bluetooth Transmitter available. Grab yours now itself.

September 27, 2023 3:38 pm

Amazon.com
Last update was on: September 27, 2023 3:38 pm