HDMI Switch Splitter: 3 Port HDMI Switch Supports Full HD 4K 1080P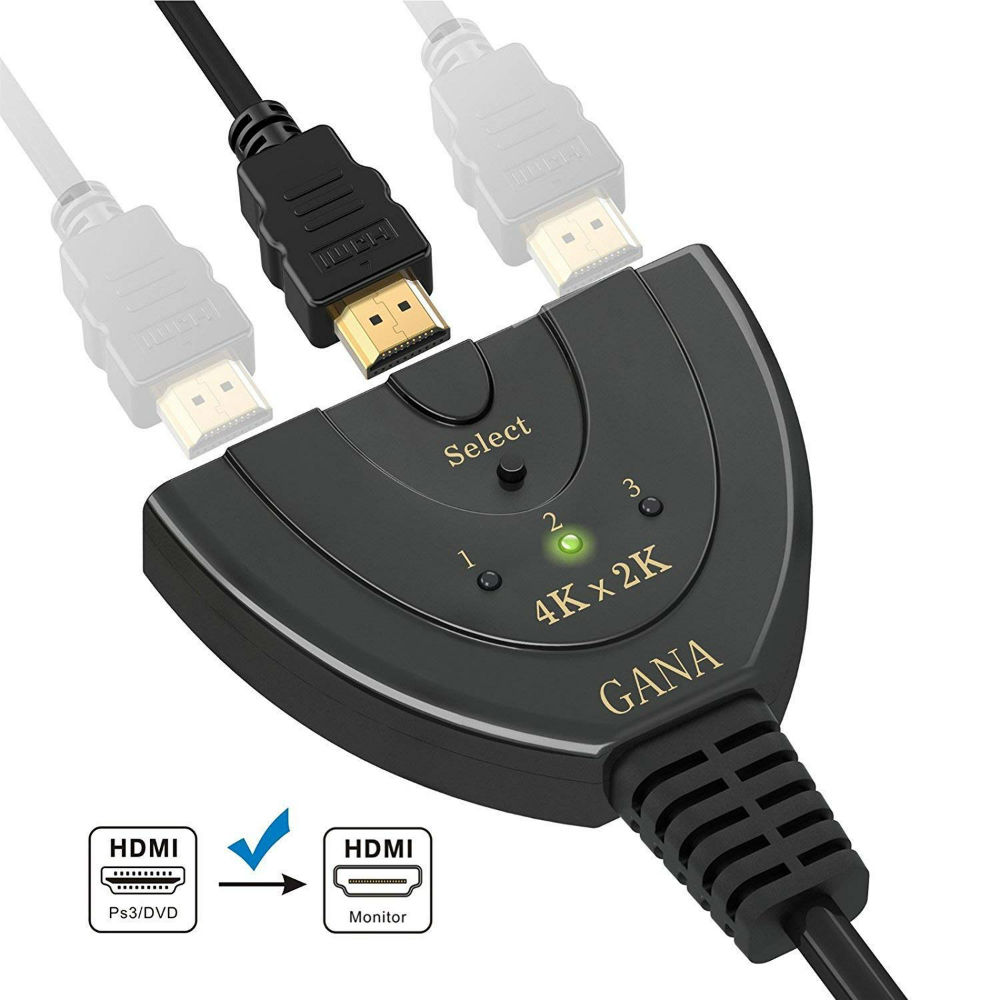 GANA 3- port HDMI switch is here to enable you to plug in more than one device to a display. You can easily connect three devices at the same time. Take entertainment to the next level!!
The design of the HDMI switch is such that it draws power from the connected source devices. There is no need to power it separately.  Sometimes power from one input device may become insufficient to power the device. You then need to turn on all the devices. In this case, please turn on two or all the three source devices to try. Devices such as  DVD Player, HD-DVD Player, Blue-Ray Player, Camcorder, SAT Receiver, Digital camera, PC, MAC Notebook, XBOX360, PS3, PS4, Nintendo Wii U, Laptop, PC, TiVo, Vizio, Sony, etc. can be inputs to the switch. Devices such as LCD TV, Plasma TV, TFT, Projector, HD-Ready or Full HD TV can function as output devices. Basically, it can function well with all HDMI devices and is backward compatible with older HDMI devices and gadgets.
There is no distortion or delay in transmission of signals. This is due to the 24K Gold Plated corrosion-resistant connectors. The product supports 4K video transmission. It provides support to HDTV deep color and 3D videos as well. Make your home a personal theatre at your wish!!
Supports 3Gbps/30Hz per channel, maximum bandwidth per display is 9Gbps. Maximum single link video range is 3840x2160p. Video formats such as full HD-HDTV, 2160p, 1080p, 720p, 720i, 576p, 480p, 576i, 480i are supported.
It is a simple plug-and-play device. The product is a must-have for smart-homes.

July 4, 2023 11:21 am

Amazon.com
Last update was on: July 4, 2023 11:21 am