Powerful Electric Toothbrush for for Gentle & Effective Cleaning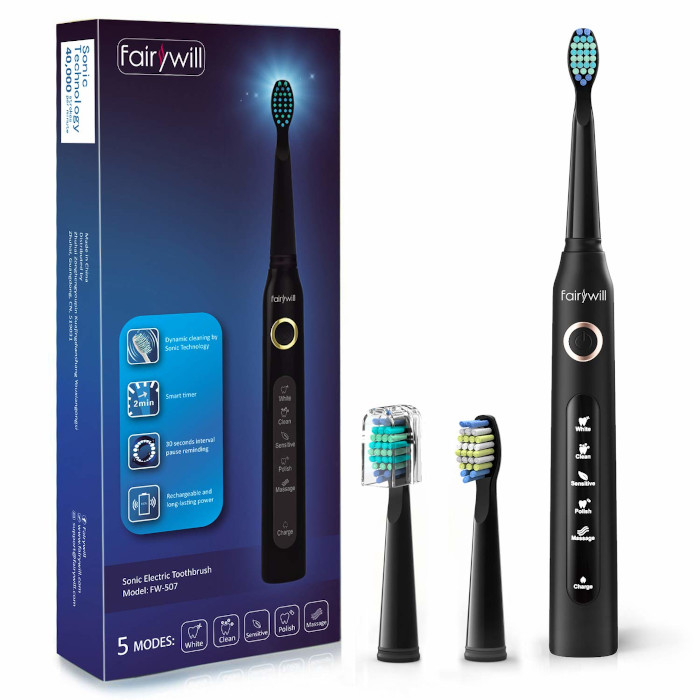 The toothbrushes are a personal preference and depend solely on you. You could either go for the traditional one that costs a few bucks or you could try something new. Yeap, we are talking about the electric toothbrushes and they're pretty awesome. So far, they both work equally well and it's a bit hard to leave the traditional ones aside. But when it comes to the electric toothbrushes, you get to rid of some of the old and painful brushing methods. With that said, we've got the Fairwill Electric Toothbrush that's ADA approved.
It comes with Ultrasonic Technology and gives you a month's worth of manual brushing in less than a minute. The powerful sonic movements whip up toothpaste into microbubbles and drive them deep between the teeth. Unlike the traditional ones, you never need to apply any pressure to remove stains. The gentle bristles and the strokes remove more stains and make your gums stronger than ever.
The fairwill electric toothbrush is power efficient. A 4-hour full charge can last up to 30 days and is compatible with any power source. It comes with an auto shut off and a low battery indicator. You can recharge the toothbrush through the normal USB method and this makes it universal. The most innovative feature is the 2 min timer. It makes you brush up and gives you 30-second intervals to encourage good brushing habits. There is also a 5 level brushing mode to give you an efficient brushing action.
The bristles come with Dupont nylon and can reach even the hardest corners of your teeth. You get 3 brush heads and a toothbrush heads hygienic protective cover with the package. These brush heads will remind you to replace your brush head through blue indicator bristles. It fades out to show that its time for replacing. These features make it a good option if you're planning to jump from the traditional brushes. It costs under $30 and is easily available online.

September 27, 2023 7:50 pm

Amazon.com
Last update was on: September 27, 2023 7:50 pm