Remote Control Truck with High Durability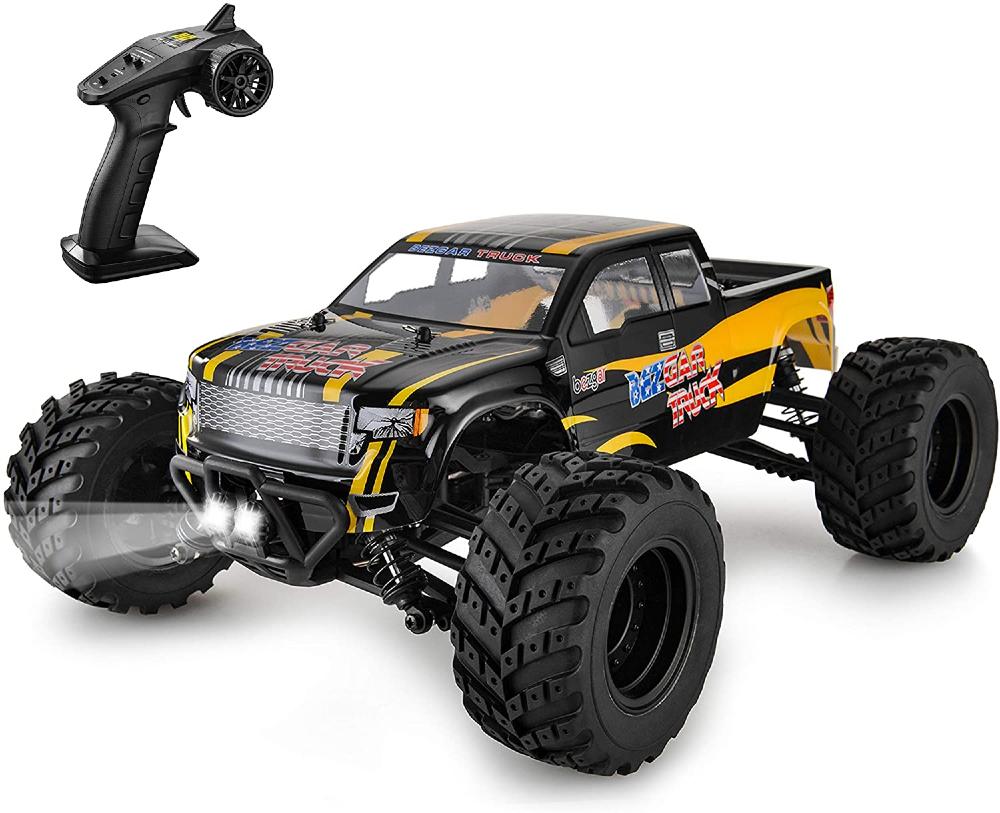 The remote control truck has a headlight that will turn on when the remote control truck has its switch on. Again, it makes the RC Truck even more realistic. To a certain extent, you can use the LED headlight to determine the location of the RC Truck. Also, you can identify the heading direction of the RC Truck. Besides that, you can even detect the terrain when there is insufficient light.
The whole chassis of the truck has synthetic thermoplastic linear polyamide and nylon. All properties give the remote control truck the ability to reduce the impact caused by collisions helping to prolong its life cycle.
Besides, the truck can perform 21000 revs per minute. Therefore, it generates greater horsepower for the RC Truck. Thus, this has made a huge enhancement for the acceleration. Further, it allows the remote control truck to have a top speed of 42 Km/h. Consequently, that gives greater competitiveness in a drag race. However, please keep in mind that the rate differs in different terrains.
The electronic speed controllers of the truck have several protective functions. Apart from that, it provides battery low voltage cut off protectiveness. The truck can take water splashes from many directions. Also, it can take small puddles but not submersion. The RC truck will power off if there is a submersion to any part, please dry it out, and then it will be fine.
This hobby grade RC truck's design is for entry-level and intermediate level users. It is for the users who want to move towards an advanced level hobbyist grade RC truck or step out of the toy-grade RC car. Hence, the remote control trick has excellent durability, low price, and high speed with the quick responsive servo. It is a very cost-effective way to develop this hobby with a lot of room to grow.

December 8, 2023 6:33 pm

Amazon.com
Last update was on: December 8, 2023 6:33 pm