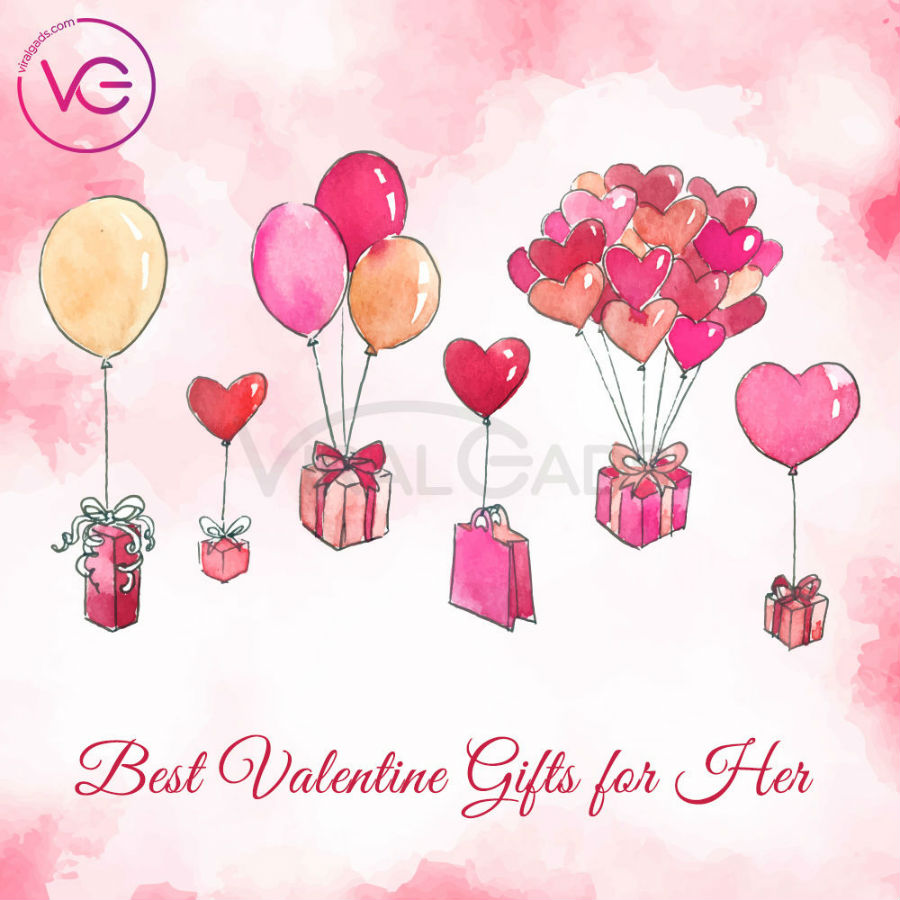 As this year's Valentine's day is to come over, everyone will be excited to find gifts for their valentines. Also, you will have a lot of choices and pretty tough to select the best gift for your valentine. Here we are here to help you find some best valentine gifts for your loved one, to have a memorable Valentine's day this year.
We've compiled a list of best Valentines Gifts for her, to surprise your girlfriend in this Valentine's Day 2020.
1. The Engraved Aluminium Wallet Note
A mini love note to blow your valentine's mind, as they think how much you care for them, and how much you love them. You will have some uniqueness on this year's Valentine's Day in your relationship with this beautiful aluminum finished wallet card mini love note. The card laser engraved card looks and feels so lovely and will be a great memory for your valentine.
2. Funny Novelty Toilet Paper
Want to have a funny Valentine's day with your loved one? This Funny Novelty gag will help you out. The I Love You Printed Toilet Paper Gag looks beautiful and at the same time is very funny. Hang a valentine surprise on your loved one's toilet and mock on that laugh. This is really a funny romantic valentine's gift which uses 2 ply soft toilet paper. The whole role is printed with the text using SOY based ink.
3. The Couple's Necklace with Heart Pendant
The Couple's Necklace is always the symbol of unity and romance in two's love. The Heart Always pendant in this Couple's Necklace looks gorgeous. Also, this one will greatly influence your commitment to your valentine, when you gift this and put on. Show them that your true love is not far, and is still on your side. The gift is made up of stainless steel and has a lot of metallic color prints to grace up the beauty.
4. Stainless Steel Espresso Spoons
Planning to have a coffee with your loved one on this Valentine's day? The Espresso Spoons have a little expression to invite your partner for a coffee. The spoon head has the text "Let's have coffee together forever". The spoon really is a wonderful proposal for your valentine, to impress them. This first impression will remain there for a long time as like as your relationship exists. This Valentine's gift is awesome for a newbie to propose him or her, in between a better lovely choice.
5. Elephants Kissing Couples Keychain Gift
This imported beauty is one massive gift for your valentine. Share your love and care between yourselves with this beautiful pair of Kissing Elephants key chain. Moreover, these elephants show your affection towards your valentine. Also, the build quality is good with the non-magnetic phase suction between these lovely kissers. Above all, this Elephants kissing Valentine's gift will be a great moment of memory for your loved ones, to remember forever.
6. Funny Teddy Bear for Funny Couples
There has always been fun within valentines. Whether she or he, this Teddy Buddy will cheer up this Valentine, with your mate. The Teddy is such a craft of beauty and perfection, with a quote on the mini T-shirt. This is Valentine's day Teddy, which you should gift to your dearest one, as soon as possible. The supersoft fur and embroidery eyes look great on that little fat body. The Teddy sits at 8 inches tall.
7. Kissing Mugs Couple Set for a Hot Coffee
Here is a chance of getting the beautiful pair of Mug set, the special design of this Valentine. Yes, they are couple mug sets, kissing each other. It is sure that this is Valentine Mug set is a gorgeous gift for your girlfriend. Place the cups face to face. This will be the best way to express your real love to that special one. Unlike other mug sets, this Valentine's special piece comes with a pair of spoons as well. You can slip the spoons into slots in the handle for a better display, gorgeous.
8. Sapphire Clear Crystel Heart Ring
As this is Valentine Week, you will be wondering how to propose that Hearty one! And here is our solution with this White Sapphire Clear Crystal Heart Ring. The Heart Ring looks much prettier when the Sterling Silver coating and Rose Gold Plating has come into play. The Belt finishes beneath the clear crystal blasts up the premium look. This Hearty Ring will be one of the best gifts that you can give to your Valentine. Such a great gift and have such a great Valentine.
9. Clear Crystal Sapphire Pendant Necklace
Even all married couples are valentines, for all valentine seasons. A Gorgeous Gift for those guys who love their Valentines – The White Sapphire Crystal Heart Pendant. This Pendant Necklace will enhance your Valentine when they are wearing it. Moreover, the Necklace is very impressive as it has Silver and Rose Gold Plating. This is an imported special necklace for this Valentine season. Hence, hope this will be one gorgeous gift you ever have to give to your loved ones. It has an 18″ chain and a spring-ring clasp to hold it on their neck. Here also, beneath the stone, belt finishes are present.
10. Valentine Jewelry set with Beautiful Watch
The Bracelet and Watch Set is a great gift to cheer up your Women, as they are such good looking ornaments. Also, the watch Dial is looking great with the 12 and 6 lights up, even if it is a minimalist design. The ceramic band built into the dial is much convenient. It is heat resistant, anti-allergic and moreover much lightweight. The Bracelet is also in Rose Gold Plate, and so matches the watch. This is a perfect gift to make them happy this Valentine's week.
11. Valentine's Day with Ross-Simon's Woven Byzantine Bracelet
Let this Glorious Italian Byzantine Bracelet be the best bond between you and your Valentine, this Season. Also, this is a classy proposal gift to your dearest one. Besides, the 14kt yellow gold material makes the Bracelet a piece of special jewelry in their collection. The Byzantine Bracelet one unique piece of art and creativity. Because, the Bracelet in total creates a lot of interconnections, showing the bond of your relationship.
12. Love Potion Bath Bomb
The Love Potion Bombs are special Valentine's day gifts which help to spread the commitment between two true souls. Also, they are the biggest available bath bombs to bring up the very best surprise ever. The Bath bomb will reveal a beautiful glossy rings valuable up to $5000. Moreover, these are ultra lush soapy bombs which will create a lovely mess up on this Valentine's day. The Potion Bomb contains all 100% natural oils as well as this surprise ring to give a great Valentine's Day.
13. Valentine Special I Love You
The pillars are always been the best buddy for your beds. Thus here is this I Love You pair of Pillows to accompany your love in your bed. Gift one of the pair to your Valentine, and have a nice romantic evening, this Valentine Eve. The Linen Material makes the pillows feel better with smoothness and calmness. Also, this Valentine Pillow pair is mostly the best gift for the married couples of this Valentine Season. Such gifts will make a lovely mind on your partner.
14. Rotating Makeup Organizer
Give a helpful gift to your partner this Valentine Season. The 360-degree Rotating MakeUp organizer looks beautiful as well as eases you to organize your cosmetics. Also, it is a full display glass organizer, which has a good display of all your cosmetic kits. The organizer is very convenient to use. Because the trays are adjustable as well. This will provide maximum space of occupancy for your cosmetics. Also, they are easily retrievable as she had this efficient Organizer can rotate in 360 degrees.
15. A Beautiful Palm Shaped Jewelry Hand
Every time you gift her beautiful jewels and amulets. Here is a great and gorgeous gift to help as well as feel them better. The Palm Display Stand looks much better with ornaments hanging on. It organizes all of their jewels right in one place. So say no to searching. Moreover, this will help them to rest their chains, rings, amulets, and other accessories in the table. The Palm Rest don't even need more space to fit as your dresser needs.
The Valentine week is gonna come over. And here we have listed a lot of gadgets that will suit the best gifts you are in search for. Here are 15 Best Valentine Gifts for Her. These are selected gifts to suit your way of proposal, or memory or whatever you are going for this Valentine. It is sure that these gifts will make your valentine feel your love towards them.