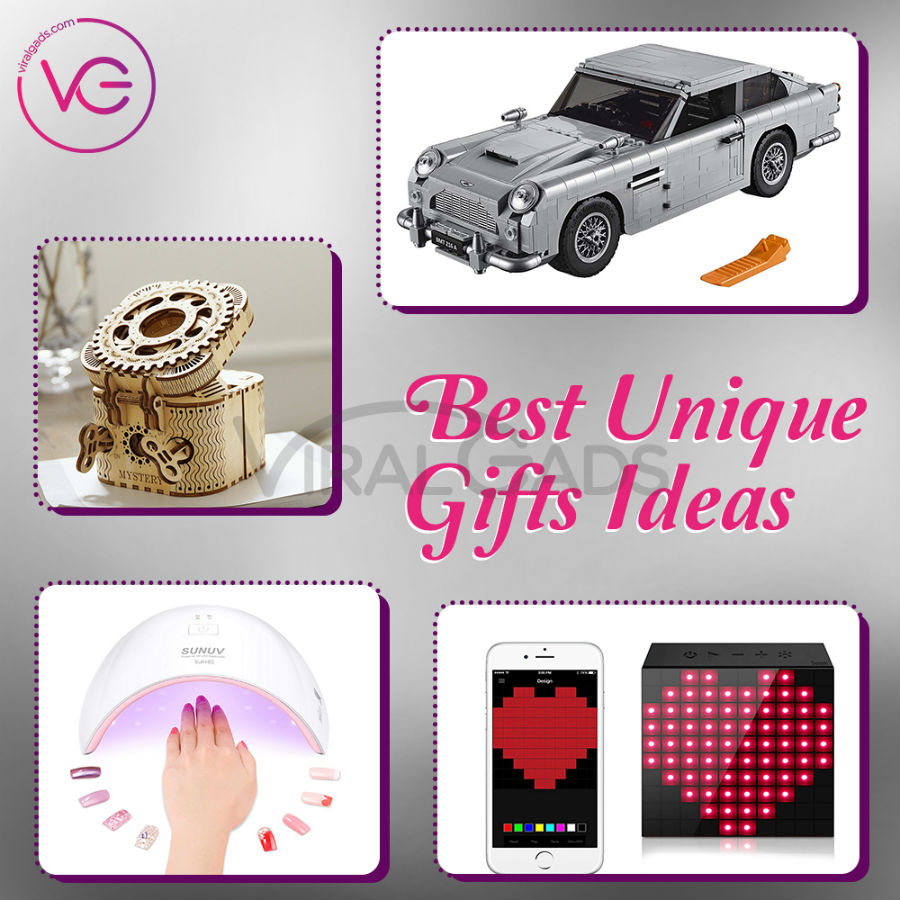 Thinking of what to give your loved ones? What about a unique gadget to your colleagues as a Holiday gift? You might want to give a unique gift to your friends; something which they will remember for life. The gifts must be the best unique gifts that can use for the next year long.
Finding such a unique gift can be very difficult and requires a lot of thinking and research. We have made a list of the best unique gifts or gadgets that you can give to your friends, family, colleagues, or anyone else.
3D Wooden Treasure Box
Want to gift something 'out of the box?' How about this 3D wooden treasure box? With a rotary knob, you can use it to enter the password to open the treasure box. Set the password at the time of assembly and you're good to go. The functionality of this box is sure to make you go "wow!"  The back of this treasure box features two holes in which you can insert the key.
Upon opening the box and rotating the key, the inner tray will open and rise. On the top of the box is a gear; rotating which there will be a small space at the top. To record the password that you set, do so at the bottom of the box. This 3D wooden treasure box is an amazing, one of the best unique gifts to give to your loved ones. Leave a secret message in the box for someone and give them this box. The little tray inside will help you hide your little secrets.
Stylish Apple Watch Case
They say "wearing a watch adds a classy look to you." But what is classier? Wearing a watch with a stylish watch case. Get this Apple watch case and step up your accessory game. With a sleek finish to it, the case features a bevy of Brazel set brilliant-cut cubic zirconia gemstones as well. To ensure a durable, snug fit, there is a silicone inner gasket inside the screen. Enhance your iWatch beautifully as it gets a look of fine jewelry.
Delivering you the topmost quality, the case has a plating of solid bronze. Do not worry about the durability of the case as it has fine silver to make it durable. What more do you want from this? Forget about the tarnishing as it is nickel-free and won't tarnish. Safe for sensitive skin as well, this stylish apple watch case can be worn to any event, celebration, or occasion you want.
Ceramic Heat Sensitive Color Changing Mug
Want to see magic on a daily basis just as you wake up? See it with your morning hot coffee or tea with this ceramic heat sensitive color changing mug. Made of ceramic, the material allows it to change the mug's color whenever hot water, tea, or coffee is poured into it. The face on the front will change from sleeping to awake. This will even give you a boost of freshness and turn your morning blues to happy days.
Having their hot coffee or tea turning cold is the last thing someone would want. But, with this mug, that won't be the case with you. Once the liquid in the mug gets cold, the face will go back to its sleeping mode. Boost your mood and agenda for the day with a smiling face on this mug. Be ready to see the smile when a liquid of more than 45 °C of temperature is poured into this amazing color-changing mug. Make your loved ones smile too, by gifting them this fantastic magic mug.
Wearable Keyboard and Controller
Ever wished you did not have to type on such a huge keyboard while working? Well, here is a device to actually help you with that. This wearable keyboard and controller does the job of both the devices rolled into one. To input characters and commands, all you have to do is tap your fingers. Pretty simple, isn't it?
With no projected keyboards, invisible key patterns or holograms, one thing that this wearable keyboard has is finger rings. Containing accelerometers, each of the fingers rings that information from the fingers. A small computer chip processes the information to data, which is then sent to the paired device via Bluetooth. For your comfort, you only need to use one finger for vowels and adjacent fingers for most common consonants. You can even customize to get keyboard shortcuts and symbols. This device is no less than a keyboard. It is easy to operate, type with, wearable, and portable. Hence, this is another gift in the list of best unique gifts.
Air Purifier to Purify the Air
Pure air has become a necessity nowadays due to the increased pollution levels in our environment. This polluted air carries a lot of dust, smoke, and other harmful particles along with it which go directly into our lungs. However, this air purifier will purify the air inside of your home, office, shop, or store. For a 100% ozone free atmosphere, this purifier does not use UVC light and Anion. Instead, it goes through a 3 stage filtration system which includes the pre-filter, true HEPA filter, and high-efficiency carbon filter.
Capturing allergens, pet hair, dander, mold, odor, and large dust particles, it removes 99.97% of airborne contaminants as well. With an ultra-silent operation, you will be able to do your work or sleep in silence while the air purifier will do its job silently without disturbing you. Circulating room air over 4 times per hour, this high-efficiency air purifier can be a perfect gift for your loved ones who suffer from breathing and respiratory problems.
Inverted Double Layer Umbrella with C-Shaped Handle
Ever seen an umbrella with a reverse-opening? If not, then get ready for one. This inverted double layer umbrella has a reverse-opening and a folding design. It comes with a C shaped handle which can be crossed over the arm, easily making your hands free for holding a baby, laptop, or bag in the rain. Fold the top wet layer into under the dry one as you get in your car or store. Not only will this keep the floors and cars dry, but also keep the water from dripping. Such an umbrella is sure of an idea in the best unique gifts.
Featuring a smooth top with eight steel ribs of frame, the umbrella can be transformed into eight legs. Doing this while contracting the umbrella will make it stand on its own when closed. Its simple and non-automatic/mechanic control allows you to just click the embedded button and even open the umbrella in a confined place. The umbrella's double inverted design eliminated the danger of poking it into people's eyes. A quirky yet creative gift, this inverted double layer umbrella is surely something one would love.
Harry Potter Book Set Trunk
Are you a die-hard Harry Potter fan? If your answer is a big yes, then this harry potter book set trunk is perfect for you. Wander in Hogwarts as you always wanted to, since you were a child. Telling the story of a young wizard from his first to last year at Hogwarts, these books will help you unveil the inner wizard in you too. Get ready for an adventurous ride with this Harry Potter book set collection which comes in an exclusive trunk. Including all seven volumes of this amazing and heart winning series by J.K Rowling, you are sure to mark this book set trunk as your treasure.
Along with this set, you will find an exclusive jacket that covers every book in the set. As per your choice, you can even choose the design of the jacket. Amongst the four given options of Gryffindor, Hufflepuff, Ravenclaw, and Slytherin, choose your favorite. Find the actual hardcover designs by Scholastic inside those jackets. Do not miss the opportunity to gift this harry potter book set trunk to your Potterhead friends, colleagues, or relatives.
3D Printer Pen
Is the creative artist inside you wanting to jump out and create something creative? Do so with this 3D printer pen. Made of eco-friendly ABS material, the pen has premium PLA refills that are non-toxic. Non-irritating and 100% derived from plants, the refills offer better scald prevention also. With features of intelligent temperature control, it also has fast dissipation technology.
Giving you high performance, this non-clogging pen can endure high temperatures as well. A smooth interior surface and high-quality motor come with stable rotation speed and strong power. You get abundant accessories with this 3D printer pen. Its compatibility allows you to use it with both 1.75 mm PLA and ABS filaments. The 3 adjustable speeds correspond to 3 different operating temperatures. Coming with a pack of 12 colors, you also get a pen holder, a power adapter, a USB cable, and a stencil with this pen. Make your kids smile by gifting them this 3D printer pen and see the artist in them.
Portable Language Translator Device
When traveling abroad, one of the biggest challenges we face is the language barrier. It is hard to converse in their language and make them understand ours. But, with this portable language translator device, you won't have to face that issue now. A two-way language translator, it can translate over 70 languages worldwide.
With a 7 seven hours battery life, it can last 10 hours on sleep mode. For the device to work, you need an internet connection. Good thing is that the translator comes with a built-in data plan with access for 2 years. Also, you get a global sim card too that operates in over 100 countries worldwide. Easy to use, the output of this translator in both audio and text format. With the ability to save 1000 speeches, this translator device is a blessing for all the frequent travelers who love to travel and unveil new places. Now, travel to new places without any hassle. The Portable translators bring in another best unique gifts ideas to you.
Fishing Rod and Reel with Easy Usage
Love fishing sitting by a lake or a river on a lazy weekend? Who doesn't? Make your experience better with this fishing rod and reel. With spinning reels, these rods have attached the telescope to find the prey from a long distance. The rod and the reel work perfectly in both saltwater and freshwater. You get two types of fishing rod combinations in the package. Made convenient for people who like fishing, the rods are retractable and reels are collapsible.
Available in different sizes from 2000 to 5000, the reels are very easy to use. The reels feature a high strength gear system and continuous anti-reverse while the rod is made of elastic carbon fiber. Starting from 5.91 feet to 11.81 feet, you can easily fish with these rods in saltwater and freshwater. Helping to reduce corrosion, the hooded reels are made of stainless steel. With this fishing rod, you can go and enjoy a totally different experience of fishing. You can even gift this to a fisher in your family or at the office.
Aston Martin LEGO Building Kit
If you loved the James Bond movies, you would have always wanted to own the Aston Martin the agent had. Make your dream come true with this Aston Martin LEGO building kit. With a style and classic sophistication of the legendary 1964 sports car, get an insight into the original details and functionality. With a raisable bullet shield, wheel-mounted tire scythes, passenger ejection seat, and a rotating license plate, this is a fantastic toy for all boys and girls aged 16 and more. The Lego Kits will surely be one of the best unique gifts ideas for you.
Having 1295 Lego pieces in the kit, the car runs18.9 x 11 x 3. 6 inches in dimensions. Challenge yourself and enjoy the experience of building the James Bond car with this building set. It is perfect for all the kids and for the adults as well. You will be the die-hard Bond fans in your friend circle, home, or workplace. If you are planning to gift them something, this is what you should go for. Do not give it a second thought. Not only will they enjoy it, but love you for it also.
Nail Dryer Curing Lamp with UV Light
The natural process of drying your nail art takes too much time. You cannot do any other work till the time your nail art has dried and have to keep hands up in the air blowing on them. Forget about those boring, time-consuming methods. With this nail dryer curing lamp, dry your nail art whilst protecting your fingernails and toenails from any overheat. Without producing any sound, this product can cure 5 finger or toenails at a time. The LED of this nail dryer comes in an open arch shape so you can easily place your hand or foot in there.
With superior quality, this multipurpose product emits UV and LED dual light sources. The soothing lighting effect will not harm your skin or eyes in any way. Convenient to use, this nail dry is compact and can be carried anywhere. It has 18 pieces of UV/LED light beads to provide the required lighting. Requiring just a 24w of power to emit light, there is no need to change the LED light bulbs. Perfect for both, personal and commercial use, this nail dryer also makes for a fantastic gift to give to one of your friends.
Weatherproof Trekker Pen
We all have heard of and used waterproof pens. But, have you ever used one which is weatherproof? You can now, with this weatherproof trekker pen which will write through all weather conditions. Write with this pen in water, grease, or mud with absolutely no clumping or smearing. With an all-weather pressurized cartridge, write in temperatures from -30F to 250F with this trekker pen. Want to know something more interesting and mind-blowing?
You can even write with this pen underwater! If you are worried about writing in angles, then you can do so too. At any angle, under any weather conditions, use this pen to write whatever you want. Along with smooth writing flow, this pen has tiny pockets in its tip. Delivering the ink even in work conditions, these pockets will stop water or air from coming back to the cartridge as well. Gift this pen to your traveler friend or to the one who has to go under adverse conditions. This will be a very useful and surprising gift for them. This Trekker Pen is the next gadget to have a place in the list of Best Unique Gadgets.
Pencil and Paper Graphics Tablet
Unleash the inner sketch artist in you with this pencil and paper graphics tablet. Use any kind of paper you want to draw with the slate. You can even use a sketchpad up to 0.27 inches. Use the slate connected to your tablet, smartphone, or computer to see your drawings come to life. While on the go, you can use the screenless mode to use the slate.
Enhance your creations with the Imagink app in which you can use pencils, airbrush, or felt tip. Share your creations with the world on social media or export in formats such as png, jpg, mp4, or PsF. Draw with your favorite devices whether it's macOS, Windows, iOS, or Android smartphones. Turn your slate into a graphics tablet with this amazing 2 in 1 feature. Gift this to your loved ones on their birthday, anniversary, or just without any special occasion. You can get it for yourself too to bring out the hidden creativity in you.
Magnetic Cube for Intelligence
Want to get your child a toy which enhances their intelligence and sharpens their mind? Get them this magnetic cube which is more than just a toy and actually helps in brain development. You can form numerous patterns with the 216 pieces of a small block. Let your imagination run wild and create a pyramid, stairs, house, and much more with this cube. Besides having a simple and smooth finishing providing you with stress relief, this magnetic cube is portable as well. So, you can carry this cube around to your friend's house or a trip and enjoy playing it with everyone.
Feel exhausted and lethargic at work? Give yourself a refreshing and mind accelerating break with this cube while making some good structure out of it. Not only this is the best way to be creative, but it also keeps your eyes protected by the usual surfing you do on the net. A perfect toy for kids, this is a must-have in your home or office for all the kids and adults too.
LED Bluetooth Speaker with Pixel Art
Music acts not only as a blessing to your ears but also replenishment to the mind. Get the finest sound quality and best experience with this LED Bluetooth speaker. Delivering the finest sound quality with enhanced bass, it also features a 5w full-range driver with a passive radiator. With a programmable RGB LED, you can make different designs with your creativity and your crafting skills. Save all your works in the gallery. Customized sleep aid with built-in scenery profiles will help you sleep better at night.
Appealing and attractive, this product is sure to grab all the eyes of your guests. Be ready to shake your legs on the music with the wonderful sound quality on this Bluetooth speaker. Use this speaker as an alarm to so you are never late for your class, important meeting, office, or anywhere else. Create your pixel art on it and see it as the very first thing when you wake up in the morning.
Disk of Illusions
Remember when we used to go the fare or stand at the street corner for the illusionist to show us illusions? Who doesn't love it? With this disk of illusions, you can now create questionable illusions at the comfort of your home. A mix of science and art, this disk will make people bite their nails with curiosity. As you spin the disk, gravity will not rest.
With a patented chrome-plated disk of 3'' diameter, the louder and longer the disk goes, the faster it will spin. While rotating, the disk will create a hypnotic sound and display. Including a concave mirror base of 9", there are 9 pieces of holographic magnetized foil too. A perfect gift for your child, this disk of illusions will raise several questions in your child while developing their brain. You can even get it for adults as it will leave them with questions too while being more than just a toy.
Heated Hoodie with built-in Heater
It can be quite frustrating to keep ourselves wrapped in so many layers while winter hits us. Despite that, we still feel cold. This heated hoodie with a built-in heater is sure to keep you warm without having to put layers. With 60% cotton and 40% polyester mix, this hoodie comes in all sizes. Both men and women can wear it since it is unisex. The 3 carbon fiber heating elements produce eat across your whole upper body.
Producing enough heat for the whole body, there are heaters in the right chest, left chest, and mid-back. Heat it high, low, or medium with the heat control button given. Not taking long like layers, this jacket heats up quick. Its 7.4V UL/CE certified batteries come with a 10-hour life. The heated hoodie can even charge your smartphone and other mobile devices with the charging port given. With a casual look, easy maintenance, this jacket is so much more than just a regular jacket you wear. This winter, get this heated hoodie jacket for you or your loved ones and stay warm.
Portable Neck and Back Massager
How would it feel to have a personal masseuse who can carry along to your office too? This portable neck and back massager will do the job for you. Relax your tired muscles and relieve muscle tightness with this massager. Thanks to its height adjusting feature, this massager will cater to the need of your whole family. Fix it on chairs, recliners, or couch in your home or at the office. Choose from the many options that this product provides you. It is your wish whether to get only your lower back massaged or your whole body.
Catering to your needs, the massager has a heat function for a soothing effect. Give your hip and thigh muscles a pain-relieving massage with the vibration mode. Give your spine a special massage with the innovative design of this massager. It has 4 unique neck massage nodes and a detachable intensity control flap to choose between soft or smooth massage. This is the perfect gift to give some elderly person in your who suffers from muscle pain regularly. Get it for yourself too and give yourself a regular break and massage with this massager.
Amazon Alexa Fire TV Stick
Are you a fan of watching web series or the latest movies but tired of watching them on a small screen on your mobile phone? Get this fire TV stick which comes with Alexa voice remote. A media streaming device, you can access content from Netflix, Prime Video, Hulu, Startz, and Showtime with this TV stick. Choose from 500,000 movies and a number of TV episodes according to your choice. Using your voice, play your chosen content.
You can even surf apps or channels on Facebook, YouTube, or even browse websites. Having more storage than any other media streaming device, Fire TV stick can store a plethora of apps and games. Get an immersive sound experience on select Prime Video titles with Dolby Atmos. To control smart devices, Alexa will be at your service. Whether it is to switch off the lights, check the weather, stream music, or any such thing, Alexa will do it for you while you sit and rest. Bring home a dose of entertainment along with this Amazon fire stick.
This is going to bring a lot of surprises. These gifts are unique and the best to place under the Christmas tree. Let's have fun, and surprise your family and friends with the best unique gifts in this holiday season.