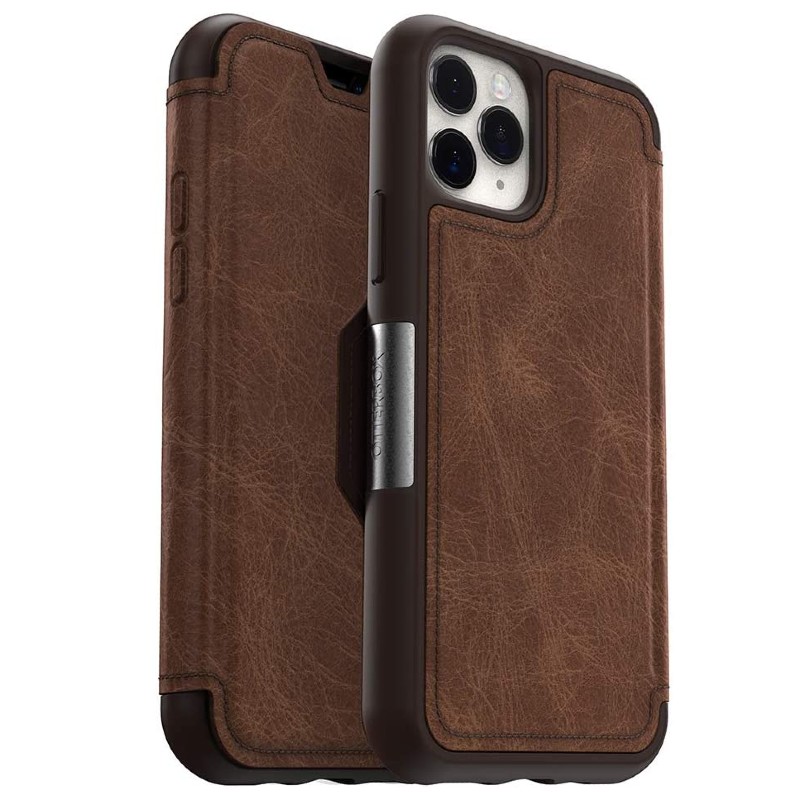 The iPhone 11 Pro and the 11 Pro Max are true gems. Its one of the best phones and getting your hands on one is something precious. The iPhones always had a great array of aftermarket accessories to enhance its aesthetics and performance. Here, we've compiled a list of some of the coolest and greatest iPhone 11 Pro and 11 Pro Max accessories that include the Protective cases, Screenguards, and camera protectors. It is better to always be safe than to be sorry, cause, we know what it feels to be experiencing a screen crack or an accidental fall takes place. If you really what to get rid of that mini heart attack moment forever, then you should take a peek at our list.
iPhone 11 Pro Totallee Ultra Thin Clear Case
The Totallee Clear Case is an Ultra-thin case that comes exclusively for the iPhone 11 Pro. It is one of the best Clear Cases you can ever get for your device thanks to its sturdy muscular edges and rubbery finish. Unlike other clear cases, this iPhone 11 Pro Case doesn't attract lint or it never turns pale yellow.
It is made of flexible TPU plastic that is quite durable compared to the other ones out there. Also, you can get the colored variants of the case if you don't prefer the clear case. And yeah, there us a 30 day return guarantee if you find the Case shabby for your iPhone 11 Pro.
iPhone 11 Pro Ainope Clear Case
The Ainope Clear case is yet another cool accessory to get if you recently got your new iPhone. It comes exclusively for the new iPad 11 Pro Max. The 11 Pro Max is kinda bigger than the 11 Pro, so you need something that can take care of the device every time. Thanks to the hard casing and extra rubberized edges, the Ainope Case does just great. The phone case has a good amount of protection to your device during accidental bumps and falls.
It fits quite well with your iPhone and you would never feel any issues with the buttons or the camera module anymore. It also features anti-yellowing and maintains its long-lasting transparency layout. The Ainope Clear case is sturdy to the core. It can withstand a fall from even 10 ft high.  It also comes with a raised camera side panel so that the lens never gets scratches when you place it on the table.
iPhone 11 Pro Spigen Hybrid Clear Case
The Spigen Hybrid Case is for those who want to make your iPhone 11 Pro stylish and Sturdy. It is a clear, transparent iPhone case that's made of TPU plastic. The edges are made of hard polycarbonate material and this makes it an excellent alternative to your old bumper cases. The Spigen Hybrid case also has raised bezels around the display and the camera to give you that extra detail of protection.
This iPhone accessory fits quite well with your phone. It has finely crafted edges and buttonholes that never get it way while you click. It comes in 3 different color shades, I mean in 3 different sideband colors to match the aesthetics of your iPhone 11 Pro.
iPhone 11 Pro Max Totallee Ultra Slim Thin Cover Clear Case
The next one we've got is yet another cool protective case from Totallee, but this time it is for the iPhone 11 Pro Max. It is an ultra-thin case that's only 0.2mm thick. It comes with a dark shade and has the ever enchanting Apple logo embedded in it. The case comes in 3 shades, just like the iPhone 11 Pro, in Matte Black, Midnight Green and, Rose Crystal.
This iPhone 11 Pro protective case comes with a TPU bumper and has a durable back panel. It can withstand scratches to a limit and believe it would survive a fall from your pocket. There are raised bezels to eliminate any probable scratches on the camera lens when you keep it faced down.
iPhone 11 Pro Ztotop TPU Bumper Cover
The Ztotop bumper cover is the one-step solution for the complete protection for your iPhone 11 Pro. This iPhone 11 Pro accessory is a must-have if you're an avid smartphone user. It is made of hard polycarbonate material that gives its distinctive luster to the back panel. You can see the Apple logo through the cover as its transparent.
The TPU plastic bumper panels come with rugged sides and give that extra tinge of protection from accidental falls. You also get raised bezels within the camera module. This reduces scratches to a great limit. The Ztoptop TPU case also covers the protrusion of the buttons preventing them from any accidental damage.
iPhone 11 Pro Max Torras Silicone Gel Rubber Case
The Torras Shockproof case comes with greater durability standards than any normal case. It comes exclusively for the iPhone Max Pro and is a great accessory to look out for. The Torras iPhone case is not hard but is a Rubber case.
It uses soft liquid silicone gel and the inner side of the case is covered with a microfiber lining. This prevents scratches that can take place due to fust and dirt logging in between the case and your iPhone. It has raised camera edges and looks amazing with your device. The rubberized material provides an excellent grip and a rugged feel too.
iPhone 11 Pro ESR Premium Real Leather Case
The ESR leather case is made from high-quality leather. It comes exclusively for the iPhone 11 Pro. This iPhone leather case has a soft texture and is thin and lightweight. There is a soft microfiber lining on the inside of the case to keep your device look elegant.
It protects your iPhone from unwanted scratches from the dirt and dust that gets logged inside. The ESR leather case has raised edge around the camera and screen so that there won't ever be any scratches when you keep the iPhone faced down. It is quite sturdy and can withstand a fall. The rugged bumpers also provide additional protection to your iPhone 11 Pro.
iPhone 11 Pro OtterBox Strada Leather Case
When it comes to smartphone cases and protective cover, the OtterBox triumphs. They have made some of the best smartphone cases in the world. This one you see here is the new OtterBox leather case for your iPhone 11 Pro. It is made of high-quality Nighthawk leather and is by far the most durable leather case you could ever get. It gives you that premium looks to your iPhone with fine leather design.
The OtterBor leather case uses durable material for the frame. This offers more protection for the device against bumps and scratches. A thing to note is that unlike other leather cases in the list, the OtterBox leather case is a bit expensive.
iPhone 11 Pro & Pro Max Fly Hawk Leather Wallet Case
The Fly Hawk leather case is for your iPhone 11 Pro. It comes with fine quality PU leather and has a nice cozy texture. It is quite durable and has a strong inner lining to protect it from wear and tear. This iPhone accessory can be treated as a leather case cum mini wallet.
You can keep cards or anything inside its cash slots. It allows easy access to your card or cash. The cover is slim and is not that bulky. The precise cutting edge design makes it give a special charm to your iPhone 11 Pro. You can get the case in any color you wish. There are 6 color options for you to consider.
iPhone 11 Pro Kihuwey Premium Leather Wallet Case
The Kihuwey iPhone case comes with a wallet design and is for your iPhone 11 Pro. It is made of fine quality PU leather and feels quite soft and smooth in texture. It gives you that premium look you've been searching for your iPhone. This multi-utility case comes with inbuilt card slots that can hold up to 3 cards and some cash. There are a total of 5 card slots within the leather case.
The back part of the case also functions as a mini kickstand that lets you watch movies and can read stuff without any feeling of fatigue. The sides are made of good quality material and are strong and shockproof. It can withstand a hell lot of accidental falls.
iPhone 11 Pro Spigen Leather Wallet Case
The Spigen Leather Wallet Case comes with a fine quality synthetic leather wrapped around a TPU outer case. It is exclusively for your iPhone 11 Pro and has all the aesthetics to match the quality of your device. The Spigen Leather case features a wallet cum protective case design. It has 3 card slots for easy access. With this iPhone accessory, you can carry a couple of credit cards and license with this wallet case.
You can also transform the case into a kickstand so that you can watch movies and surf the web without any hassle. The Spigen Leather Wallet Case comes with a magnetic clip to close the flip cover. It doesn't hinder the device's wireless charging capabilities in any manner.
iPhone 11 Pro Max Akhvrs Premium Leather Wallet Case
The AKHVRS flip case is a cool protective cover for your iPhone 11Pro Max. It comes with a wallet design and suits both men and women. The flip case comes with a zipper and has 11 card slots, 3 cash slots, and a convenient extra zipper compartment. The zipper design ensures all your valuables stay inside securely. There is also a snap-on button to ensure double safety, always.
The case is quite sturdy and is of fine quality leather. The raised panels on the sides add an extra bit of protection to your iPhone from scratches. The case doesn't allow dust and dirt to get in, thanks to the cool design. you might feel a bit of bulkiness while you carry it along. But there's no option as it made to look and feel bulky.
iPhone 11 Pro Max Arae Leather Wallet Case
The Arae iPhone case is yet another wallet styled protective case for your iPhone 11 Pro Max. It is crafted from good quality leather and is highly durable and strong. This iPhone protective case comes with 4 card slots and a pocket to store your essential items.
The inner casing is made of soft TPU. It is shock-absorbent and also makes it easier to put the case on or take it off. The flip case might feel a bit bulky. But it doesn't cause any issues while you're charging. There is also a magnetic flip lock to keep your things intact the card slot. This leather wallet case can also be used as a kickstand, like almost any other folio case.
iPhone 11 Pro Max Encase Heavy Duty Case
The Encase Rebel case is a heavy-duty armor case made exclusively for your iPhone 11 Pro Max. It is so sturdy and durable that nothing can make it crumble. It is like "an ultimate protection" for your iPhone. The case can prevent the phone from any damages from a fall of up to 10 ft.
The case features a fully bonded 2-piece structure and has a smooth and curvy texture. The belt holster clip on the back can be rotated to be used vertically or horizontally as per user preference. The holster clip can also function as a kickstand to watch movies.
iPhone 11 Pro Max Spigen Tempered Glass Protector
The Spigen Tempered Glass Protector comes with a greater level of protection than any other screen guards in town. It is made exclusively for the iPhone 11 Pro Max and is rated with a 9H hardness level. It is a pack of 2 which also includes an auto-alignment kit couple with a microfibre wiping cloth.
The alignment kit makes it easy to get the screen guard placed and you never need anyone else to do it for you. Moreover, the protector works well with any of the iPhone 11 Pro Max's protective covers.  The Spigen iPhone Screen protector also features an oleophobic coating which makes it resistant to fingerprints.
iPhone 11 Pro Max Zuslab Privacy Screen Protector
The Zuslab Screen protector comes with the new anti-spy feature. It makes the screen not visible to others near you. It has a special coating that blocks views from the left and right side at a specific angle. Hence, you can still read your private emails or texts on a subway or bus without worrying about the next person secretly reading them with you.
This screen guard comes with all necessary installation kits to help you install it all by yourself. It is quite thin and has excellent touch sensitivity. The premium 9H tempered glass makes it durable and can withstand scratches and smudges. This Zuslab screen guard is compatible with any of the iPhone protective cases.
iPhone 11 Pro Ainope 3 Packs Tempered Screen Protector
This AINOPE screen protector is for those of you who bought the iPhone 11 Pro. It comes in a pack of 3 and has all the necessary installation kits. So even if you screw up the first time, you still have a couple of more tries. This iPhone 11 Pro Screen Protector is advertised to be made of an explosion-proof and shatterproof tempered glass. The tempered glass is touch-accurate and allows for 3D Touch. Ainope screen protector comes with an easy installation frame which allows for perfect alignment. The package also includes a cleaning cloth and dust remover. The Ainope iPhone Screen protector offers supposedly a 99.99% clarity so it should be invisible.
iPhone 11 Pro ROITON Camera Lens Protector
The Roiton tampered glass camera protector is made for your iPhone 11 Pro. it also works well with the 11 Pro Max. It is a great accessory to consider if you want to protect your camera region from scratches, dust, and dirt. This iPhone 11 lens protector is made with a carved metal frame and 5H tempered glass.
The glass protector is ultra-thin (0.3mm) and features a hole design that will not block the iPhone camera flash. The 3D design offer full coverage on curved corners and edges. Its a pretty neat accessory if you want to protect your iPhone well.
iPhone 11 Pro Qoosea Camera Lens Protector
The Qoosea camera lens protector can protect your camera lens from unwanted dust and scratches. It is like a screen protector, simply smaller in size. You can keep it without much of a fuss, al;l by yourself. The glass is only 0.3mm thick and offers 99% clarity so it shouldn't impact your photos at all.
It is compatible with the iPhone 11 Pro and the 11 Pro Max. The Complete delivery consists of 5 tampered glass camera lens protectors. Its also quite affordable and it is better if you consider buying this one.
The iPhones are expensive and we know that. The latest version of the iPhones is tapped at the 1000 dollar mark. So it is extremely wise to get yourself certain add ons that give that extra bit of protection. We hope you've gone through our list of the Screen Protectors and Cases for iPhone 11 in town. Yeah, the list is quite big, but it is worth it cause you cant risk safety when it comes to your iPhones.